10 Spectacular Festivals in Southeast Asia to go in 2018
10 Spectacular Festivals in Southeast Asia to go in 2018
---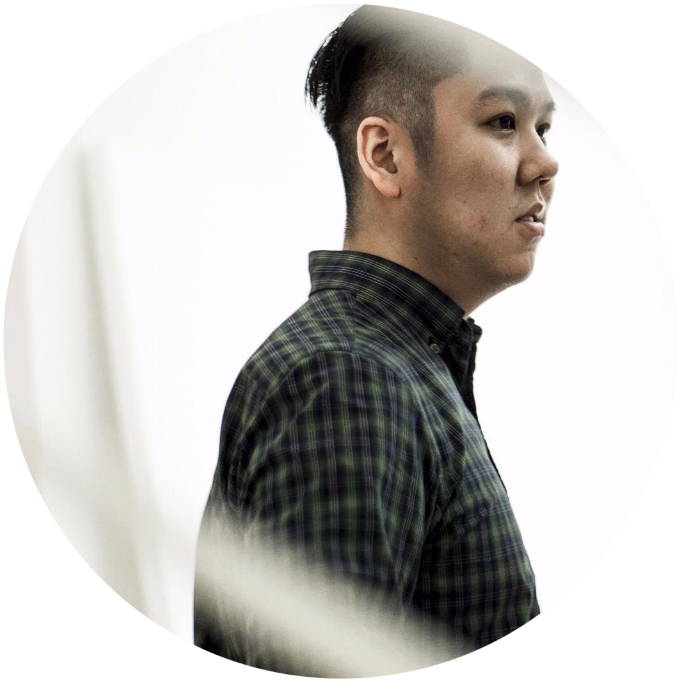 By Darren   April 23, 2018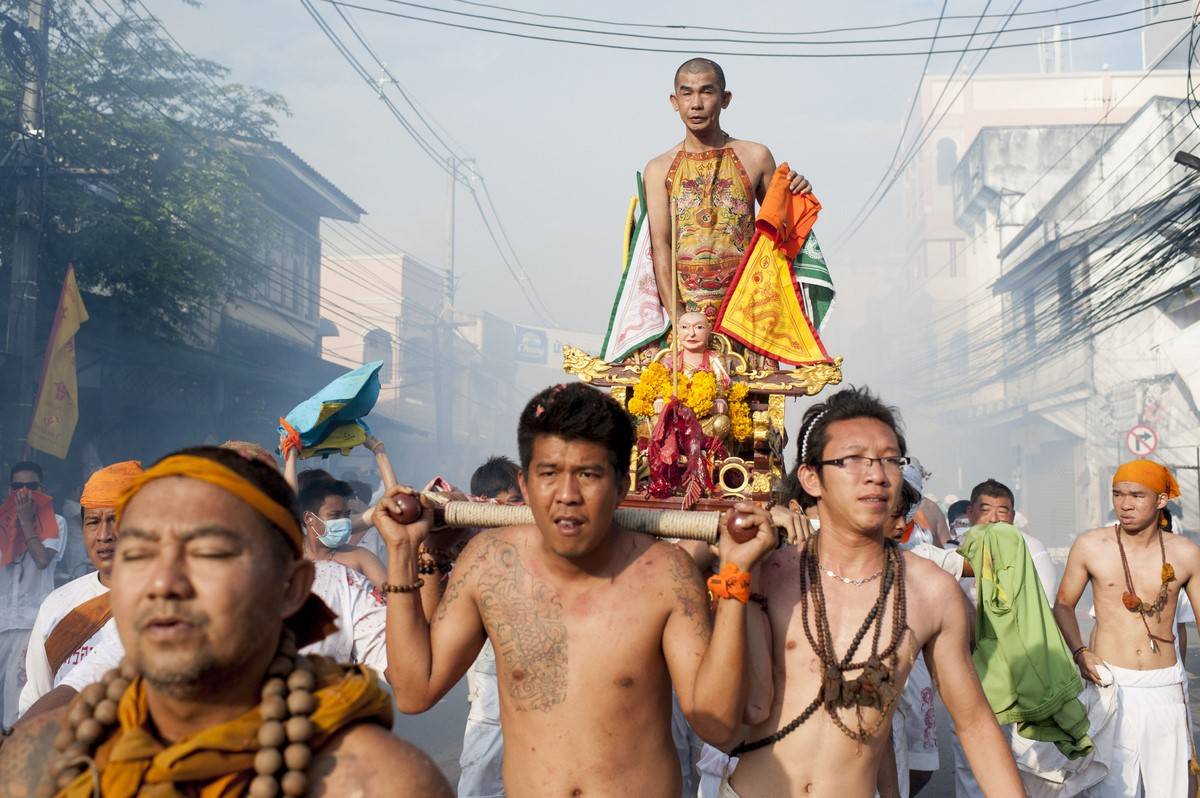 Image Credit: Huffington Post
Southeast Asia is a place blessed with many wonders of colour, spirituality, traditions and celebrations. As we travel around, it is not uncommon to see daily rituals, religious festivals, cultural celebrations that are truly unique to us. While festivals come in all shapes and sizes and are held in different destinations, here are 10 spectacular festivals in Southeast Asia you might not want to miss. Let's check it out!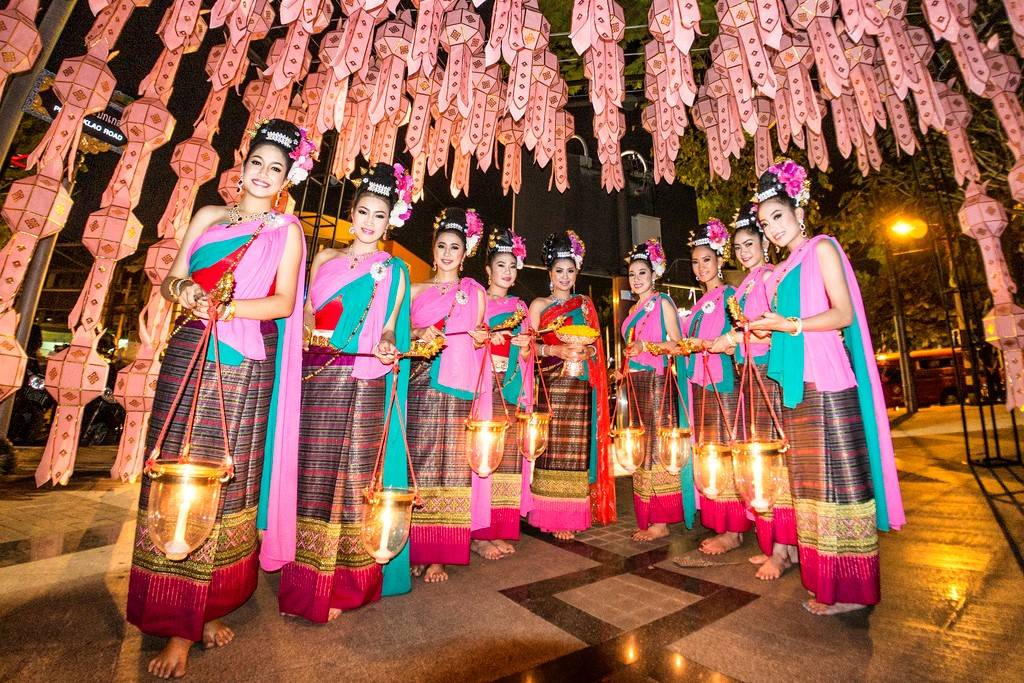 Image Credit: Panupong Roopyai / Flickr
1. Songkran Festival – Bangkok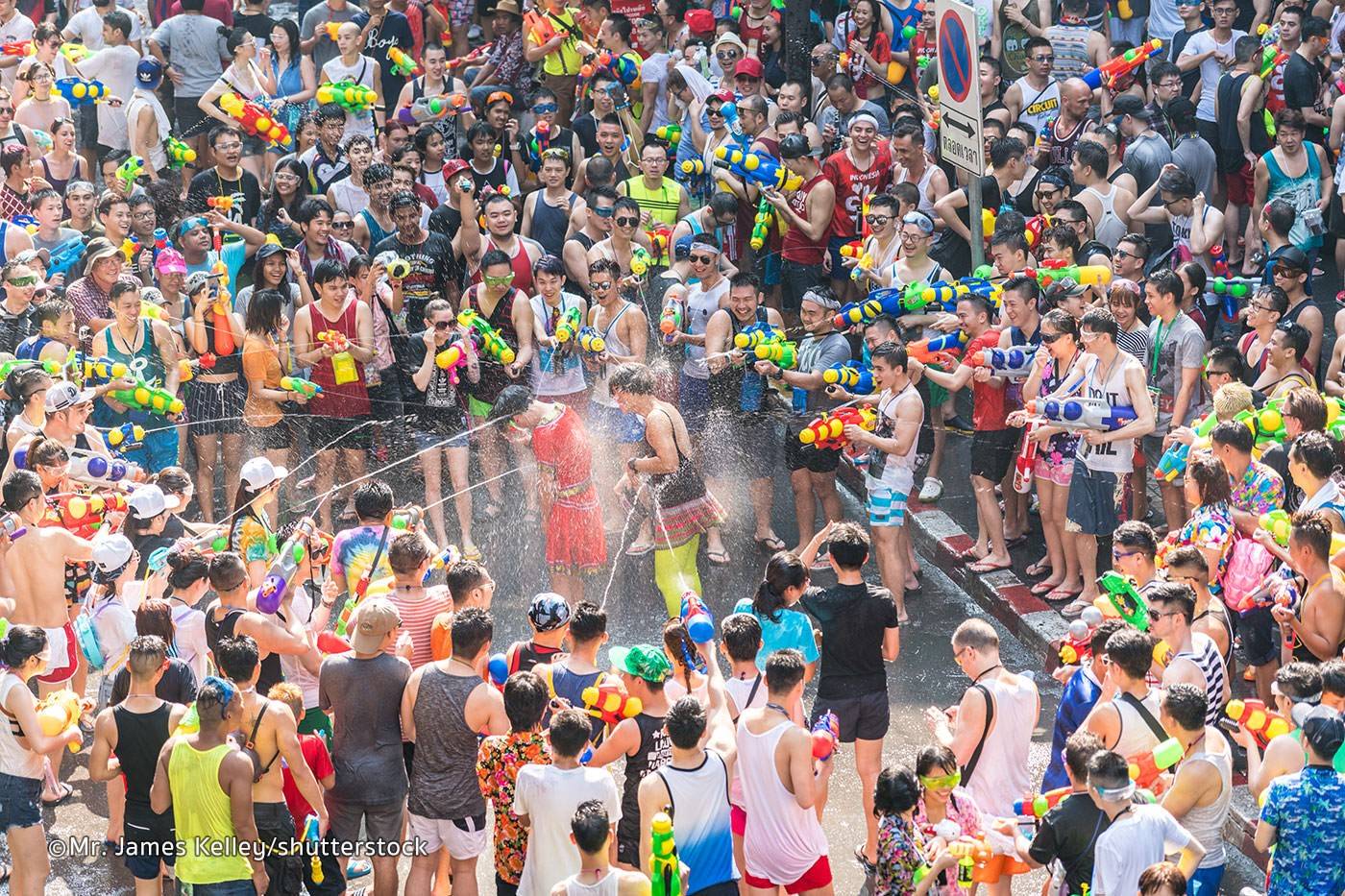 Image Credit: Mr. James Kelley / Shutterstock
During the hottest month of the year in Thailand, Songkran festival marks the Buddhist New Year and is celebrated by the entire country friendly water fights and street parties that last for about a week. Otherwise, it is the time for new beginnings, spiritual cleansing, family reunions, temple visits, house cleaning.
On the first day of the new year (13 April), the Thais begin with merit-making and then visiting local temples and offering food to the Buddhist monks. On this day, they will pour water on Buddha statues and the young and elderly as well as this is considered an iconic ritual. The splashing of the water represents purification and the washing away of one's sins and bad luck in the past year, thus welcoming the new year with a fresh new start.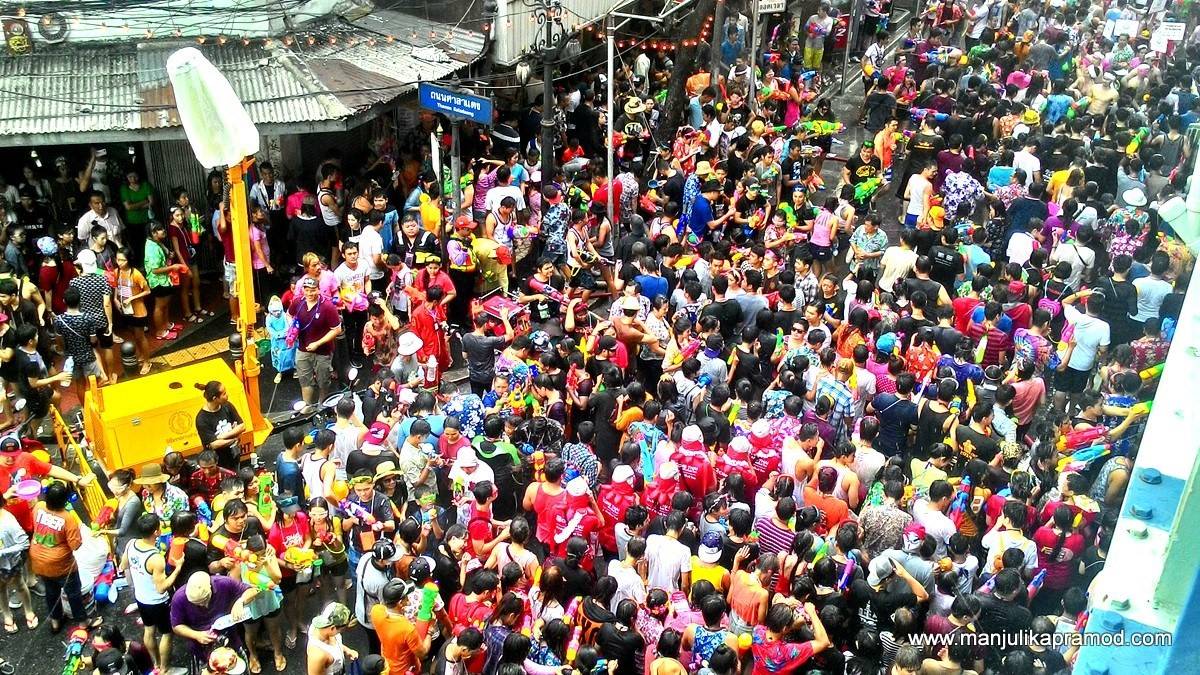 Image Credit: www.manjulikapramod.com
Silom will be packed with probably the largest and wildest crowd in Bangkok, over a 5 km length of the street. There will be thousands of Thais carrying anything that can spray water engaging in water fights. Another notable location celebrating the festival is Khao San Road, where the street will be turned into an almighty water fight with everyone getting soaked from head to toe in the middle of a wild party.
During this festive period, most office buildings, banks, shops and restaurants will not be operating, while some big shopping malls usually remain open.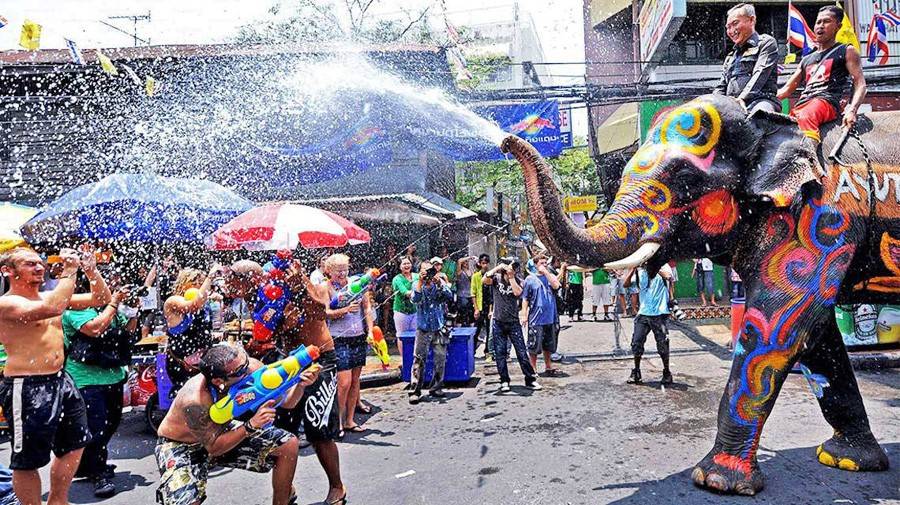 Image Credit: www.aleenta.com
Venue: Silom / Khao San Road, Bangkok
Date: 13 – 15 April 2018
2. BaliSpirit Festival – Bali Island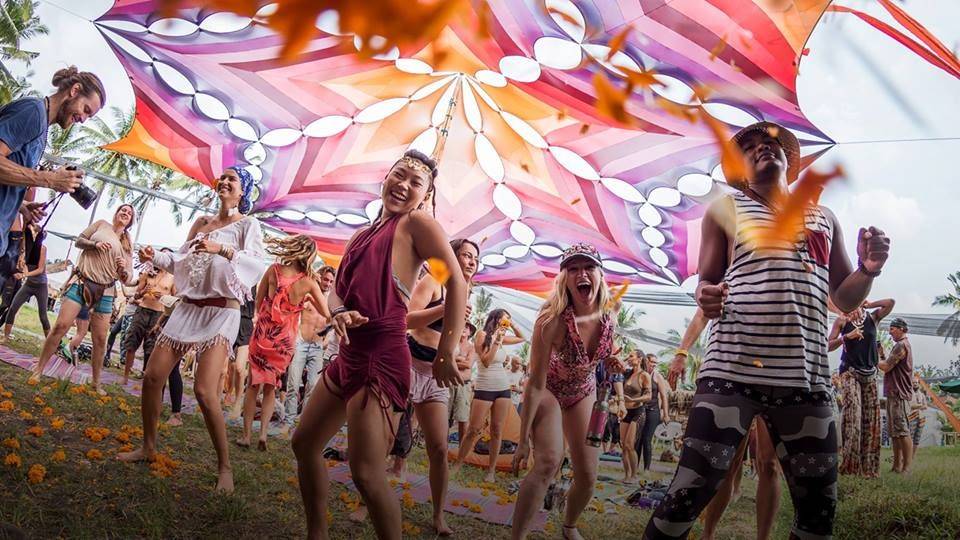 Image Credit: www.asianitinerary.com
An annual celebration of yoga, dance and music, the BaliSpirit Festival is a popular event gathering like-minded yoga instructors and practitioners of all different levels from Bali and around the world. The event is a tribute to the creative and spiritual diversity, having a mix of Indonesian culture and western cultures through international arts, dance and music through colourful concerts and performances.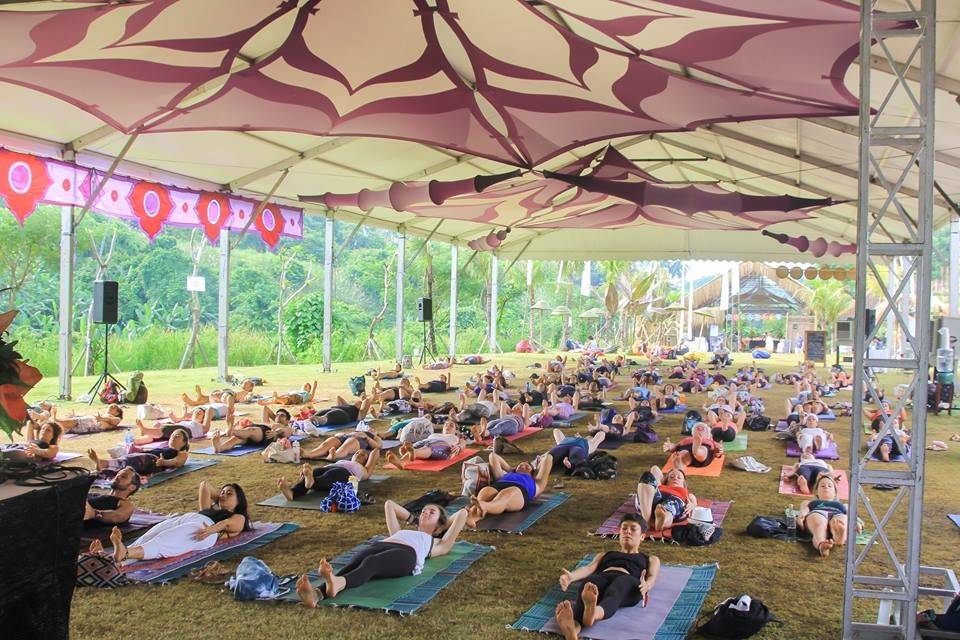 Image Credit: www.eluxemagazine.com
Over the years since 2008, it united more than 7,000 people from all over the world in this 5-day, 7-night festival. It has its roots in the core principle of the Balinese Hindu philosophy – "Tri Hita Karana", which refers to living in harmony with God, with nature or environment and among people.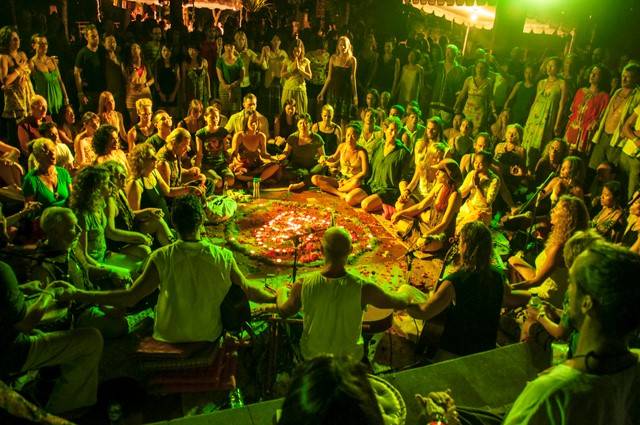 Image Credit: www.kevinjamesheartsongs.com
From dawn to dusk and through the starry nights, there are loads of activities to indulge in including diverse yoga classes and mindful workshops, kids' zone, music from international artists and the Dharma Fair – bazaars with local organic food stalls and health products. All in all, the festival aims to foster positive change and spread messages of love and peace toward a global impact.
Venue: Yayasan Bali Purnati, Ubud, Bali, Indonesia
Dates: 2 – 8 April 2018
3. Singapore International Festival of Arts – Singapore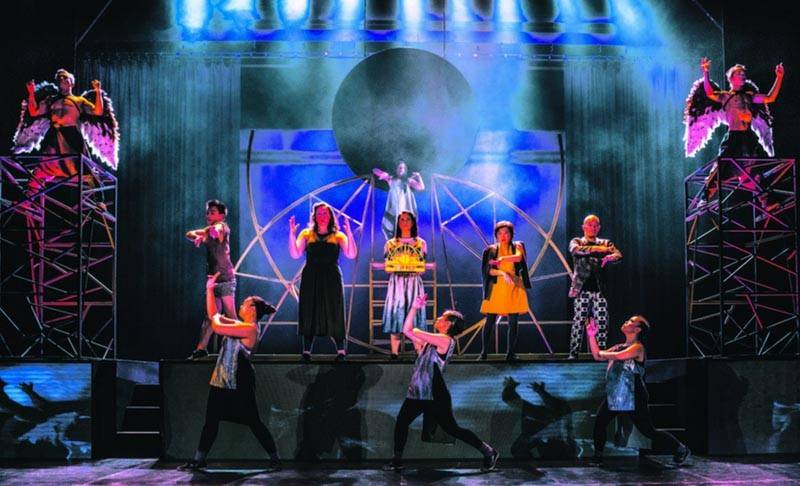 Image Credit: www.hypeandstuff.com
The Singapore Arts Festival started in 1977 as a national arts festival to celebrate local arts from the diverse communities in Singapore. For the past thirty years, the festival played a symbiotic and catalytic role in the development of the artistic and cultural life of Singapore and helped transform the nation into one of Asia's major cultural capitals today.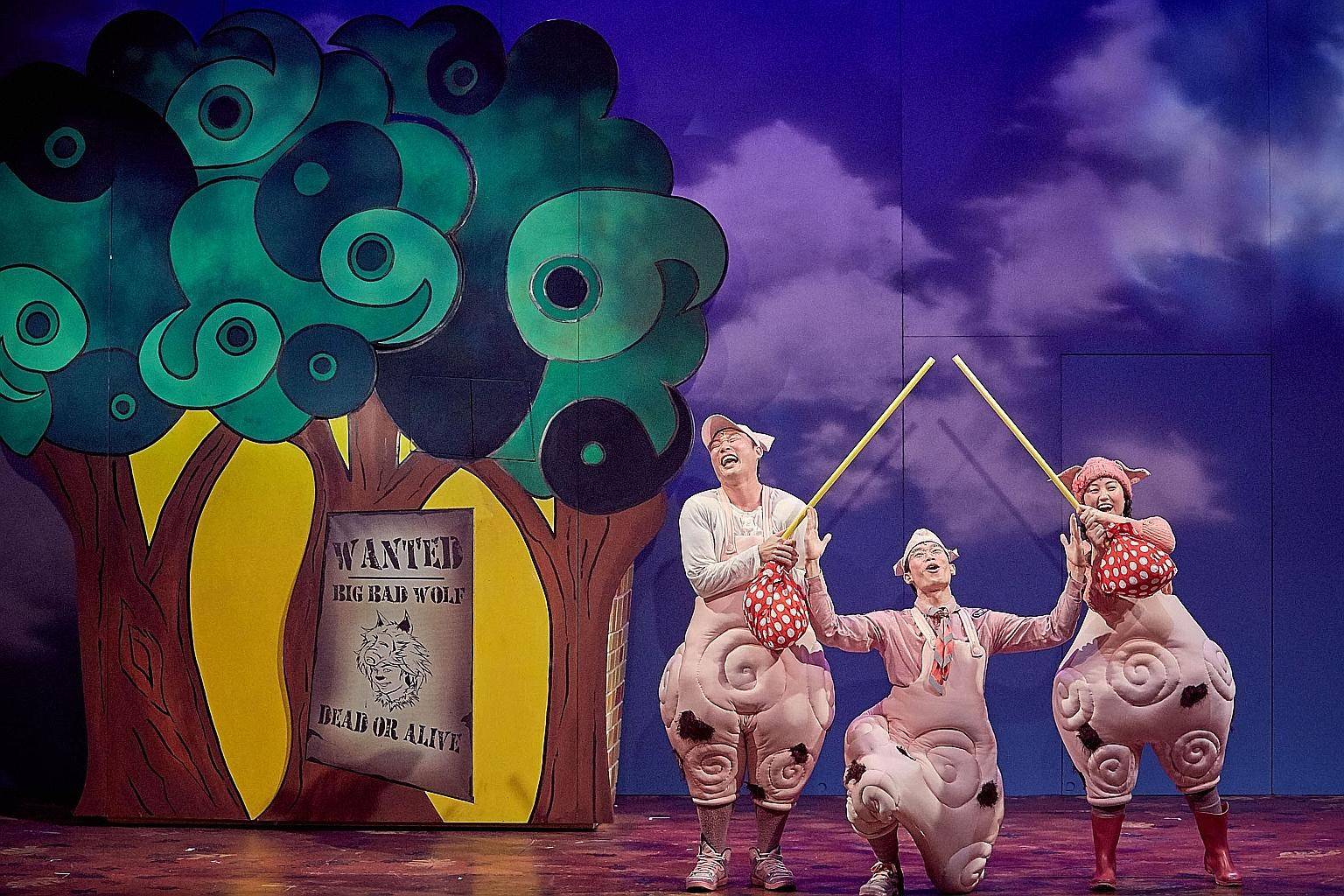 Image Credit: The Straits Times
It has since influenced many local artists and increased public awareness and the demand for arts that helped support new cultural platforms, events and movements in present-day Singapore. The festival was formed in 1999 through the merging of the existing Festival of Asian Performing Arts and the Festival of Arts into an annual event – Singapore International Festival of Arts.
SIFA is organised by Arts House Limited and funded by the National Arts Council.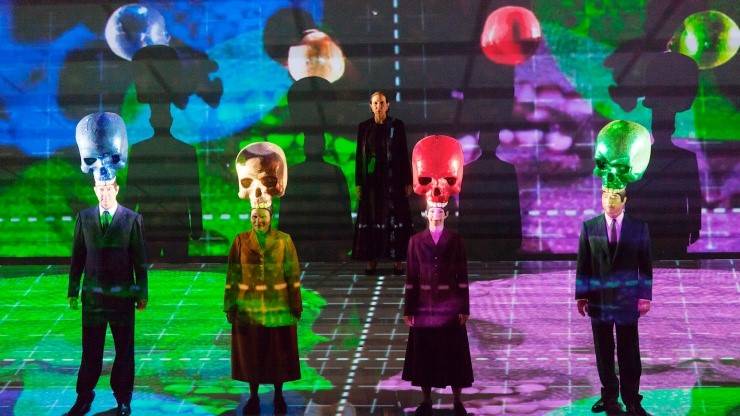 Image Credit: www.visitsingapore.com
Venue: The Arts House, 1 Old Parliament Lane, Singapore
Date: 26 April – 12 May 2018

4. Boun Bang Fai Rocket Festival – Vientiane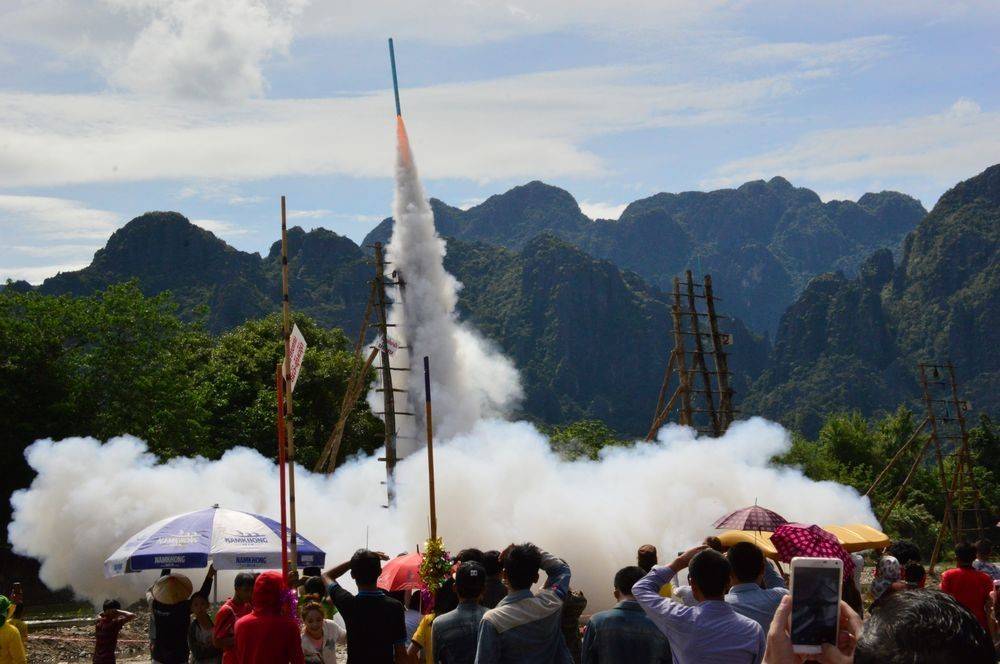 Image Credit: Josh Wilson / yourshot.nationalgeographic.com
Boun Bang Fai, also called Rocket Festival, is one of the most unique festivals in Laos. Held around some villages of Nason, Natham, Thongmang, Kern, Pakhanhoung in the suburban of Vientiane capital, Laotians hold this festival in hopes to call for rain and favourable weather condition near the beginning of the wet season. Traditionally, the purpose to launch rockets into the sky was to ask the God of Rain to provide rain to the land and help the nature.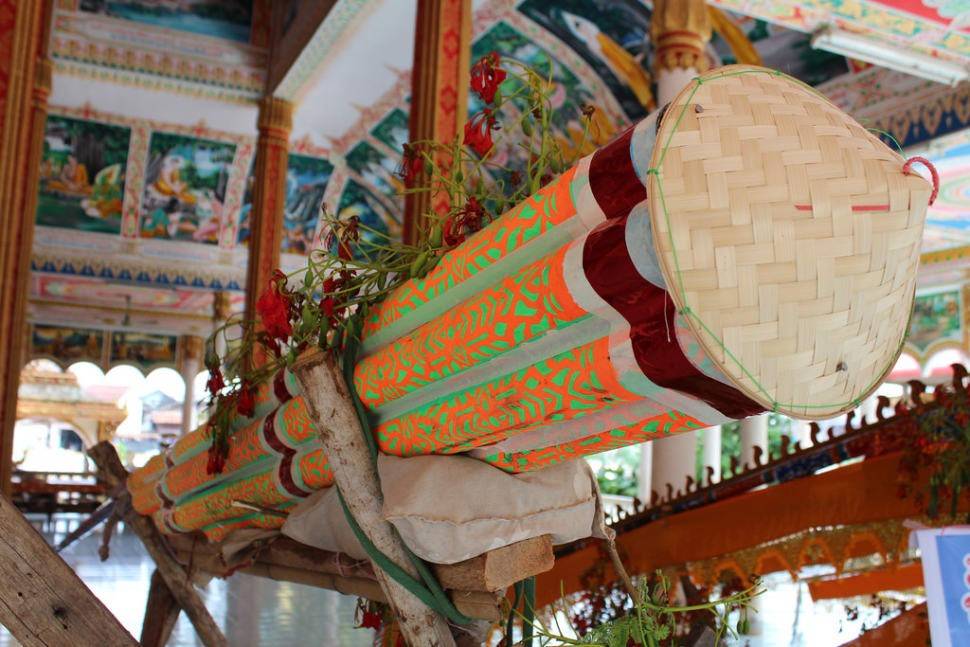 Image Credit: Kristian Sakulku / Flickr
The awesome part of the festival is the launching of self-made firework rockets made by stuffing gunpowder inside a nicely decorated bamboo. Preparation begins a few weeks before the start of the festival with the participation of different communities and there will be a variety of traditional food prepared for the guests attending the festival.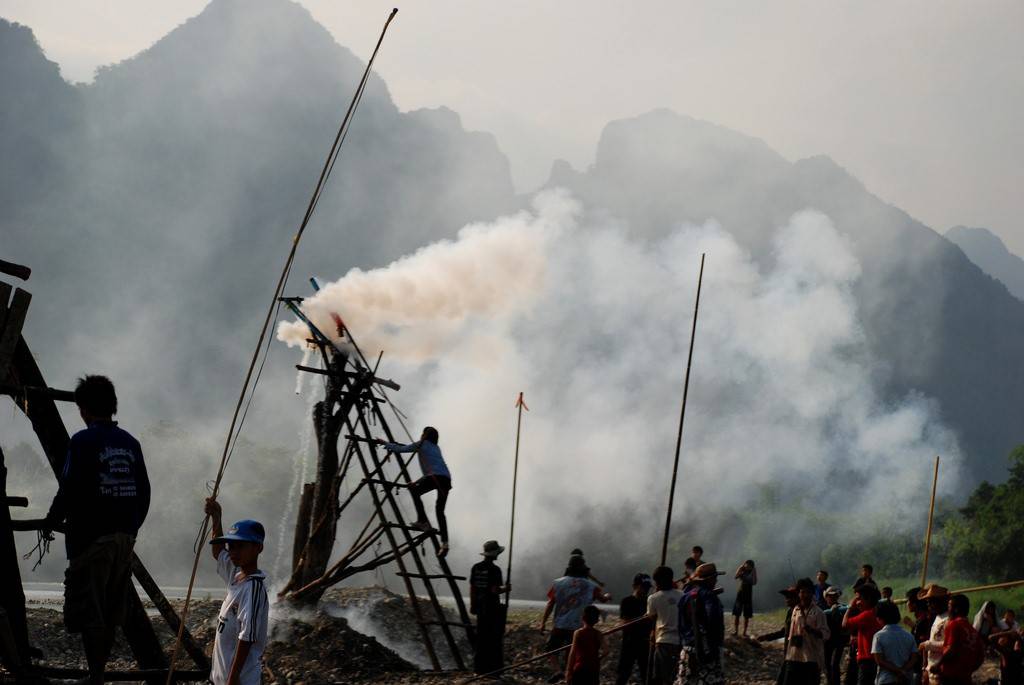 Image Credit: Damien / Flickr
Boun Bang Fai starts off with sacred ceremonies, followed by a rocket launching contest at the communal launch-pad. Before the launch, men in women's clothing and elaborate masks will dance and sing around the rocket to call for rain and pray that their messages would be sent to the God successfully.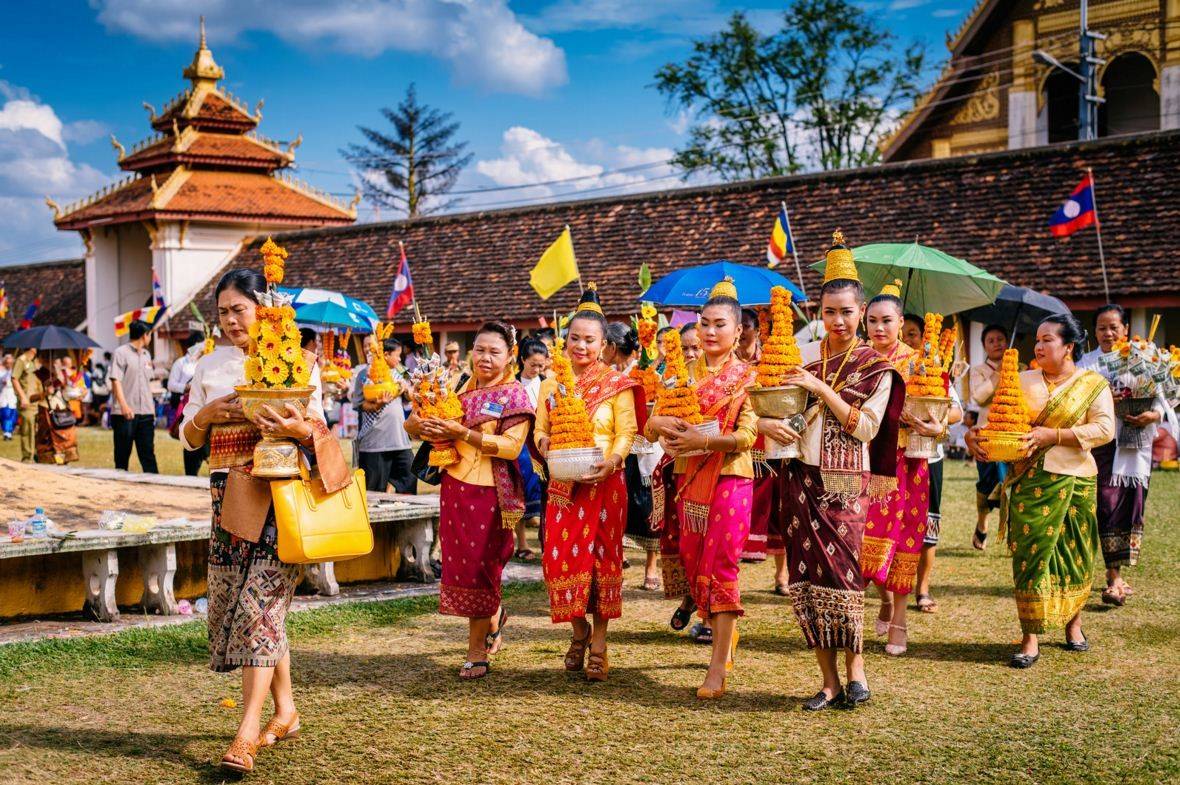 Image Credit: www.vientianestarhotel.com
Teams representing different villages will launch their rockets thereafter and scores will be given according to the height of the fly, its decoration, and the entertaining performance from the team. In an event that the rocket from any team did not launch successfully, the leader of that team will go through a forfeit by drinking muddy water or Satho (Laos rice wine).
Venue: Nason, Natham, Thongmang, Kern, Pakhanhoung – outskirts of Vientiane, Laos
Date: 4 May – 8 May
5. Ultra Music Festival – Singapore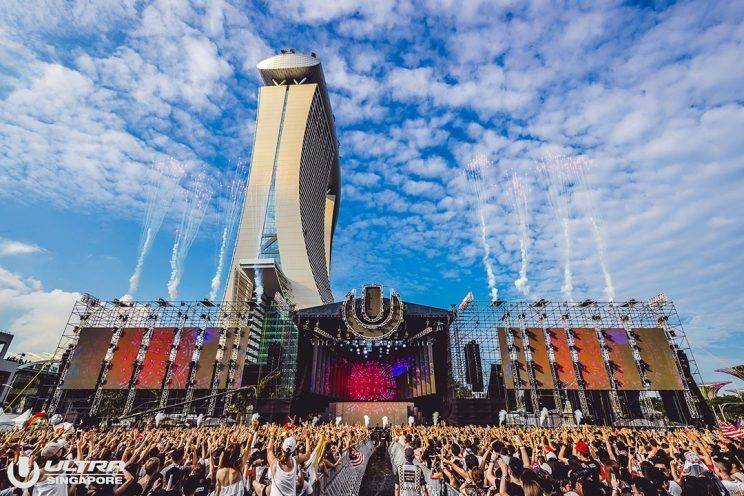 Image Credit: www.ultramusicfestival.com
Ultra Music Festival is an annual outdoor electronic music festival that takes place during March in the city of Miami, Florida. It was first inaugurated and produced in 1999 by business partners Russell Faibisch and Alex Omes. And since then, it has debuted in many countries.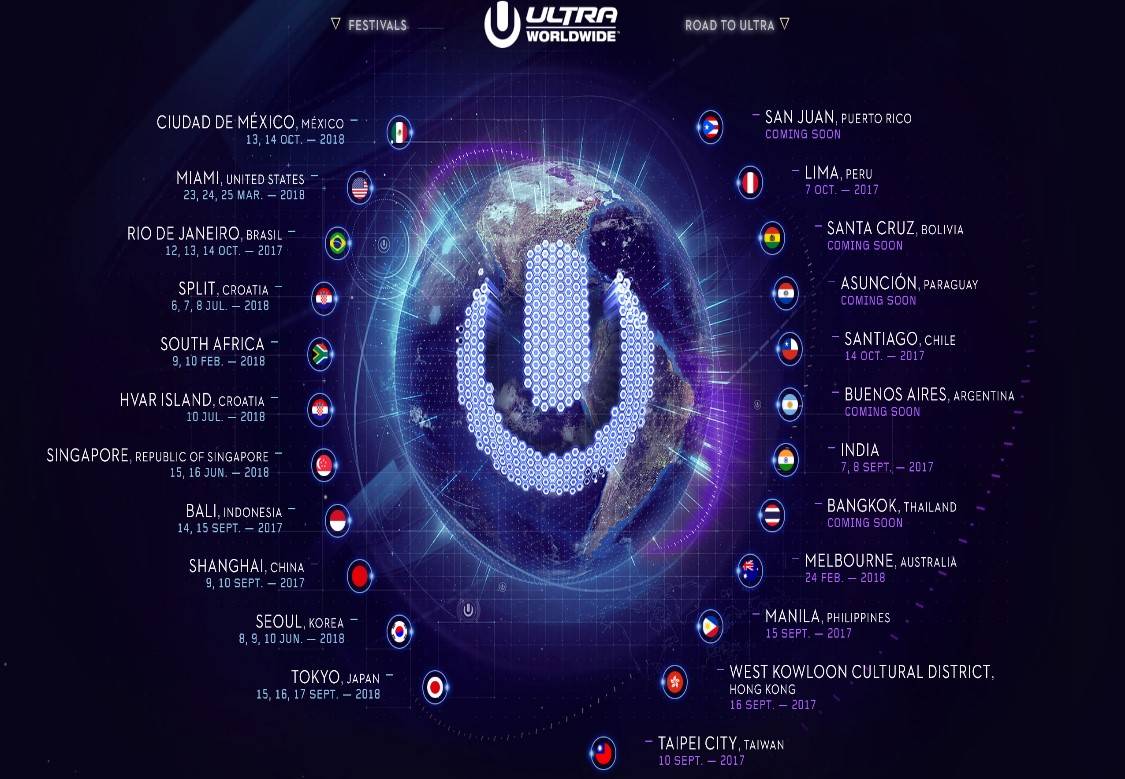 Ultra Singapore debuted in 2015 and is one of 14 other locations worldwide that will host the full-fledged two-day Ultra music festival. Ultra Singapore was originally a Road to Ultra event which took place in September 2015 and in 2016 returned as a two-day festival, which was attended by more than 45,000 attendees by people from all around the globe.
Ultra Singapore 2017 features many international DJs like Tiesto, Hardwell, Nicky Romero, KSHMR and more. This festival is not to be missed for electronic music fans, all the partygoers and for those people who just want to let loose spiritually for a weekend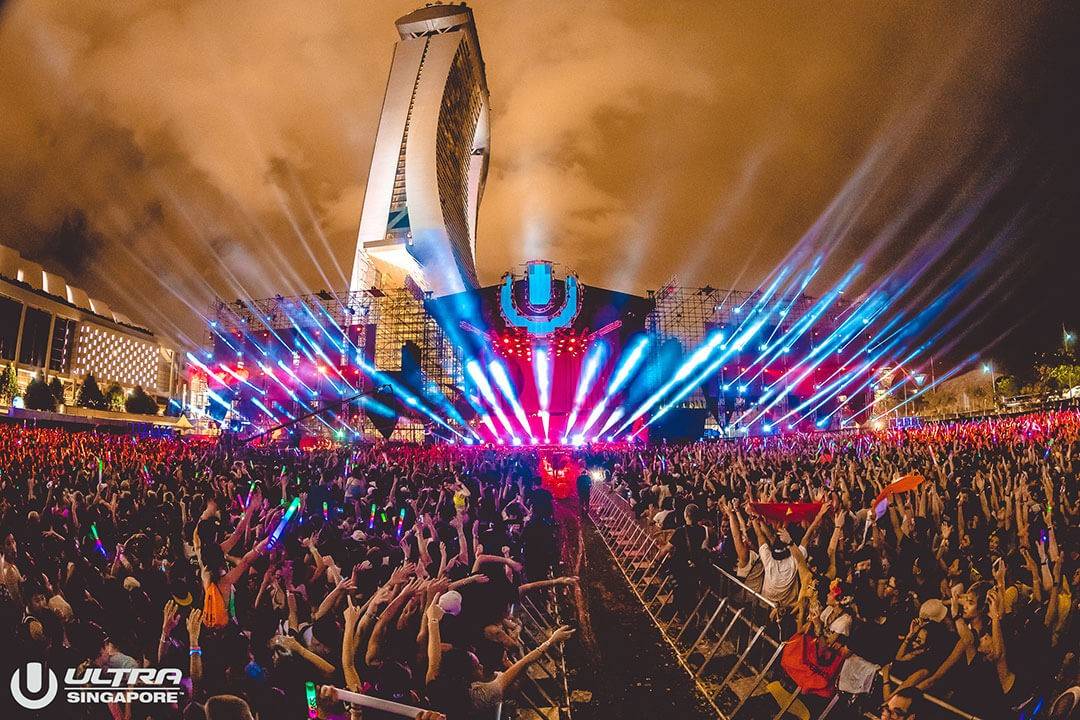 Image Credit: www.ultramusicfestival.com
Venue: Ultra Park, Bayfront Avenue, Singapore
Date: 15 – 16 June 2018
6. Borneo International Kite Festival – Sarawak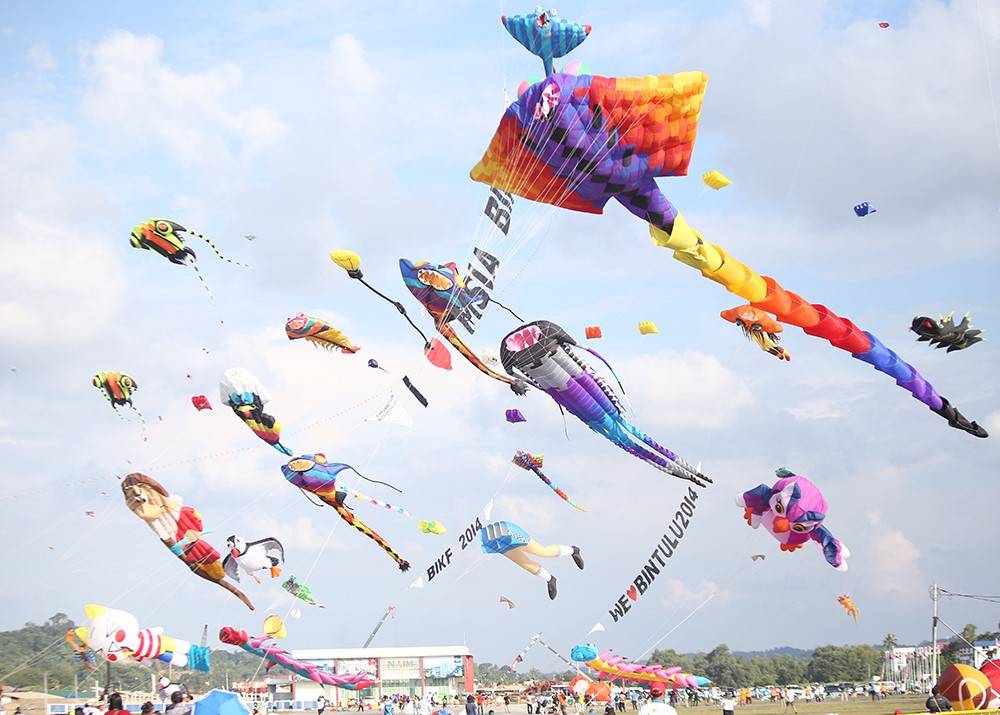 Image Credit: www.zafryhalim.com
Kites' are said to be invented by two Chinese philosophers of ancient China. They were first built in flat (not bowed) and rectangular shape using paper or silk and bamboo and were used for measuring distances, testing the wind, lifting men, signalling, and communication for military operations. Kites also have a history of averting evil spirits in the skies and Buddhist monks also use them to send prayers to the Gods in religious ceremonies.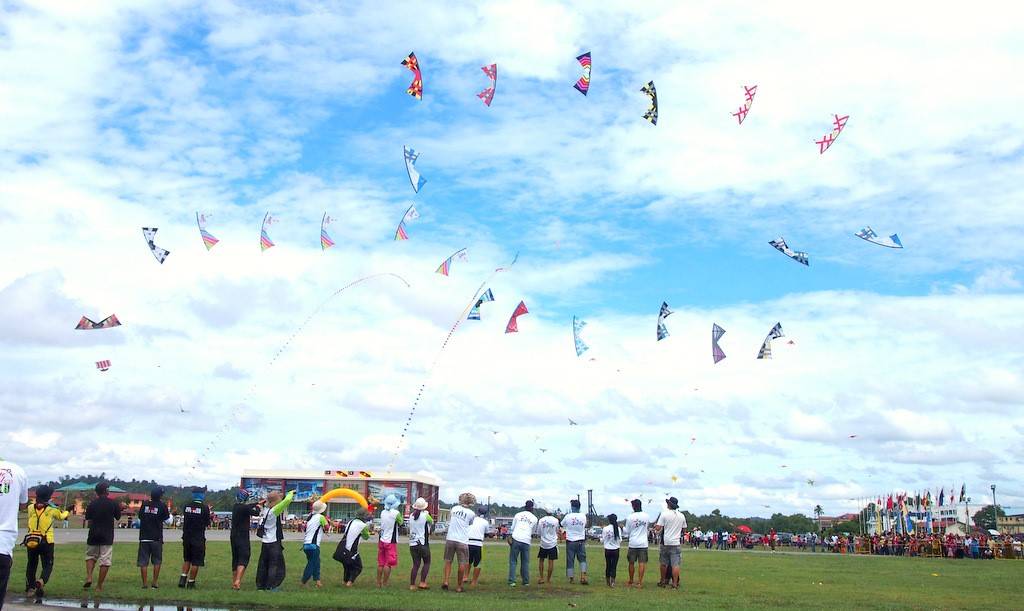 Image Credit: www.lilyrianitravelholic.blogspot.sg
Today, they are mainly utilised as a form of entertainment and the highlight of many traditional festivals, recreational events, and international competitions and come in many colours, shapes and sizes. There are even electronic kites that could be manoeuvred by a remote control.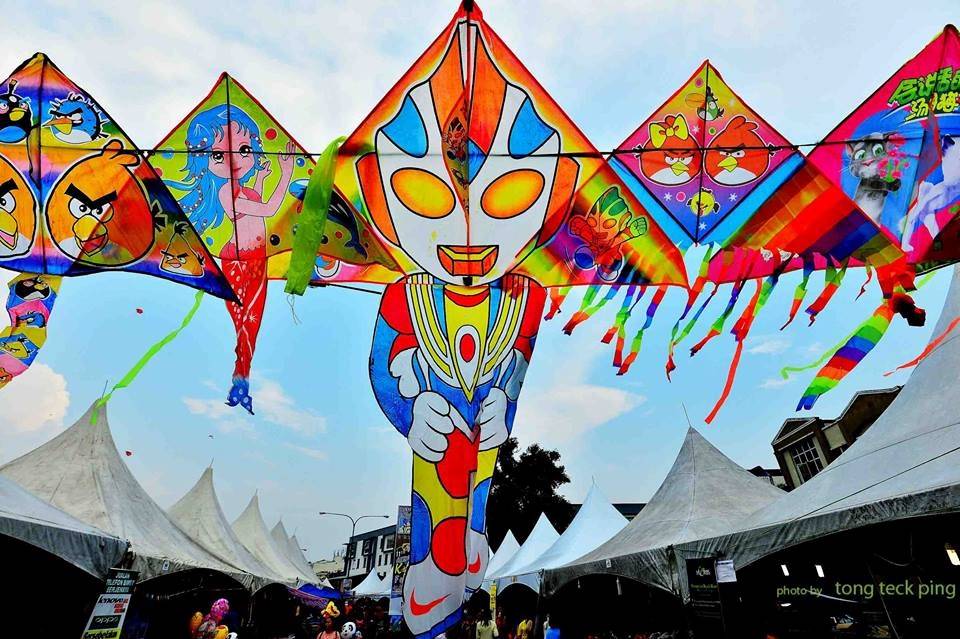 Image Credit: www.toptourist.com
The huge and windy open space of the Old Bintulu Airport that faces the South China Sea serves as ideal conditions for flying kites. More than 400 competitive kite flyers from 25 countries came to showcase their tremendous skill in return for a chance at winning over-sized shiny trophies and the respect of their peers every year. The programmes in the festival include kite flying and kite making competitions, workshops and night performances.
Venue: Old Airport Runway, Bintulu, Sarawak, Malaysia
Date: 28 September 2018 – 2 October 2018
7. Vegetarian Festival – Phuket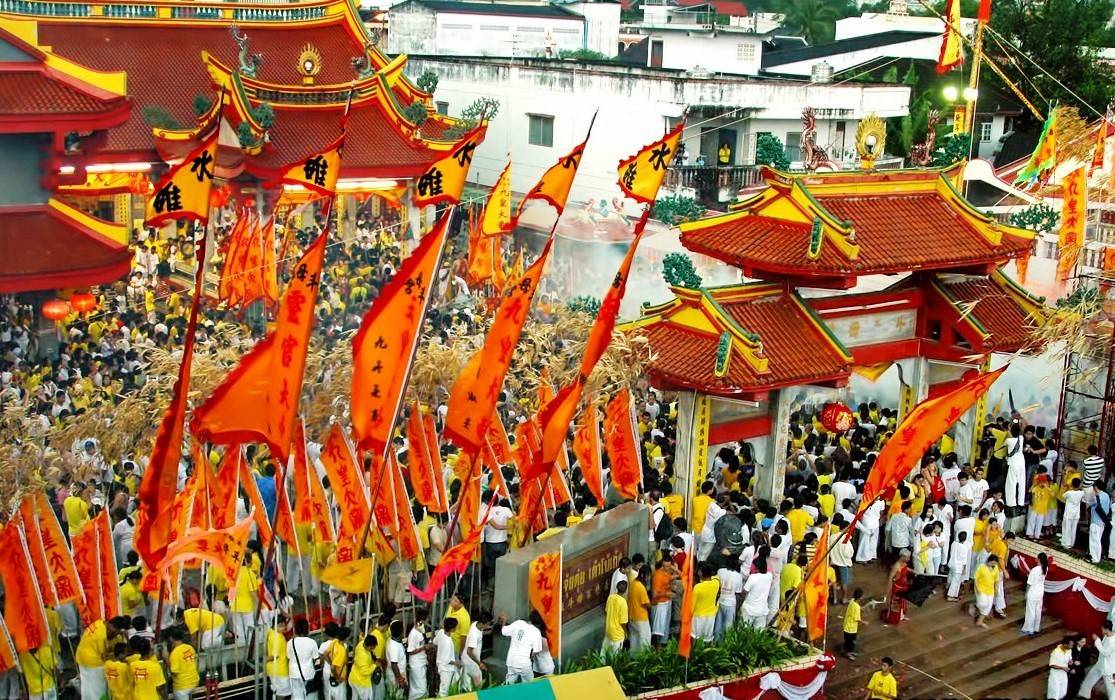 Image Credit: www.aleenta.com
The name of this festival is somewhat misleading. Sure, it does seem like it is a festival where vegetarian gathered to tuck into a feast of fruits and vegetables. However, the main event of this festival is a very different affair.
The origins of the festival lie in Taoist beliefs and the festival is observed by Chinese communities all over Southeast Asia and celebrated throughout Thailand, but the festivities are at their height in Phuket, where about 35% of the population is Thai Chinese.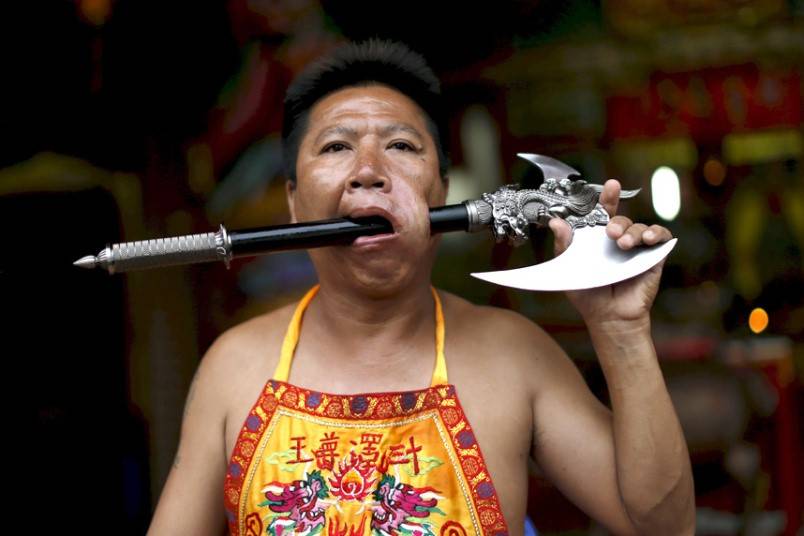 Image Credit: The Telegraph
Also known as the 'Nine Emperor Gods Festival', the festival lasts for nine days and attracts crowds of spectators because of many of the unusual religious rituals that are performed. Many religious devotees will act as a medium for the Gods and can be seen impaling and puncturing their cheeks with various metal items including knives, swords, and other household items. These acts are carried out under a trance-like state and are done without anaesthetic. Surprisingly, the people who paid tributes to the Gods through this do not need to have prolonged medical treatment and scarring and stitching are uncommon and rare.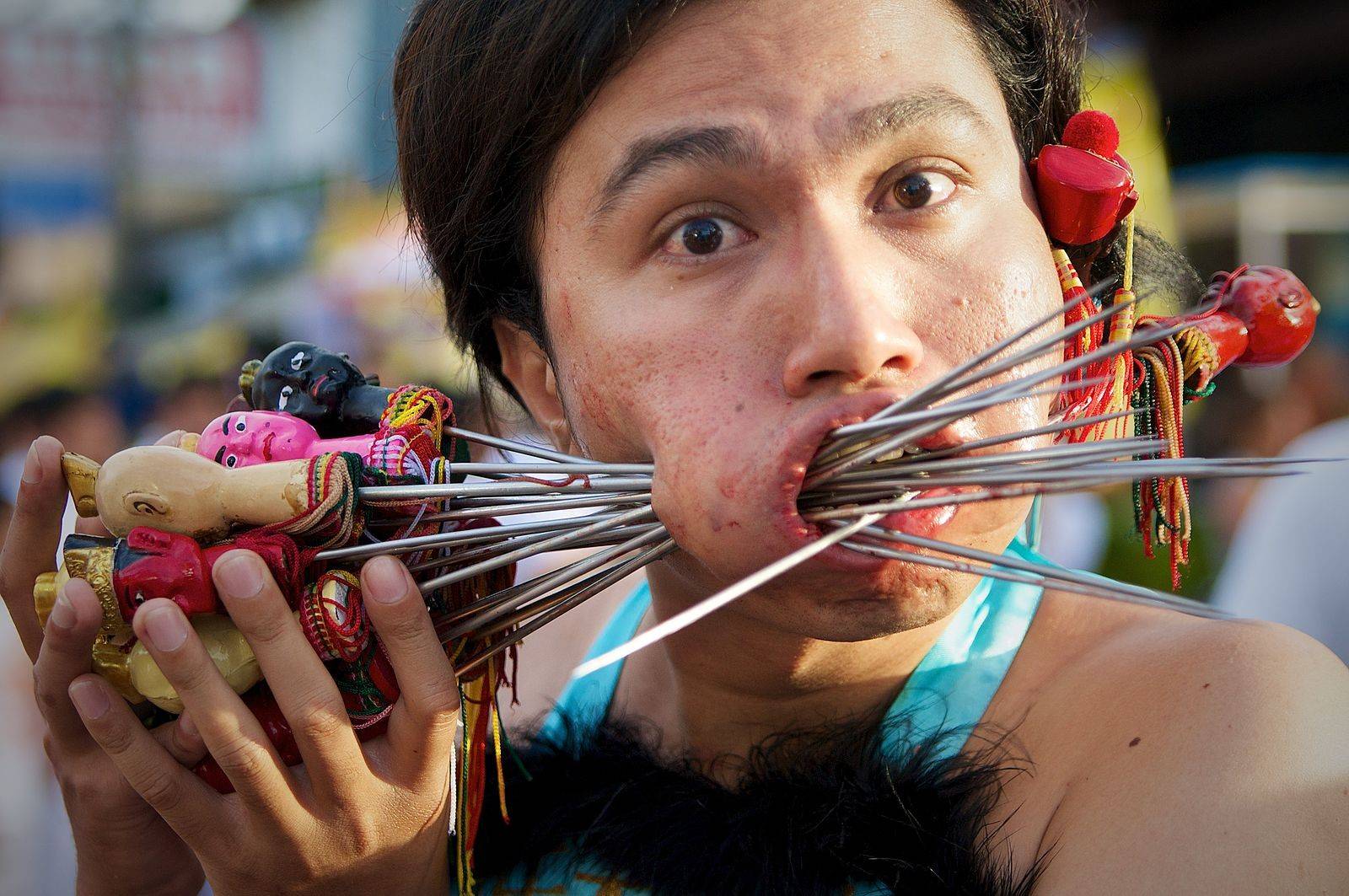 Image Credit: Wikipedia
The festival is believed to have started when a troupe of Chinese opera singers visited Phuket and it was hit by a fatal epidemic and many people fell ill and died. One of the opera singers then realised that the people had forgotten to pay homage to the Nine Emperor Gods. They immediately invited the Gods to enter the town refrained from eating meat, drinking alcohol and engaging in any bodily pleasures. Shortly after, the plague disappeared, and this tradition of paying tributes transformed into a yearly festival ever since.  
Venue: Put Jaw, Jui Tui, Bang Niew, Cherng Talay, Kathu Shrine – Phuket, Thailand
Date: 8 – 17 October 2018
8. Thimithi Festival – Singapore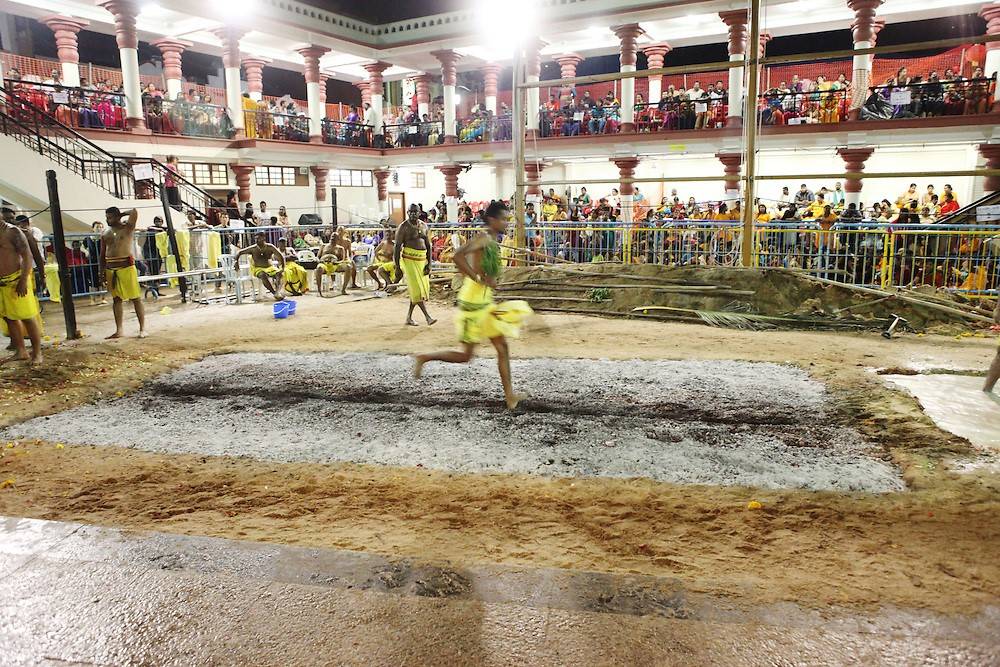 Image Credit: www.captureasia.photoshelter.com
Thimithi, known as the fire-walking festival, is the culmination of several religious rituals that re-enact some important and auspicious events from the Mahabharata. Thimithi signifies the victory of a war in the Mahabharata that took place between two royal families, the Kauravas and the Pandavas, with the latter emerging victorious. The festival is held on a Sunday before Deepavali (Festival of Lights) and is part of a larger ceremony stretching over a two-and-a-half-month period.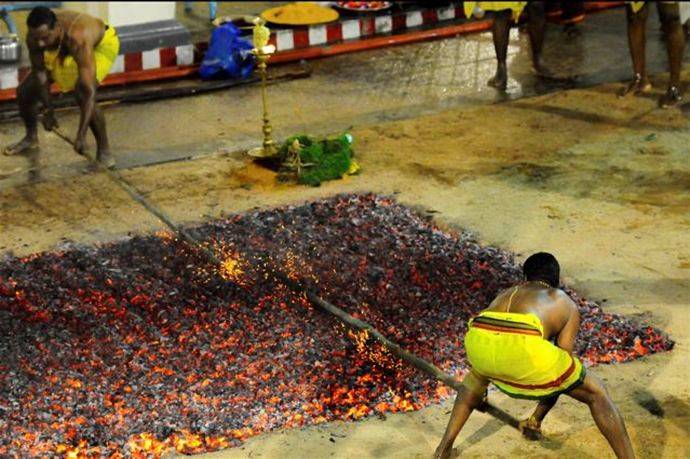 Image Credit: Pinterest
The fire-walking festival is in honour of Draupati Amman, portrayed as someone who endures many misfortunes but holds on to Hindu principles and morality also known as dharma. She walks over a bed of coals to prove her purity and emerges as a fresh flower, and devotees in present-day walk over scorching hot coals as proof of faith to her and a form of penance and thanksgiving in her honour. This is practised not only in India but also in Singapore, Malaysia, Africa, Sri Lanka and other countries with large South Indian populations.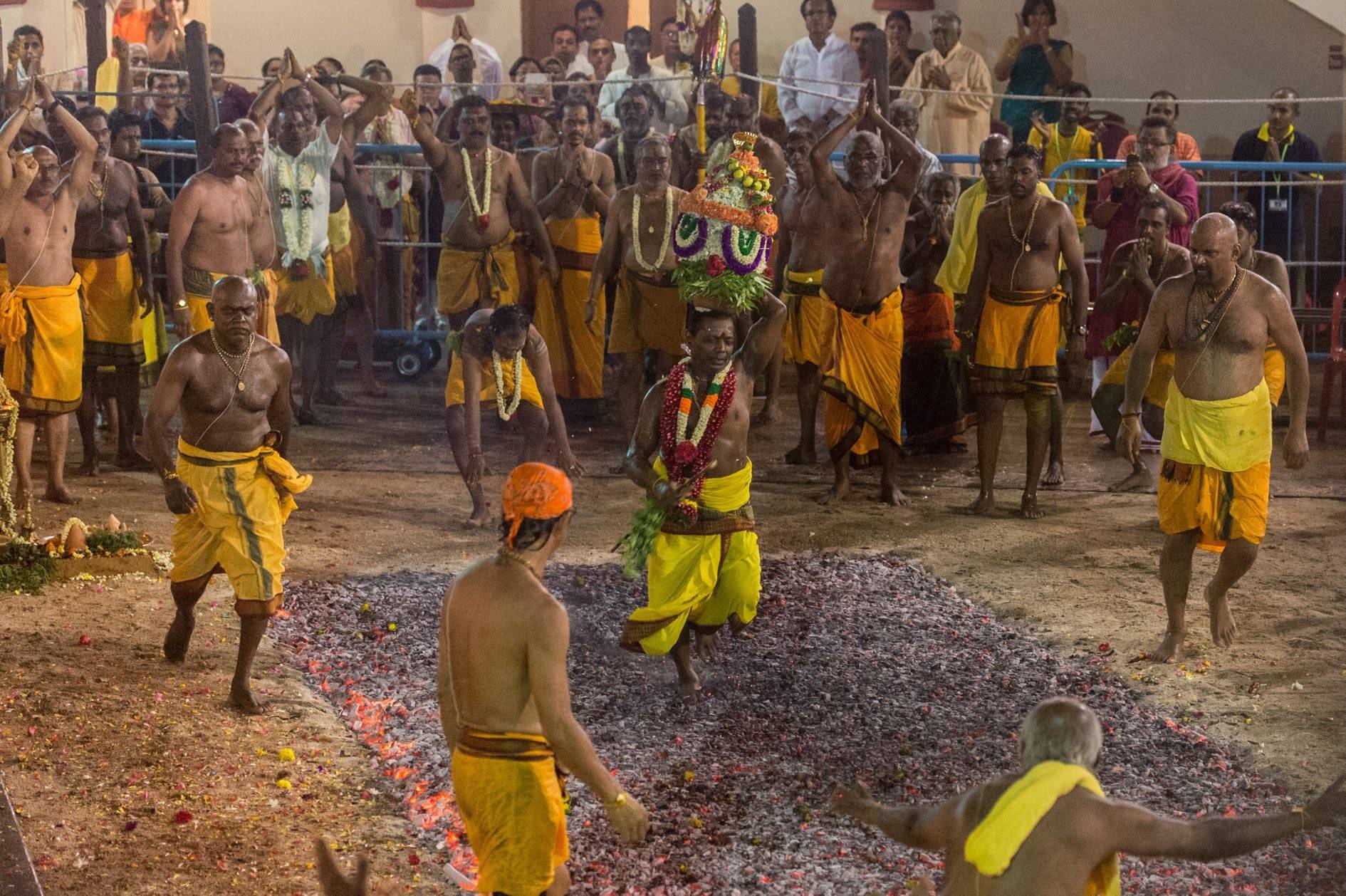 The Sri Mariamman Temple, the oldest and largest Hindu temple in Singapore, is also the location for the annual fire-walking festival since 1840. The fire-walkers will start with a customary five-kilometre walk from the Sri Srinivasa Perumal Temple on Serangoon Road to the Sri Mariamman Temple on South Bridge Road, and finally to the fire pit measuring approximately 3 metres in length dug within the compound of Sri Mariamman Temple.
Venue: Sri Mariamman Temple, 244 South Bridge Rd, Singapore
Date: 28 October 2018 (estimated)
9. Bon Om Touk – Phnom Penh
Image Credit: www.vespaadventures.com
Bon Om Touk, also known as "the Water Festival", is an annual Cambodian celebration that marks a reversal of the flow of the Tonlé Sap River and the biggest celebrations take place in Phnom Penh with boat racing along the Sisowath Quay.
The Tonlé Sap river is probably the only waterway in the world which flows in opposite directions at different times of the year. From November to May, it runs into the Mekong river and when the monsoon rains arrive, the build-up of water forces the current to change direction reversely and flow back into the Tonlé Sap lake.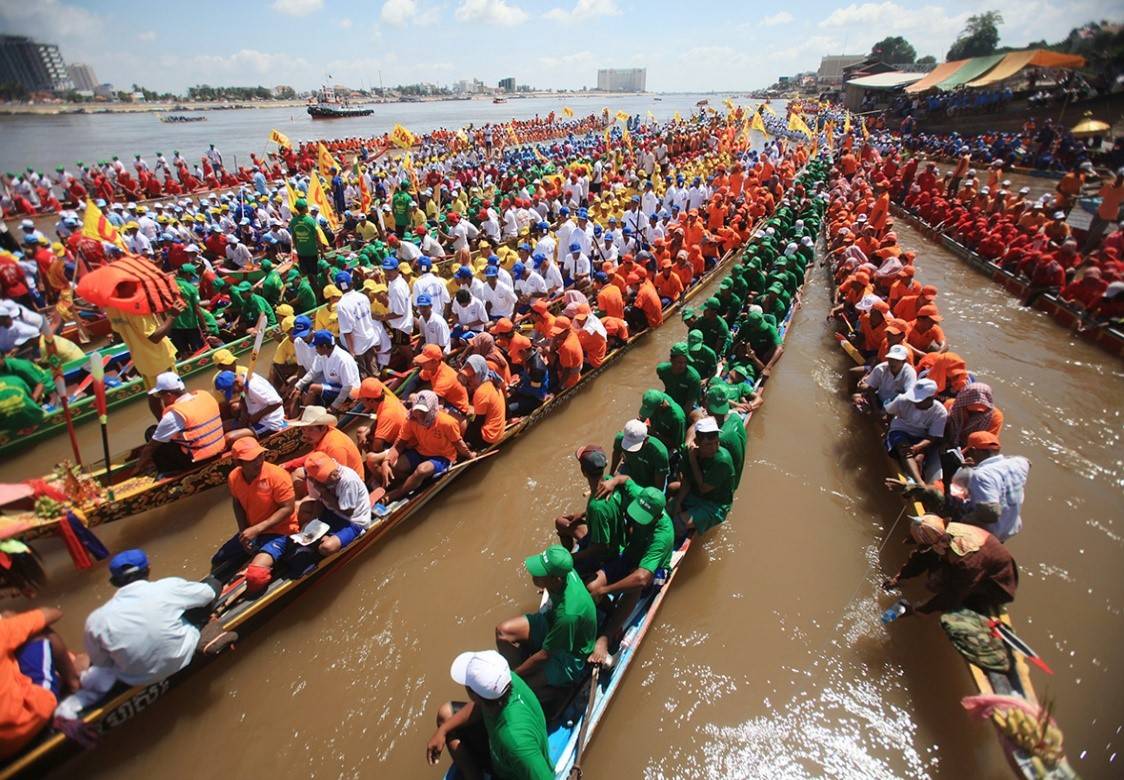 Image Credit: www.izlinks.com
On the night of the full moon in November, the festival takes place over three days, with the main attraction being the large-scale Dragon Boat races on the Tonlé Sap river. More than 400 boats, propelled by precision-trained oarsmen will take part in the annual boat race.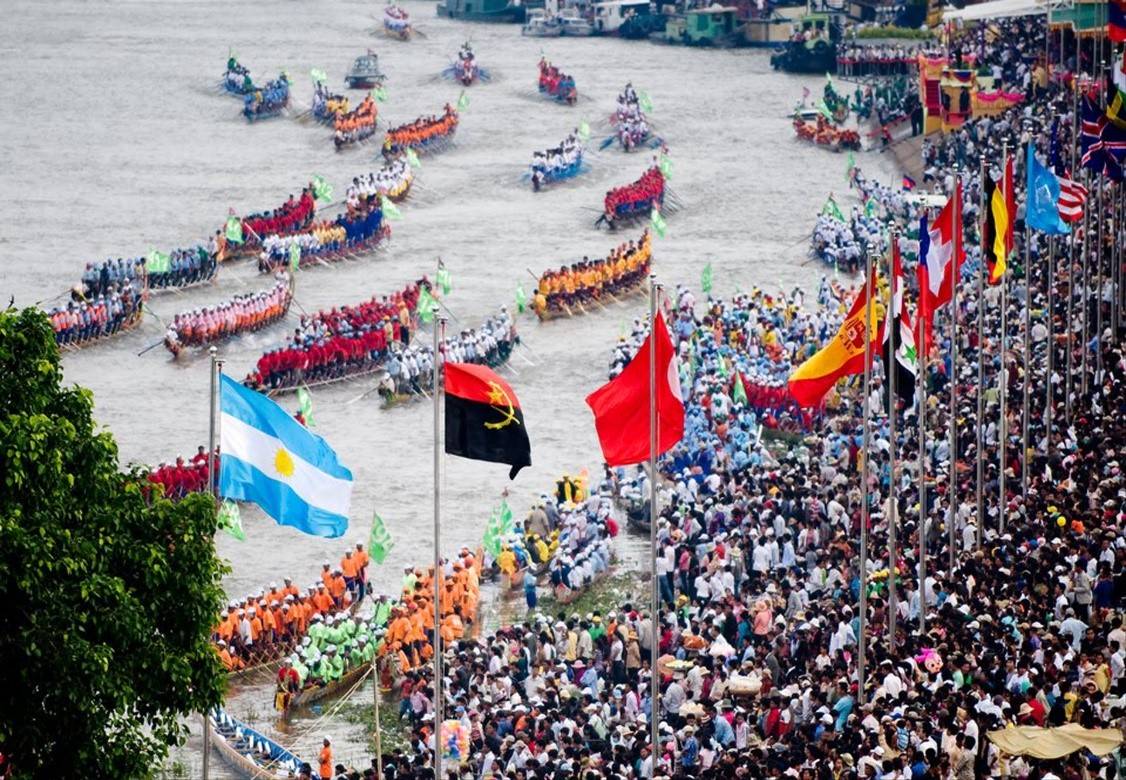 Image Credit: www.indochinatravel.info/
Venue: Tonlé Sap River, Phnom Penh, Cambodia
Date: 22 – 24 November 2018
10. Loy Krathong Festival – Chiang Mai
Image Credit: www.odishasuntimes.com
The Loy Krathong festival is a Buddhist celebration to release suffering or 'durkkha' that takes place on the evening of the 12th month in the traditional Thai lunar calendar. Loy Krathong can be translated to "float a basket".
In this festival, the Thais will thank the Goddess of Water for providing life to the fields and forests and ask for forgiveness for polluting ways of the human by launching their small handmade boats (krathong) on a river, canal or a pond and making a wish. It is believed that the krathongs take away sins and bad luck and carry the wishes that have been made for the new year to start.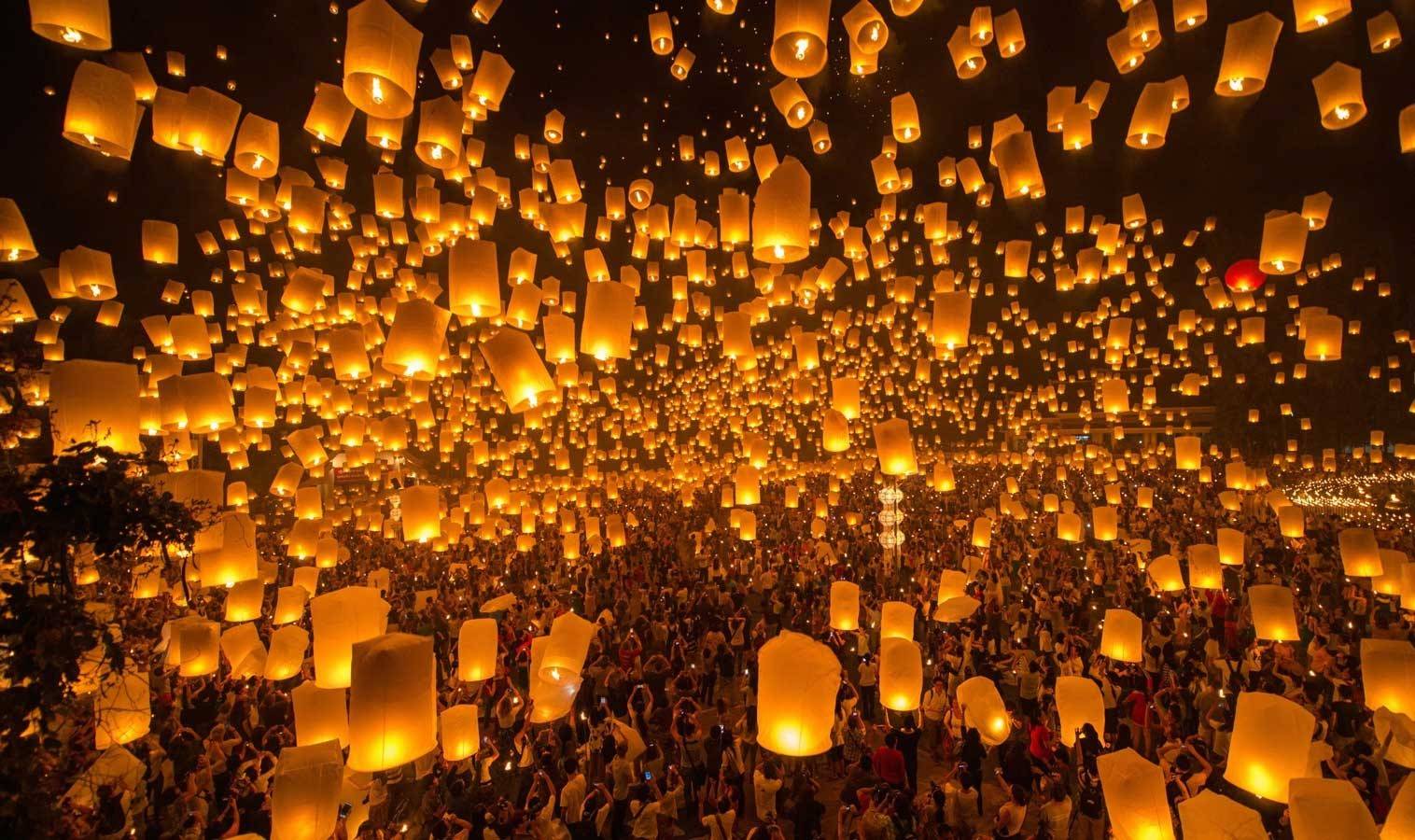 Image Credit: www.chiangmaitraveller.com
In Chiang Mai, the festival coincides with the Lanna (northern Thai) festival known as 'Yee Peng', which refers to the full moon day in the second month according to the Thai lunar calendar. Swarms of lighted sky lanterns will be released into the air that symbolises letting go of all unluckiness and misfortunes in the previous year, and that wishes will come true if you make a wish when you set off the lantern.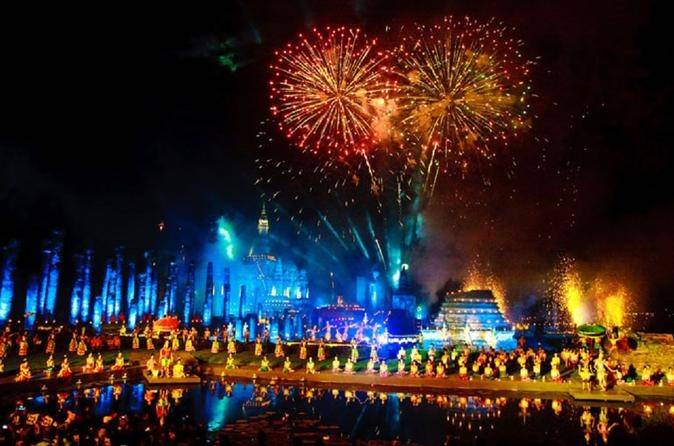 Image Credit: Lonely Planet
Venue: Chiang Mai, Thailand
Date: 21 – 23 November 2018
---
What do you think of all the festivals we listed above? Are there any festivals you know of that we did not mention? Let us know in the comments below and don't forget to share this to all your family and friends to show them the colourful side of Southeast Asia.