6 Types of Female Friends You May Travel With
4 Holiday Destinations For The Adventure-Lover In You
---
The holidays are upon us! The year-end holidays are a popular time to go on an overseas trip, be it a short trip to regional destinations like Taiwan, Japan, or Indonesia. Indeed, you should make the most of your break by going to visit exciting destinations around the world.
However, if you've exhausted the common destinations, or just wish to change things up a little, maybe this list will help! This travel guide is put together for the adventure-seekers and serious travellers amongst us. It might be a tad too late to book a last-minute trip for this year-end, but you can always start planning for next year!
For those who believe that travelling must go hand-in-hand with excitement and risk, here are a few quick picks of adventurous holiday destinations around the world:
Hike in the Milford Track, New Zealand
This is one of New Zealand's most well-known nature trails which traverses wetlands, rainforests, and alpine lands. With such diverse scenery, it is no wonder it is so beloved by hikers and travellers from afar. Truly, it is so popular that tickets to the walk goes on sale 9 months prior, and becomes fully booked within a day.
The season to tackle this track is between late-October to April during the summer months. The trail spans 53 kilometres, and is typically covered in 4 days and 3 nights. There are guided tours and huts to stay in along the way as well. Although it is long and slightly challenging, you don't need to be specially trained to conquer this track.
Sleep under the stars in Namibia
You probably have seen stars in the night sky, but none like those you will see at Namibia. Due to the absence of light pollution and low levels of air pollution, Namibia is one of the best places on earth to stargaze. The darkest points – the best ones for stargazing – are found in Sossusvlei, in the southern Namib Desert.
When night falls, the dark sky will come alive with more stars than you can imagine. Marvel at the Milky Way blanketing the sky, and see the bursts of colours and light painting the night.
Learn snorkelling in Tioman Island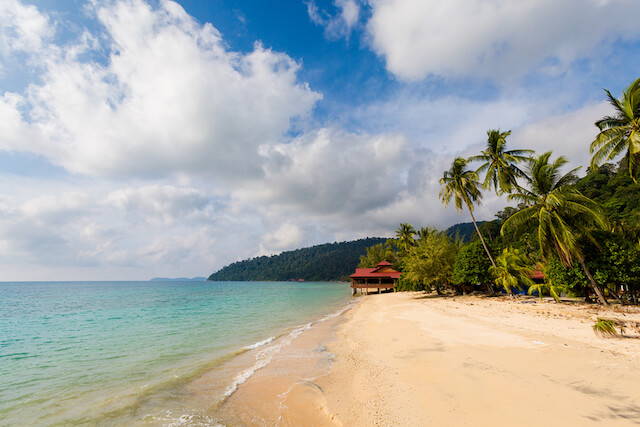 If you want to embark on some water sports, an island holiday is the best way to go! Malaysia's Tioman Island offers an abundance of marine life and coral reefs for those inclined to explore the sea. Snorkelling and scuba diving are popular activities here, and travellers stand a chance to swim alongside fishes and turtles.
Located in the state of Pahang, Malaysia, Tioman Island is best visited between March and June when the underwater visibility is the best. Travellers who are new to diving or snorkelling can also pick up the sport there with a short course.
Check out a volcano in Indonesia
Volcanoes may sound dangerous, but they are very majestic and breathtaking natural wonders to witness. Indonesia lies on the Pacific Ring of Fire, which means it has an abundance of volcanoes. This makes it a great place to visit some of these magnificent structures, like the Ijen Volcano and Mt Bromo.
The remarkable thing about volcanoes is how they are hauntingly beautiful. Most of them come accompanied by spectacular views like amazing vantage points, wild flora and fauna, craters, lakes, and so on. Travellers with an itch for adventure will enjoy trekking up these volcanoes for the sweet reward of out-of-the-world views.
Do these destinations ignite your thirst for travel yet? You can tick off some of these destinations with us at comelah! Fulfil your snorkelling dreams with our Malaysia Tioman Island package, or explore volcanoes with our tour package to Ijen or Mt Bromo in Indonesia. Step up the adventure on your next holiday!