4 New Attractions to Go in Penang for Your Next Holiday
4 New Attractions to Go in Penang for Your Next Holiday
---
By Darren                 May 16, 2018
Those who have been to Penang will know the usual spots to have cheap and good food, all the quirky museums and every location of the murals in George Town. However, Penang might just be a little different now from the last time you have been there. Grab your partner or your family along now to explore all the new and awesome attractions in Penang for your next holiday.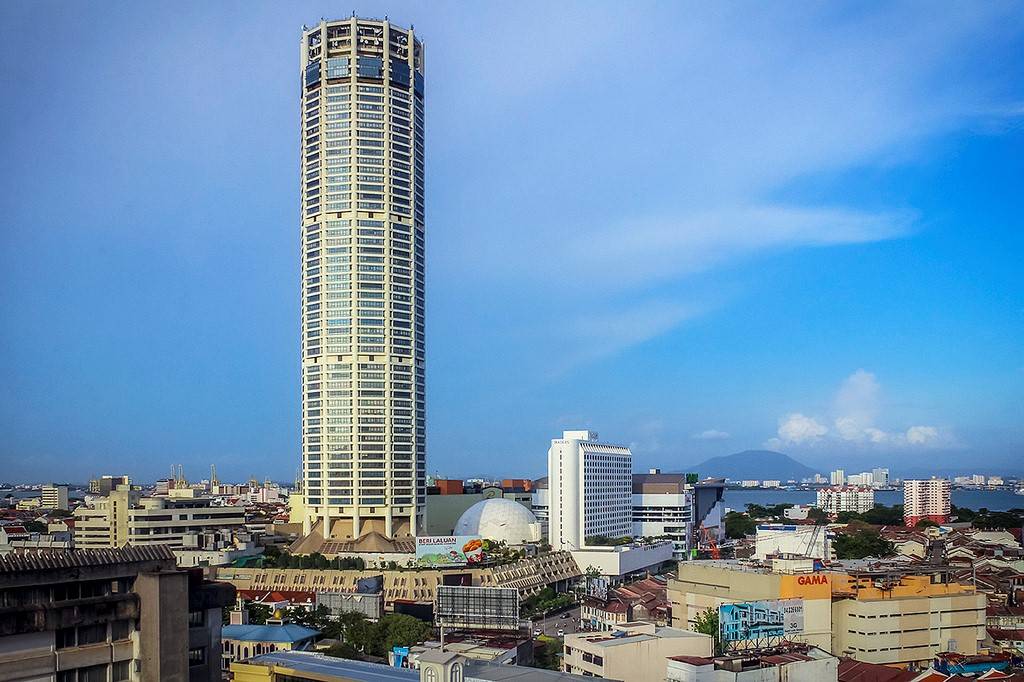 1. Komtar Rainbow Skywalk
Launched in December 2016, the Rainbow Skywalk - Windows of the Top Penang is a horseshoe-shaped cantilever bridge with a glass walkway in George Town offering a 360-degree bird's-eye view of Penang. It is located at the top of Komtar Tower, the tallest skyscraper, at a height of nearly 250 metres above ground (68th floor) and is the highest outdoor glass sky walk in Malaysia.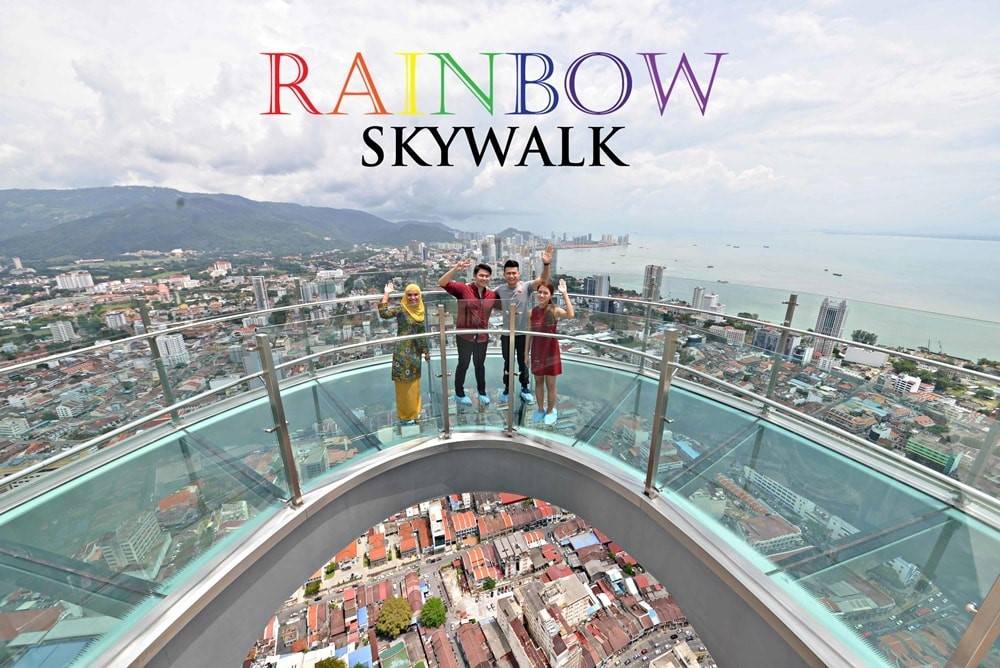 If you are there at night, you will get a spectacular view of the city's skyline with thousands of lights emitting from the dark background. Also on the rooftop, Coco Cabana Bar & Bistro offers great tapas food and cocktails besides the great views.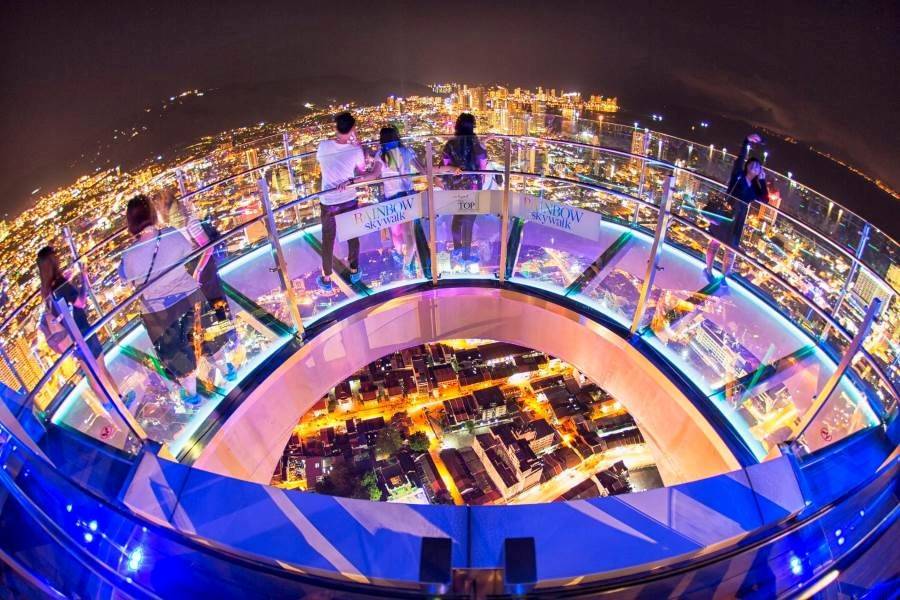 Image credit: www.travel141.com
Opening hours: 10:00am – 8:00pm daily
Address: 68th Floor, Komtar Tower, Penang Road, 10000 George Town, Penang, Malaysia
Coco Cabana Bar & Bistro
Opening hours: 11:00am – 10:00pm (Sun - Thur); 11:00am – 11:00pm (Fri & Sat)
2. The Gravityz
This new kid on the block (block referring to Komtar Tower here) set to boast what may be the world's highest rope course challenge in a city centre, at a height of 239 metres from the ground, 65th floor to be exact.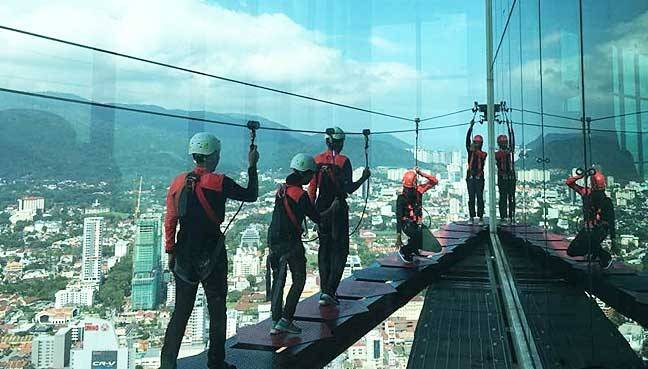 Opened last month in February 2018, The Gravityz will feature popular recreational attractions, including a flying fox zipline and obstacle challenges — A Great Bridge, Z-Wire, G-Rocky, X-Point, High Bench and the Confidence Path. Challenge yourself and overcome your fear for height in this out-of-the-world experience with a breathtaking view.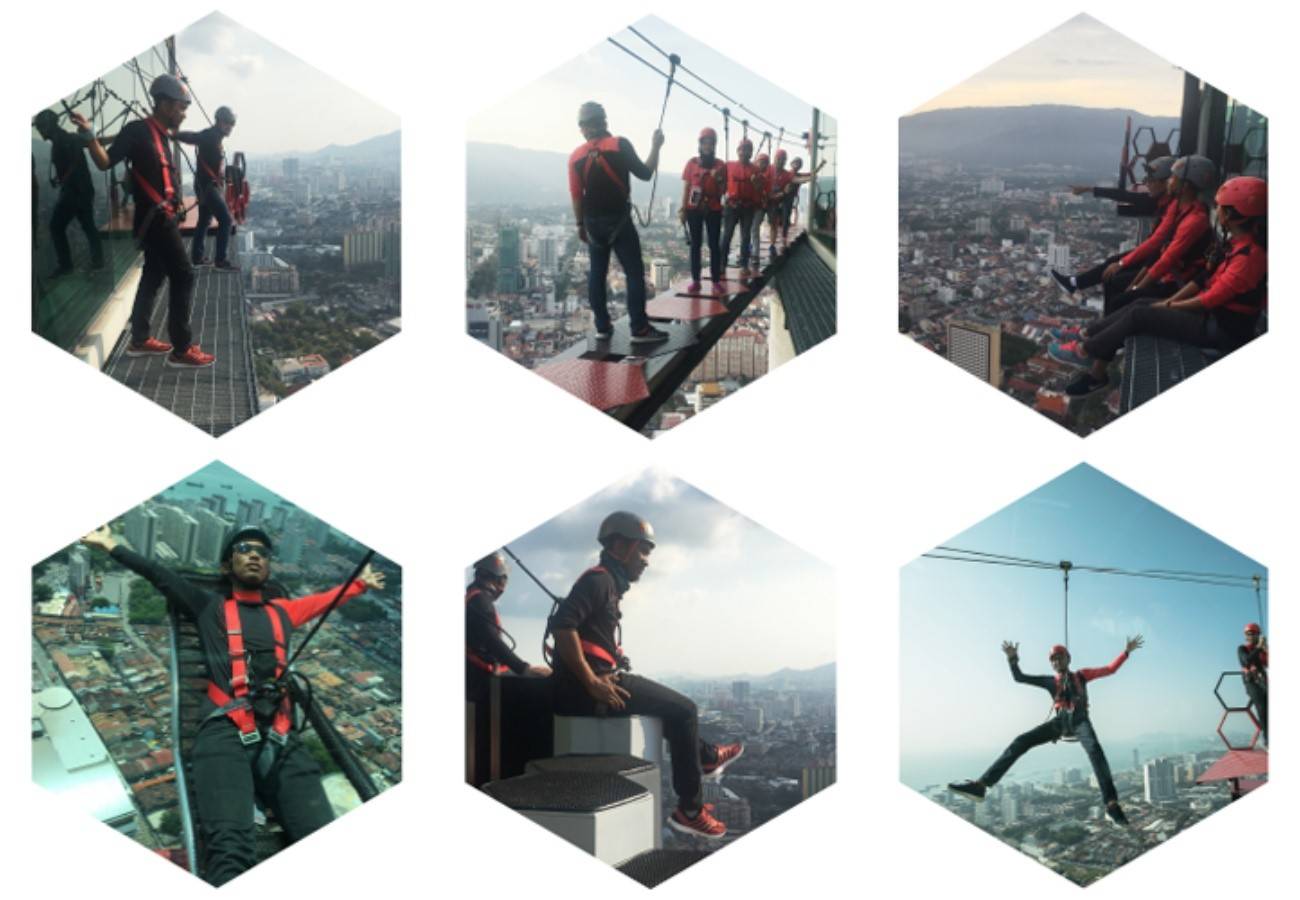 Do note that participants should be 18 years old and above. Those under 18 must be accompanied by a paying adult. There will always be 2 instructors accompanying the participants to provide guidance and assistance who have been given the necessary safety and first aid training.
Address: 65th Floor, Komtar Tower, Penang Road, 10000 George Town, Penang, Malaysia
Opening hours: 10:00am – 6:00pm daily
3. Escape Waterplay Park
I'm sure many of us would have already visited the Escape Adventureplay Theme Park at Teluk Bahang. And now, it is time to revisit the place again for the next big thing – Escape Waterplay Park, which opened its doors in December 2017.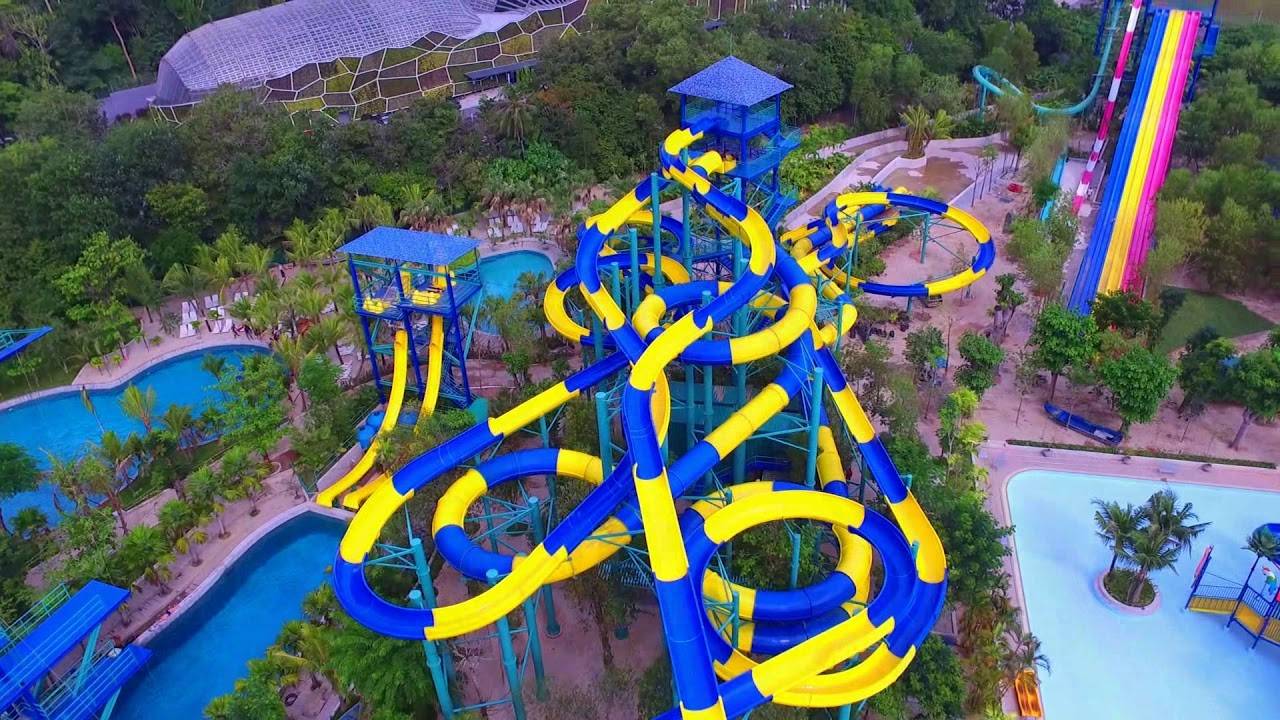 The water theme park will have 20 new attractions and featuring the world's longest water slide spanning one kilometre. The slide's fun journey begins with a 420-metre ascend by chairlift to the top of a hill, zooming down and pass Jalan Teluk Bahang beside a pedestrian link bridge and into a swimming pool at the end.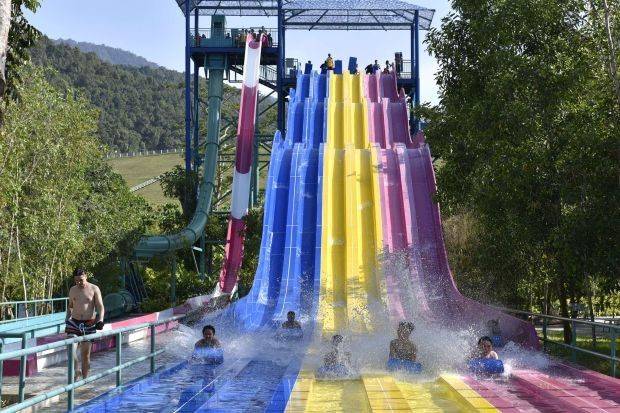 Image credit: The Star Online
The hilltop will also be the start of other rides like the luge (downhill sleds), zip coasters and tubby slides, collectively known as Gravityplay which is slated to be opened by December 2018. Nevertheless, the entire place will be a different and wonderful experience as the saying goes "good things come to those who wait".
Address: 828 Jalan Teluk Bahang, 11050 Penang, Malaysia
Opening hours: 10:00am – 6:00pm (Tues - Sun)
4. Dark Mansion – 3D Glow in the Dark Museum
There are many museums in Penang, but this will surely catch your attention with its amazing concept. Taking one step beyond the existing 3D art painting techniques, Dark Mansion presents a new dimension of 3D art by incorporating the amazing glow-in-the-dark effect into the 3D paintings and artworks.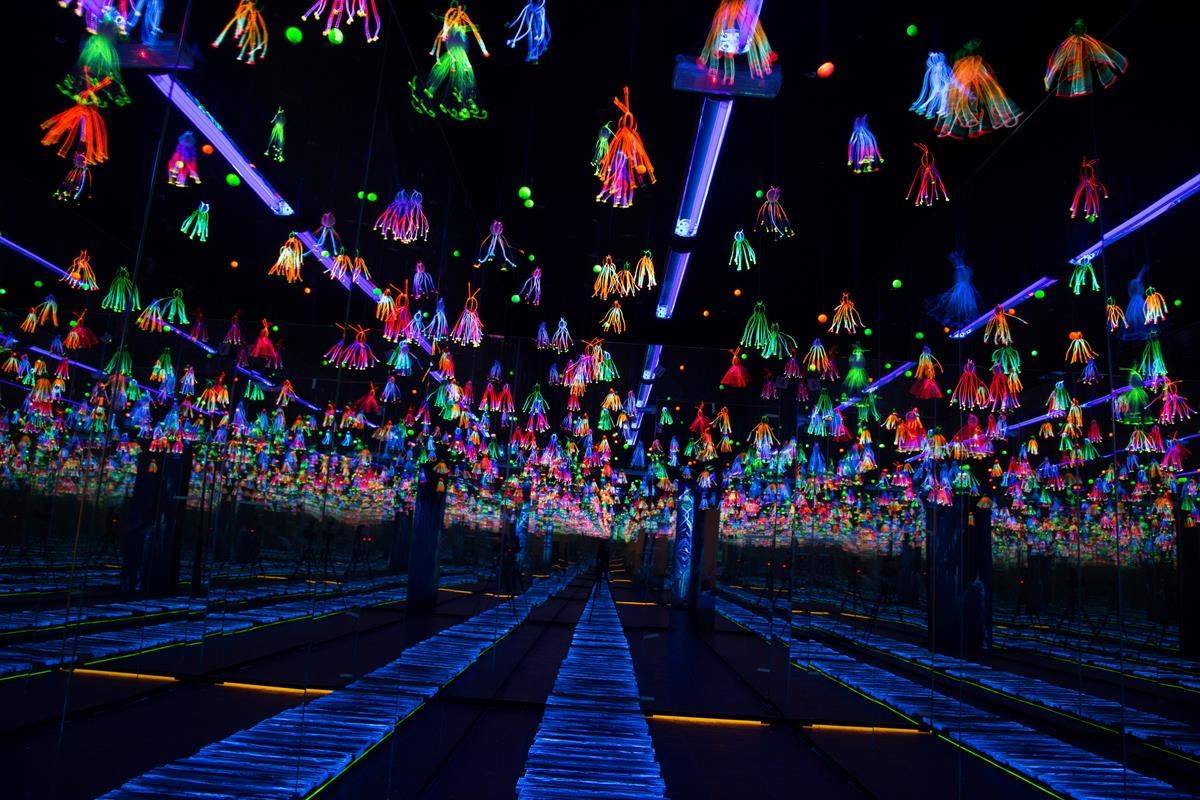 Image credit: Dark Mansion
The museum has 5 different and unique attractions, each with its own theme. The first and the biggest is a 3D illusion street painting by Edgar Müller (master street painter from Germany) with day-to-night transition effect. The second is of a glowing jungle theme that might surprise you with hidden creatures.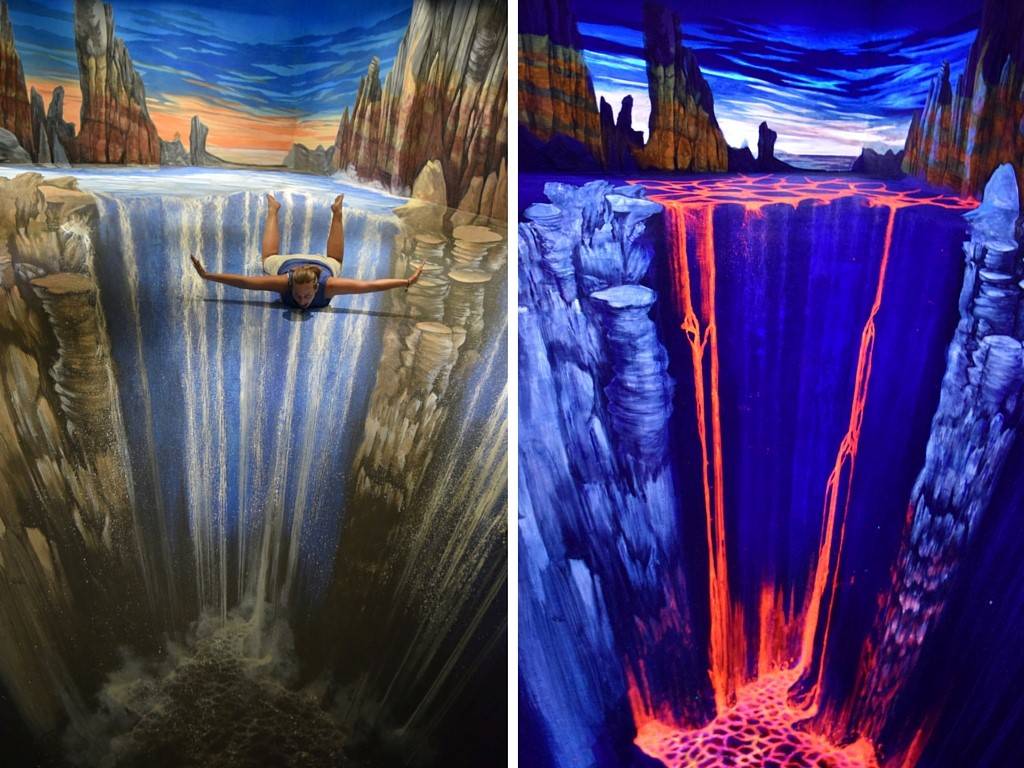 Image credit: Image Credit: The Curious Explorers
The third attraction is called the Infinity Room, which feature an "endless" glowing bridge and the sky covered with glittering creature. The fourth one is what looks like a scene popping out from a sci-fi movie, and lastly the fifth one will transform you into a character in Toy Story, Super Mario Bros as well as Street Fighter.
Address: 145, Lebuh Kimberley, 10100 George Town, Penang, Malaysia
Opening hours: 10:00 am – 6:30pm daily
---
Do you dare challenge yourself to the rope course challenge or simply have some fun at the Escape Waterplay Park? Which one do you plan to visit and why? Let us know what you think in the comments below and share this to your family and friends who are planning to go Penang on their next holiday.