6 Types of Female Friends You May Travel With
Experience Balinese Traditional Dances in the Heart of Bali
---
Balinese traditional dances were previously reserved for the gods and only performed during special events. But times have changed and we mortals can now enjoy these memorable performances. Whether you are on a short trip from Singapore or a Bali honeymoon tour package, you can enjoy the art and drama of these dances.
There is no better place to enjoy the drama than Ubud, the traditional home of the royal courts and nerve centre of Bali's performance talent.
Why Ubud?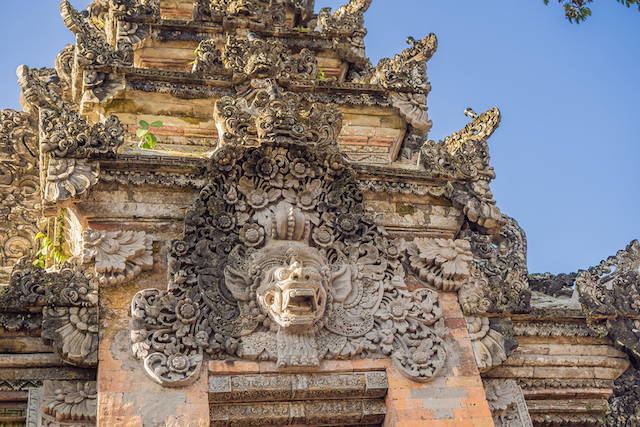 Ubud was patronised by the Ubud royal family, many artists as well as teachers of the dances settled in the area to entertain the royal family. Ubud has grown into the performing arts centre of Bali since the early years of the 20th Century,
In Ubud, you could spend weeks upon weeks experiencing the different performances at various venues every night. The variety of performances is endless, ranging from shadow puppet plays, wayang kulit to gamelang performances and other traditional dances.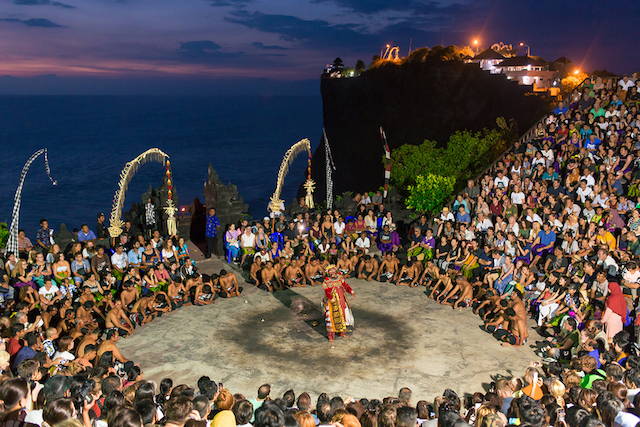 Catching so many performances can take up a large amount of time. But there's no need to worry, you'll be able to see more than enough action even if you are on a short weekend getaway from Singapore. Performances often take place in ambient locations, such as majestic temples, shrines and palaces. Therefore, do not anticipate to be ushered into a theatre. Instead, you will walk to an open court and experience a moonlit stage with the warm sand as its floor.
Some performances are done exclusively at sacred shrines within specific temples. Visitors are welcome to view. However, you have to dress in full traditional regalia, pakian adat, before you can enter. Feel free to ask your travel guide or staff members working at your hotel about where to source these clothes.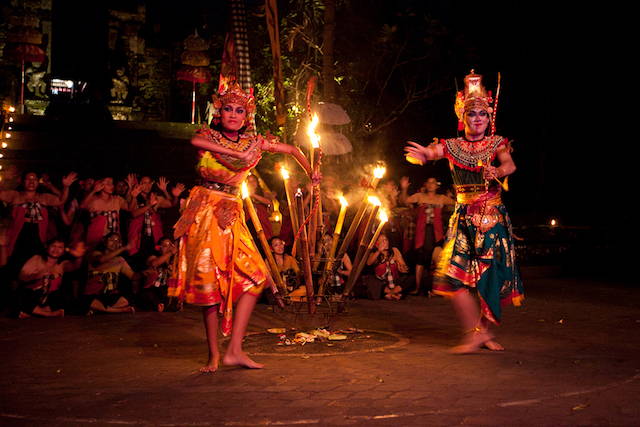 The most popular performances are the epic Hindu stories of the Ramayana and Mahabharata. There are other popular dances from Javanese folk tales such as the Legong "JOBOG" Dance Story and the Kecak Fire and Trance Dance. Some simply have no stories but have grown in popularity over the years. For instance, the Kecak dance is performed by well over 100 artists who dance in synchronism and sway to a beat. The main attraction of this dance is the climax, which includes fire spectacles.
Venues and organisers will usually provide printed leaflets to give you some basic information on the performances.
The most popular dances are the Legong, Wayan Kulit and Kecak. They are performed almost every night, and you can catch the action even if you are on an unexpected weekend getaway from Singapore or on a short trip from Singapore. The best performances are reasonably lengthy but memorable.
Ubud is the best place to experience traditional Balinese dances. Whether you are on a short trip from Singapore or a Honeymoon tour package to Indonesia, ensure you don't miss this wonderfully unique traditional art.