6 Types of Female Friends You May Travel With
Fascinating Destinations For The Ultimate Holiday Experience
---
The world is full of spectacular sights and adventures in store for you, if you just take the step out to experience them. With so many marvellous destinations around the world, it can come to a point where you are spoilt for choice when it comes to choosing your next holiday destination. So many places to go, but so little time (and money)!
Not to worry! Let us inspire you with some of the rare and beautiful sights and experiences you can get around the world. Hopefully, this helps you narrow down your travel list so that you can nail down your very next holiday destination.
What are you waiting for? Let's get cracking!
Visit moon valley in Atacama Desert
Most of us city-dwellers have never been to a desert. While deserts sometimes conjure up images of parched and barren land, they can also be very beautiful destinations to visit. For the adventurous traveller, deserts are a place to visit at least once in a lifetime to experience a whole new side of nature.
The Atacama Desert is located in South America in the north of Chile and is known to be one of the driest deserts in the world. A portion of the Atacama Desert features various stone and sand formations which bring to mind the surface of the moon – hence it is called the Moon Valley (Valle de la Luna). Sunset time presents the most remarkable scenes, where pink-tinted skies give the vast landscape an ethereal glow.
Zip-line over Angkor Wat
If you're a thrill-seeker, engaging in some adventurous activities on your overseas trip is definitely something you can't miss out on. Some people might have tried zip-lining before. But have you tried zip-lining over a forest in Cambodia?
A popular attraction in Angkor Park (yes, near Angkor Wat!) in Siem Reap is this zip-lining course that brings visitors over various zip-lines, tree-top trails, and abseiling routes. As you cruise through the canopies, you can earn a view of the Angkor Wat from up above. The zip-line operator is fantastically well-rated, so you can be sure it is an activity worth trying out!
Experience wildlife at Plitvice National Park
Some people will travel to see rare and interesting animals that they don't get to see back at home. If you want to see some creatures you wouldn't see here in Singapore, Plitvice National Park in Croatia is a good place to go.
The national park is the oldest and largest nature reserve in the country, and its iconic lakes have been listed as a UNESCO World Heritage. Some animals that inhabit the forested park include the brown bear, deer, lynx, wolves, hedgehog, bats, and more. The waterfalls and lakes in the park are also very famous for its clear and majestic views.
Marvel at the Ijen blue flame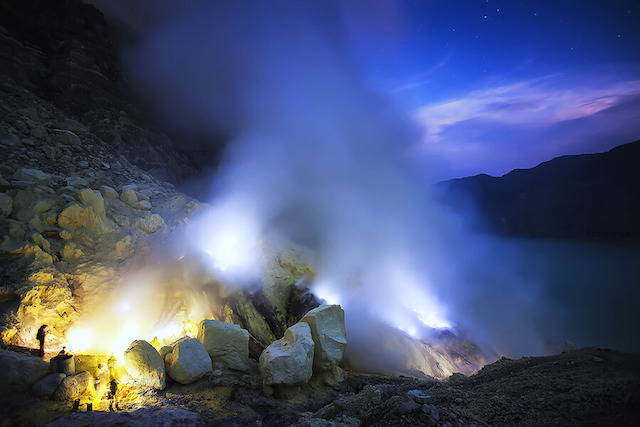 Volcanoes are majestic mountains that seem to come alive. Although active volcanoes present a risk of eruption, they can be amazing travel destinations. The thing is, volcanoes are rarely just volcanoes – they often come along with other natural sights like hot springs, lakes, valleys, plateaus, and more.
One fascinating volcano complex to visit is the Ijen region in Indonesia. Sporting a dazzling blue lake, you can enjoy remarkable sunrise views from the rim of the volcanic crater. Travellers who trek up while it's dark can stand a chance to witness the electrifying blue flames that spew from the crater. Indeed, it is a magical experience to be able to marvel such a scene in nature.
We hope this list has inspired you for your next holiday destination – which of these interests you the most? To visit these destinations easily, it is best to travel with a travel agency so as to reduce the cumbersome process of planning. Out of this list, Ijen is the closest and most affordable destination. Why not check out our Ijen tour package to Indonesia?