Relaxing on the Beautiful and Tranquil Belitung Island
Relaxing on the Beautiful and Tranquil Belitung Island
---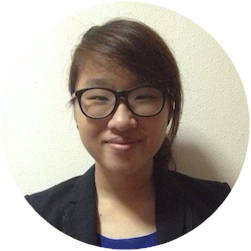 By Joanne   April 11, 2018
While weekend getaways from singapore to beautiful, secluded and untouched islands . Located in the Bangka province, it prides itself on some of the most stunning beaches in the country. The sand is white and soft, ready to fulfil all your dreams of lazing on a sunny beach.
With ideal white sandy beaches and a breathtaking view of the sea, the Belitung Island is a great place to calm your body and mind and cleanse your soul. Surrounded by more than 100 islands covered by granite rocks, you will have no shortage of spots to explore. The sheer beauty of the place exudes peace and serenity, making it one of the best places in the world to enjoy a cheap tour package in Indonesia. Here is all you need to know about this paradise.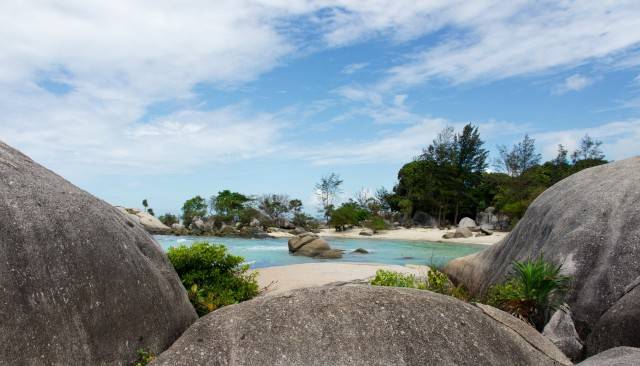 Getting to Belitung:
Thankfully, it's quite easy to access and enjoy the spectacular natural scenery of Belitung Island . It's approximately a 2-hour flight from Singapore, Malaysia or Jakarta.
For people who are leaving from Batam's central harbour, you can enjoy the 45-minute ferry ride or take a taxi to the airport. It's a 2hr flight from Batam airport to Belitung's Tanjung Pandan airport.
Getting around:
Since Belitung is relatively small, the only means of public transport available is taxis. There is only one Taxi Company (Street Taxi Belitung) with a reading meter, but you can also take an airport taxi. However, these tend to be quite expensive.
While on the island, you can contact Street Taxi for public transport or hire a boat for an epic island hopping adventure. Prices vary with the seasons but tend to be relatively low.
Things to do in Belitung Island:
After arriving in this surreal paradise, you may be wondering how to spend your time away from reality. Luckily, with so many beautiful beaches and breathtaking views, you can lie down and enjoy the afternoon sun and the cool ocean breeze. However, there are several things that you just can't miss.
Exploring the dreamy white world of Danau Kaolin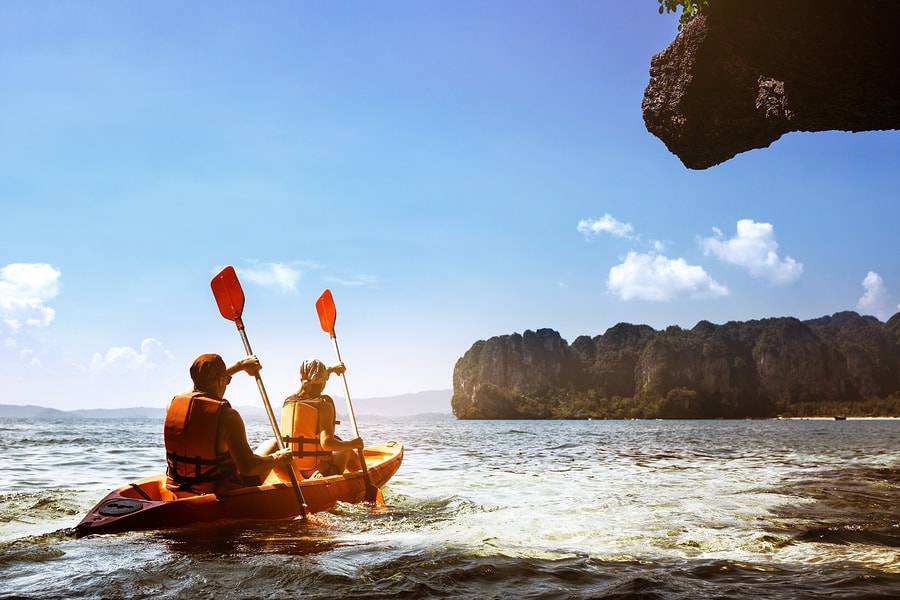 Located near Tanjung Pandan, the Danau Kaolin is a world of pure white sand and clear blue waters with beautiful views. The contrast in colour between the water and the land is very soothing, and you can even see rocky outcrops covered with white mould in the ocean. You might even mistake them for icebergs!
It's a non-stinky sibling to the famous Kawah Putih in Ciwidey, without the irritating smell of sulfur and the water is at a pleasant temperature for a relaxing dip.
The antique lighthouse – Palau Lengkuas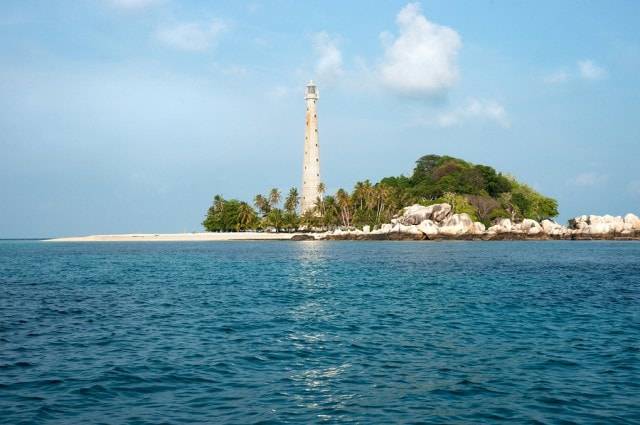 Set up in the 19th century by the Dutch, this ancient lighthouse stands tall on Palau Lengkuas Island, near Belitung. It offers a 360-degree panoramic view of the surrounding sandy beaches, granite rocks and clear waters. You can even consider camping at the lighthouse, but you need permission to do so.
Snap a picture at the sailing rock island
Off the coast of Belitung, Sailing Rock Island is a great place to get pictures with starfish and a closer view of the giant rocks. This place is also locally known as Pulau Batu Berlayar.
There are lots of places to visit in Belitung Island, and it promises never-ending fun for your weekend getaway from Singapore. Iconic hotels and resorts are also available for you to sample the culinary delights of the area and you can always find something that suits your budget.