Top 5 Island Resorts for Your Next Trip to Sabah
Top 5 Island Resorts for Your Next Trip to Sabah
---
By Darren                 May 19, 2018
There are plenty of diving sites all over Asia, but there are only a handful of dive resorts that are perfect and specifically designed for the perfect combination of diving, hotel amenities and resort features. Not a diver? No problem! You can also take advantage of the unique features and architecture of the island resorts in Sabah for your weekly Instagram or Snapchat highlights for your next holiday getaway.  
Semporna is a city located at East Sabah. Semporna Archipelago is voted to house several best dive spots in the world and is frequently used as a gateway for diving and snorkelling trips to the nearby islands of Sipadan, Pom Pom, Mabul, Kapalai, Mataking and others. No matter if you are a pro in diving or still at the learning stage, these resorts will surely cater to your needs in every way possible. Read on to find out!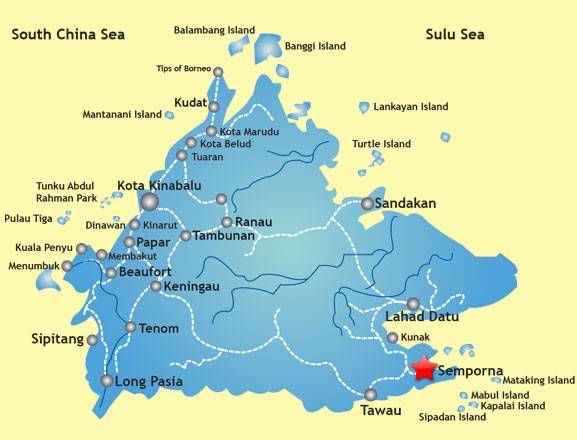 How to get there?
For number 1 – 4:
Step 1. Take a flight to Tawau Airport.
Step 2. Take a shuttle bus, taxi or private-hire vehicle form the airport to Semporna Town.
For number 5:
Step 1. Take a flight to Sandakan Airport.
Step 2. Take a shuttle bus, taxi or private-hire vehicle from the airport to Sandakan city.
Alternatively, sign up for a travel tour package to Semporna that includes transportations.
1. Sipadan Kapalai Dive Resort
Sipadan Kapalai Dive Resort is a unique resort built on stilts over the sandbanks Ligitan Reef in the style of traditional Malay water villages. It is situated near Sipadan and Mabul islands, which can be reached in few minutes by boat. To get here, you will have to take a 40-minute boat ride.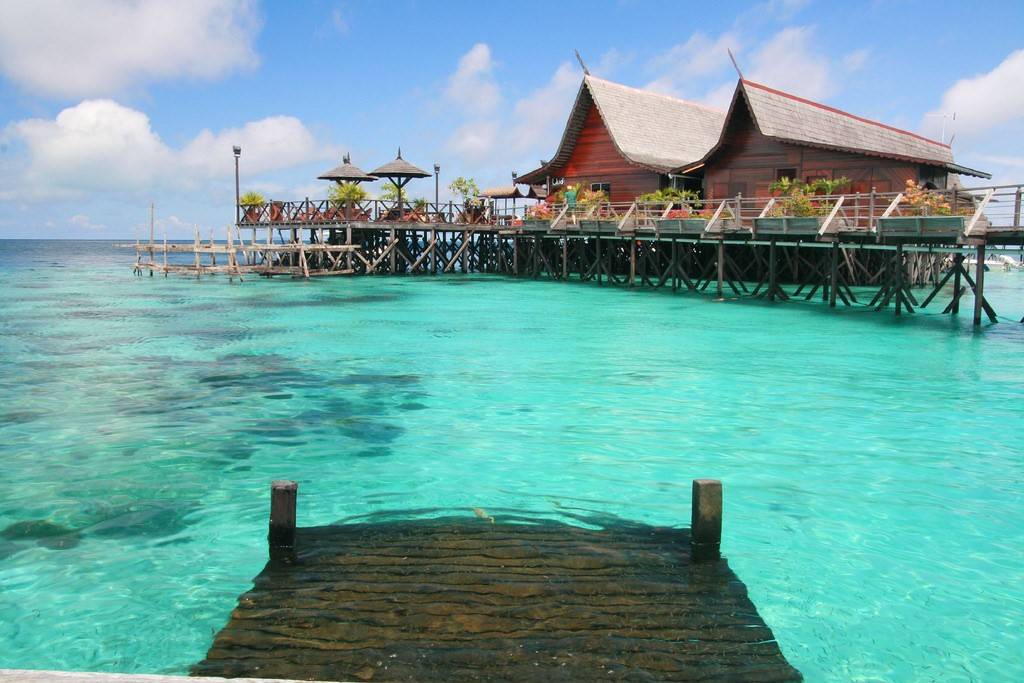 Image Credit: Henry Ko / Flickr
Popular for honeymoons and staycations, Sipadan Kapalai Dive Resort boasts 50 elegant and spacious wooden chalets offering ocean view balcony with total privacy perfect for sunbathing or simply contemplating the great big ocean.
Image Credit: www.peterwongphotography.com
Delicious and sumptuous meals are being served in buffet-style at the open central restaurant. There is also a large sundeck sitting area perfect for sipping a drink while enjoying the tropical sunset.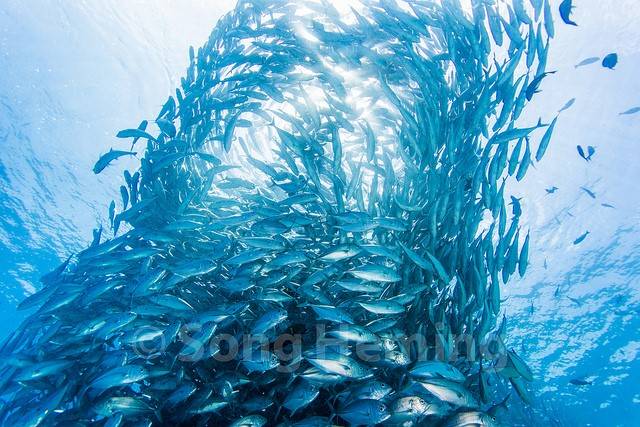 Image Credit: NiCK Song / Flickr
Day trips to Sipadan Island with its outstanding wall dives are available and each trip will end with great food and freshly cooked snacks after diving. Macro Diving would be eye-treating here and shore diving is free of charge, as is the wonderful snorkelling. Did you know Sipiadan Island is voted one of the World's top 10 diving sites?
Review of Sipadan Kapalai Dive Resort
Star Rating: 4.5 out of 5
"...The resort is just like those very nice resorts in Maldives located in the middle of the sea except that it will be much cheaper. The resort is beautifully decorated with many flowers. It is very nice place for family and gathering of group of friends..."
"...If diving at Sipadan island is what you have in mind, won't go wrong with Kapalai. It's one of the resorts that are assigned the most numbers of diving permits. The dive crew was professional and helpful. They knew the dive sites well. After all the dives, they washed all our BCs and regulators..."
*All ratings and reviews are taken from TripAdvisor.
2. Pom Pom Island Resort
Another unique resort featuring villas above water, Pom Pom Island Resort has rich tropical vegetation and is surrounded by white sand and the turquoise waters of the Celebes Sea. In order to get on this little paradise, take a 45-minutes boat ride from Semporna Jetty to Pom Pom Island.
Choose between the Beach Villa, which is nestled under green palm trees and just a few steps away from the beach and tropical sea, the Garden Villa surrounded with beautiful lush greeneries, or the Water Villa featuring panoramic views over the Celebes Sea from the comfortable sun beds situated on the private sun deck. You can jump right into the sea for a swim if you are staying in this villa.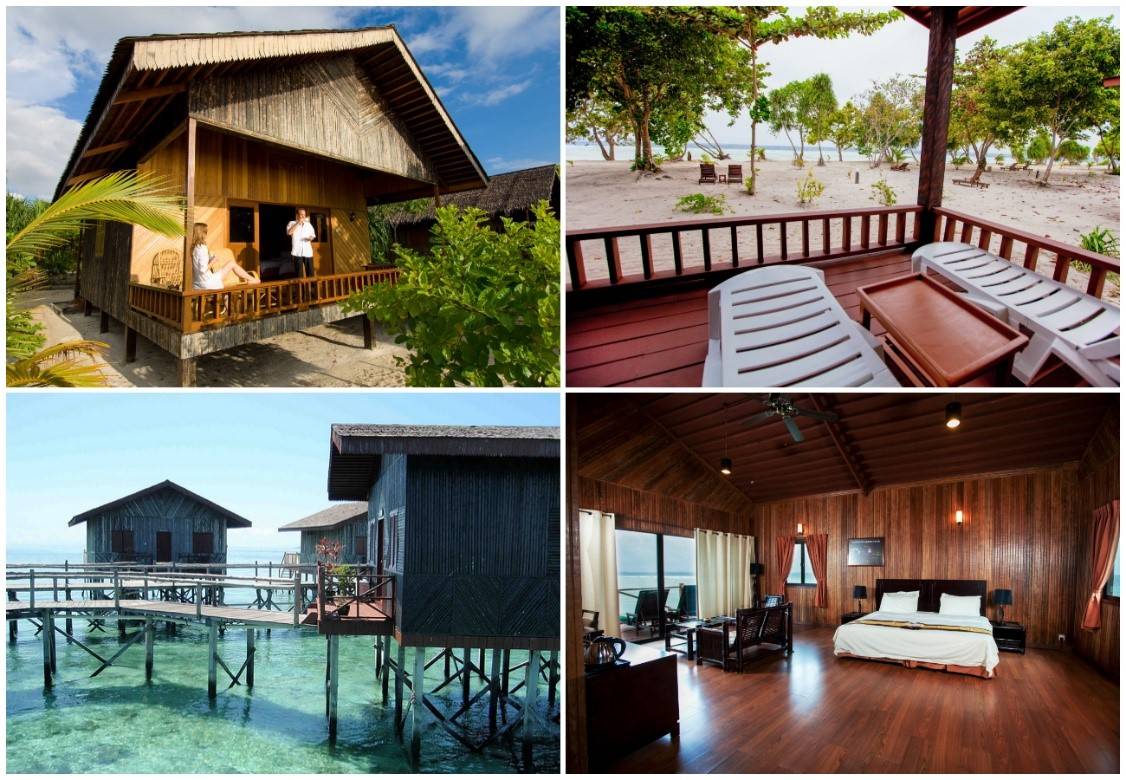 Indulge in traditional Asian and European cuisines at the restaurant, relax and chill and the lounge, or enjoy yourself in the game room with darts and a pool table. You can also find snorkelling and diving trips over here, with activities packages to nearby islands at the activities desk.
Pom Pom Island Resort is also a licensed PADI 5 Star Dive Resort, giving you a unique and incredible diving experience. They also provide storing, setting up and cleaning of your dive equipment safely.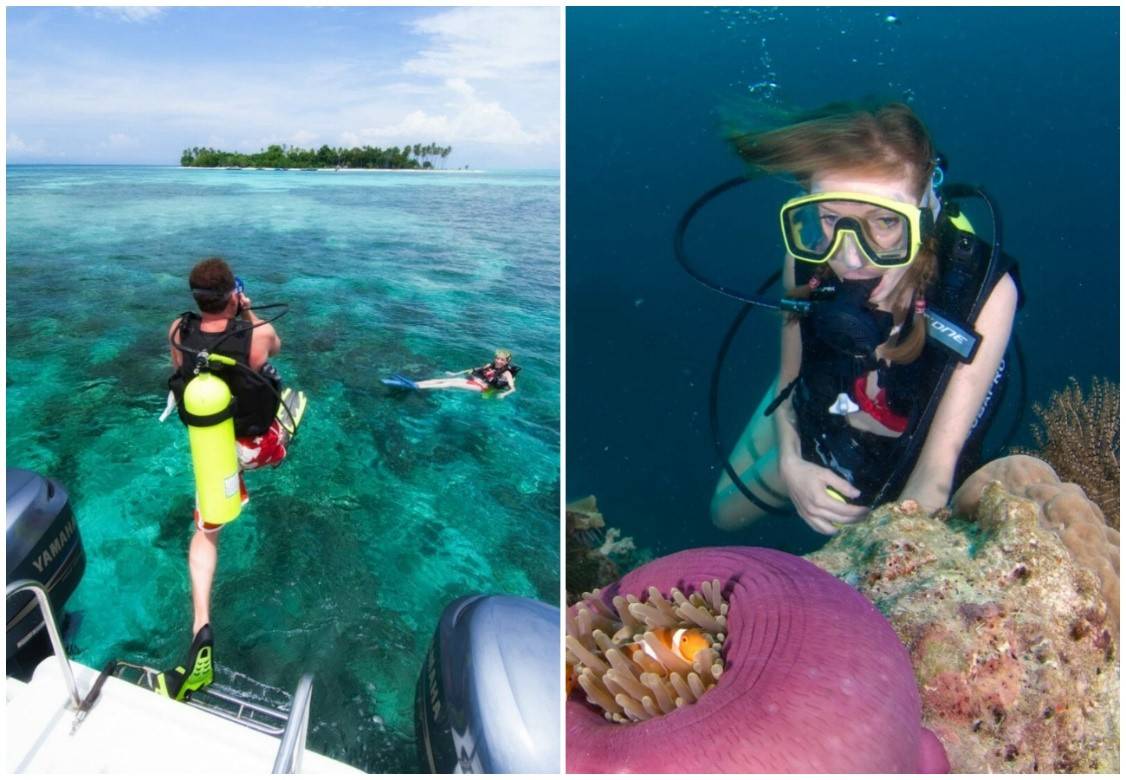 Review of Pom Pom Island Resort
Star Rating: 4.5 out of 5
"...Went snorkelling to find (and found many!) adult turltes, amidst the most pristine blue ocean, filled with exotic sealife and colourful corals. A truly magical experience, beautiful people, stunning scenery - what more could one ask for?"
" I went to pom pom island last month and stayed there for 5 nights with my family. The island is small but beautiful. Soft white sand beach, crystal water, large villa and nice food.Staff are friendly and polite in the resort. Everything is perfect…"
*All ratings and reviews are taken from TripAdvisor.
3. Mataking Island Reef Dive Resort
Caressed by the tropical sea breeze, the Reef Dive Resort on Mataking Island is surrounded by fringing reefs and numerous dive sites filled with unique macrofauna and large pelagic creatures. It is also 40 minutes away from Semporna by boat.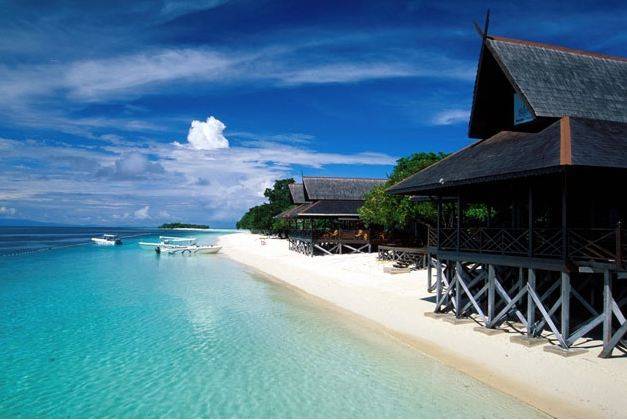 Image Credit: Andrea Piasentin / Flickr
The Luxury Beach Chalets are individual rooms linked together in traditional longhouse fashion while the King Chalet are bungalows raised on its own stilts providing more privacy with high, pointy ceilings. The luxurious Villas are the latest addition to this resort offering individual beach houses overlooking the beautiful Celebes Sea.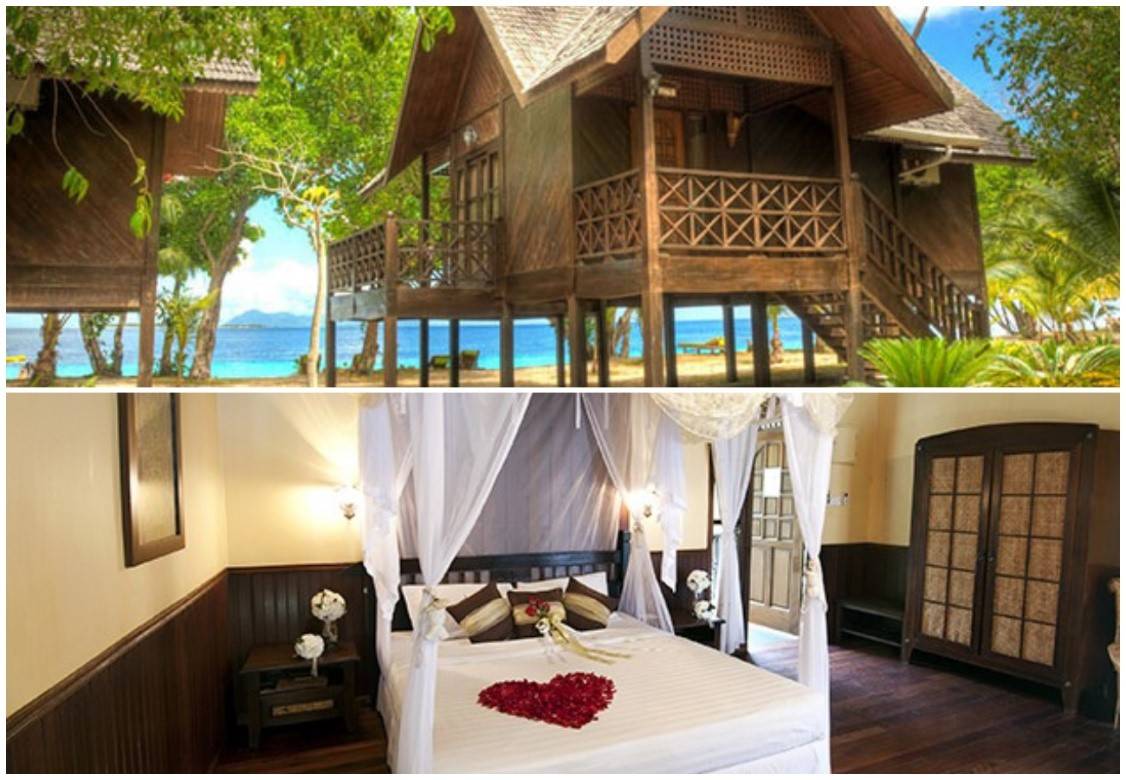 Enjoy Malaysian and international cuisine with an enticing spread of fresh local seafood or relish the weekend barbecued favourites at the sea-facing restaurant. Soaking in the sun on white sand beaches or finding relief in the spa's Jacuzzi, relaxation is guaranteed at this romantic location.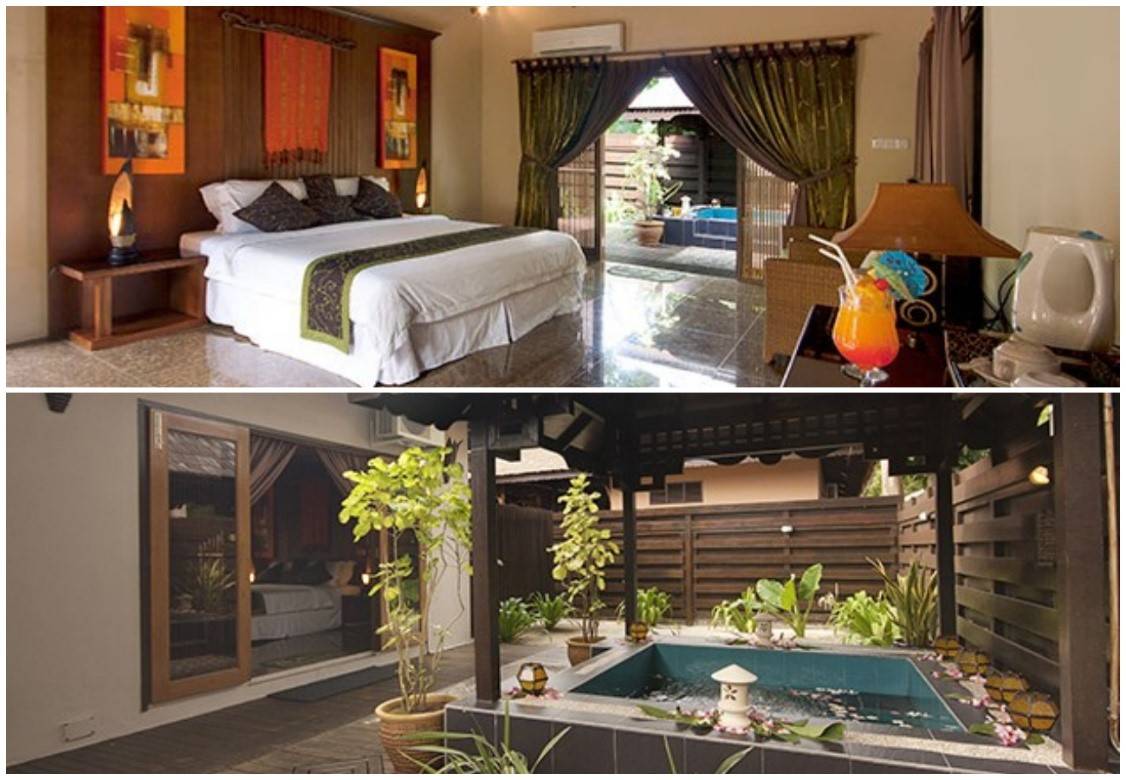 Image Credit: Mataking Island Reef Dive Resort
Regardless you are an amateur or professional diver, there is an extensive amount of dive activities and programmes for you here. For beginners, you can get your diving certified here as well.
Image Credit: Mataking Island Reef Dive Resort
Review of Mataking Island Reef Dive Resort
Star Rating: 4.5 out of 5
"A beautiful island with friendly and helpful staff. The food was very good and the coral reefs are very nice with a lot of colorful fish, so we were really happy with only snorkeling. Despite the rainy season there was plenty of sun and it rained only a little after the sunset."
"...The villa was large and comfortable, with all of the amenities you could ask for. The staff was extremely friendly, helpful and down-to-earth... The food was also good, with a nice variety of offerings to make everyone in my family happy..."
*All ratings and reviews are taken from TripAdvisor.
4. Mabul Water Bungalows
Practically neighbours with Sipadan Kapalai Dive Resort, Mabul Water Bungalows is a floating dive resort, conveniently located nearby at Mabul Island overlooking the world-known dive sites of Sipadan Island which is 15 minutes away by speedboat. Getting from Semporna Jetty is 45 minutes by boat.
*All ratings and reviews are taken from TripAdvisor.
The resort has 15 luxury bungalows and 5 exclusive villa suites built over the water and stands on stilts allowing the enjoyment of cool breeze and beautiful views. The Water Bungalow Chalet is beautifully furnished, equipped with a private and spacious balcony along with all the hotel amenities.
On the other hand, the Borneo Villa Suite offers all the above with a large private balcony complete with Jacuzzi and stunning sea views, and the Royale Villa Suite with everything plus private sea access from the balcony.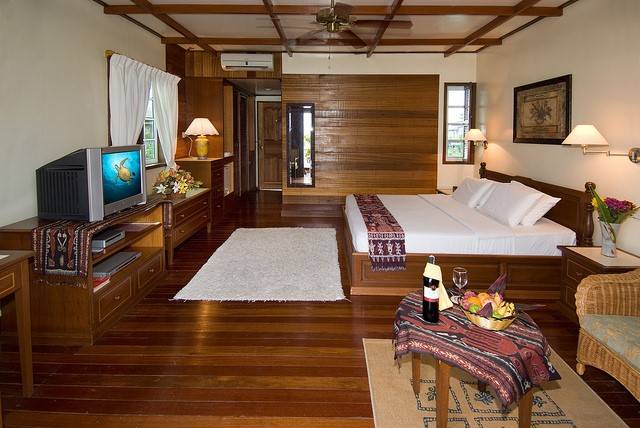 Image Credit: Mabul Water Bungalows
Mabul Water Bungalows offers Wi-Fi access at the restaurant and room. There is a large open-air restaurant for dining, a lounge where you can meet fellow divers, and a dive centre where you can take diving lessons. Aside from scuba diving, you can also do fishing, table tennis, beach volleyball, and ocean kayaking.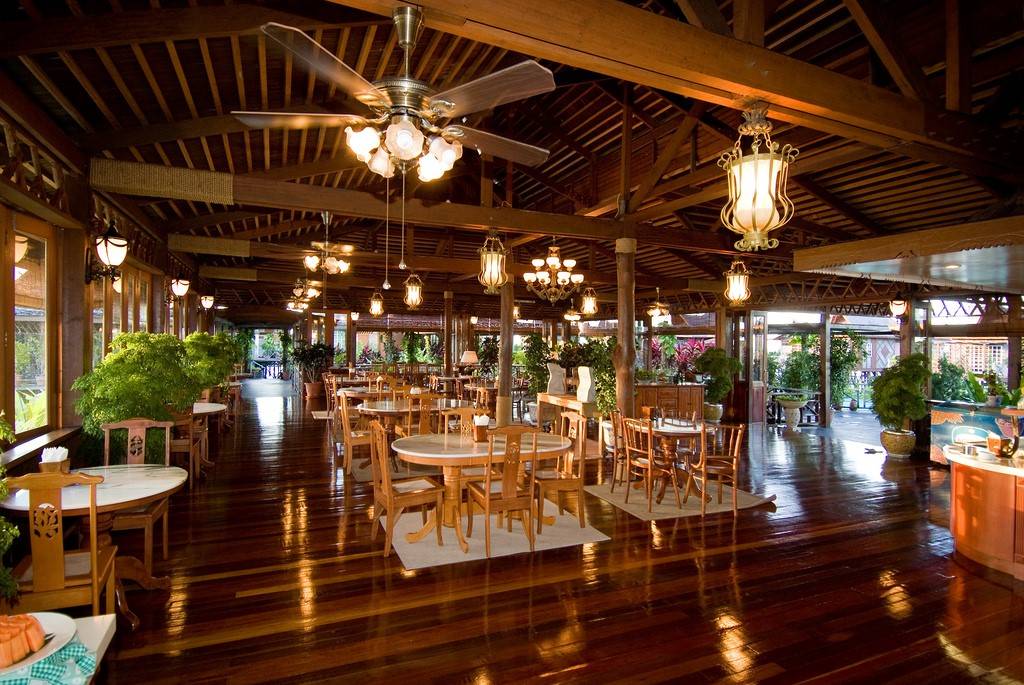 Relief all the tiredness from diving at the Mabul Spa which offers a variety of massages, foot baths, and facial scrubs. Guests can also relax in the resort's whirlpool Jacuzzi which comfortably sits 4 to 6 people.
Review of Mabul Water Bungalows
Star Rating: 4 out of 5
"Had a great week of diving. The staff was very friendly and helpful. Room was clean and issue free and food was fine!!We were able to dive Sipadan 3 days straight. The crew were very experienced and looked after the divers exceptionally well. The boat captain was tremendous. Love this place and will go back."
"We enjoyed 5 nights / 4 days at this resort and could not be happier! After visiting throughout Sabah, this was the nicest and most comfortable setup with the cool ocean breezes and gorgeous vistas... The restaurant served a variety of tasty food, including sashimi some nights and a self-serve cappuccino maker... We strongly recommend this resort!"
*All ratings and reviews are taken from TripAdvisor.
5. Lankayan Island Dive Resort
Being the only resort on Lankayan Island in the Sulu Sea, Lankayan Island Dive Resort offers modern amenities, comfortable rooms, and excellent dive facilities. The resort takes pride in conservation, ensuring the island and its waters to stay pristine. The boat ride is 1.5 hours from Sandakan Jetty to reach here.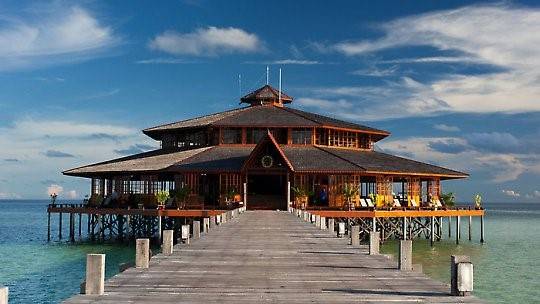 Image Credit: www.whoaadventures.com
The resort features 16 luxury beachfront chalets and 9 standard rooms with gorgeous ocean views. All chalets have canopy beds and private balconies with direct access to the white sandy beach and all rooms are made with local materials that blend in with the natural surroundings.
Image Credit: Murphy Ng / Flickr
Enjoy the fresh sea air when having a meal at the open terrace restaurant – a beautiful wooden structure overlooking the ocean and diners often see juvenile blacktip sharks leisurely swimming by. There is also a beachfront for guest to chill and drink and a souvenir shop that also sells necessities such as batteries and toiletries. On the island itself, there will be a dive centre where guests can rent their scuba equipment as well as ocean kayaks and snorkels.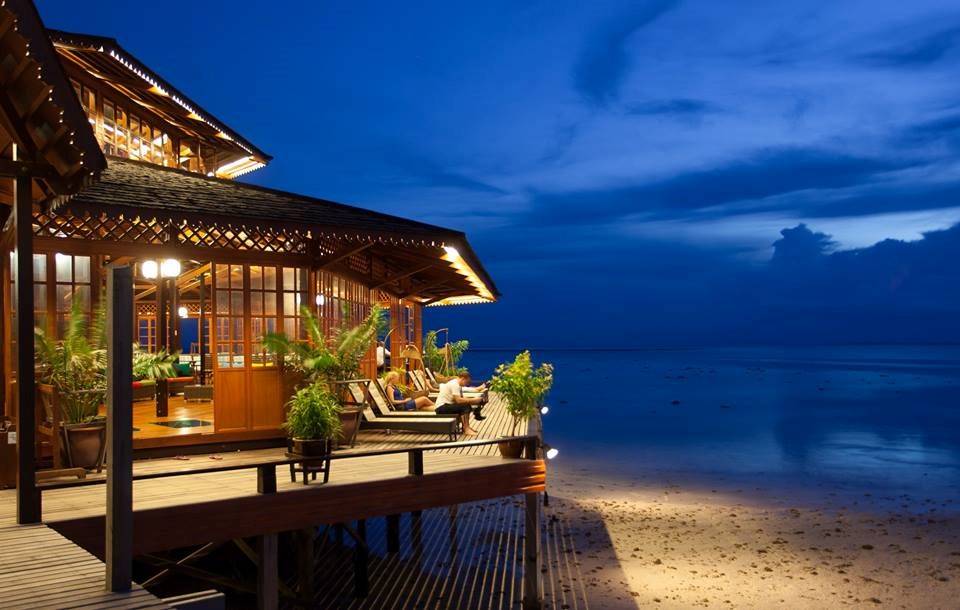 Image Credit: Journey Malaysia
After more than two decades of conservation, turtles in abound swimming in the crystal-clear sea can be seen from the walkways of the resort. Fish stock has increased, and hunting reef sharks and jacks can be observed readily during snorkelling trips.
Review of Lankayan Island Dive Resort
Star Rating: 4.5 out of 5
"It is a little hidden paradise hear! They do amazing work for our planet with the coral reef and turtle project. In total It is one of the most beautiful places i have ever seen and i wished i could have stayed longer! If i am ever back in malaysia i will defenitly come back to this place..."
"We were really looking forward to exploring the reefs around Lankayan. The team were absolutely fantastic. The dive centre is first class. Every tiny detail was looked after without any fuss...!"
*All ratings and reviews are taken from TripAdvisor.
---
Yes, we all know that all you see is beautiful turquoise seas, idyllic beaches and out-of-the-norm resorts, and that's the whole point. Diving will never be more perfect with these resorts specially catering to all divers alike. Simply staying here also gives you stunning views and the sea breeze that you will not experience in the city.
Love it? Don't forget to share this with your family and friends. Interested to go any of the above resorts? Comelah! Message us to get the offer price for booking!