Top 6 Popular and Trending Resorts in Batam & Bintan Singaporeans Love
Top 6 Popular and Trending Resorts in Batam & Bintan Singaporeans Love
---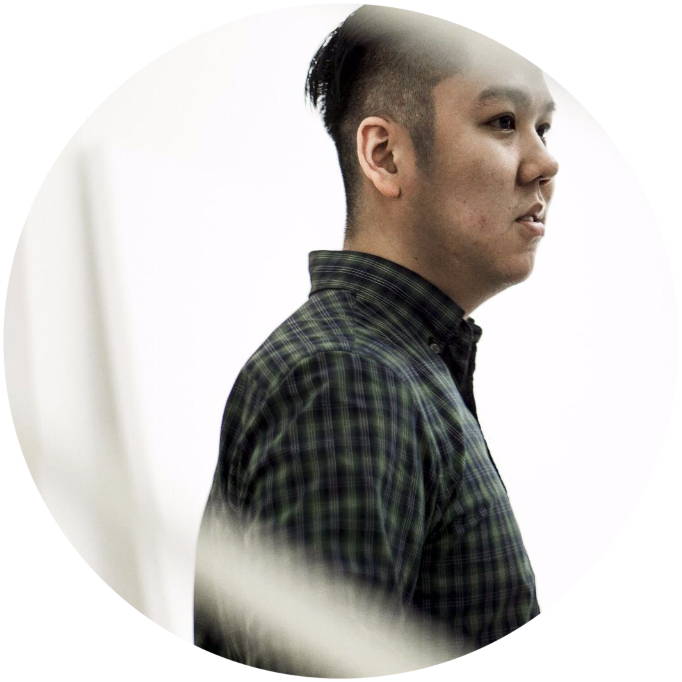 By Darren   April 09, 2018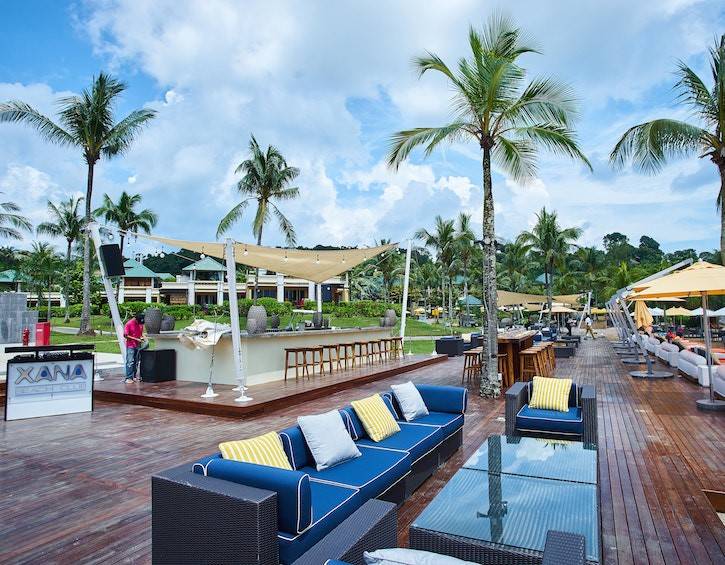 Image Credit: www.sassymamasg.com
There comes a time when we just want to dump all the never-ending work aside, except we can't. That is unless it's a long weekend, or when your boss approves your leave. While some may go on an adventure, most of us just want to lay back and relax. A getaway seems ideally appropriate, a retreat to some resorts. And with Batam and Bintan just within an hour away, we can't wait to show you some of the popular and trending resorts for your next holiday.
Batam
1. Montigo Resorts Nongsa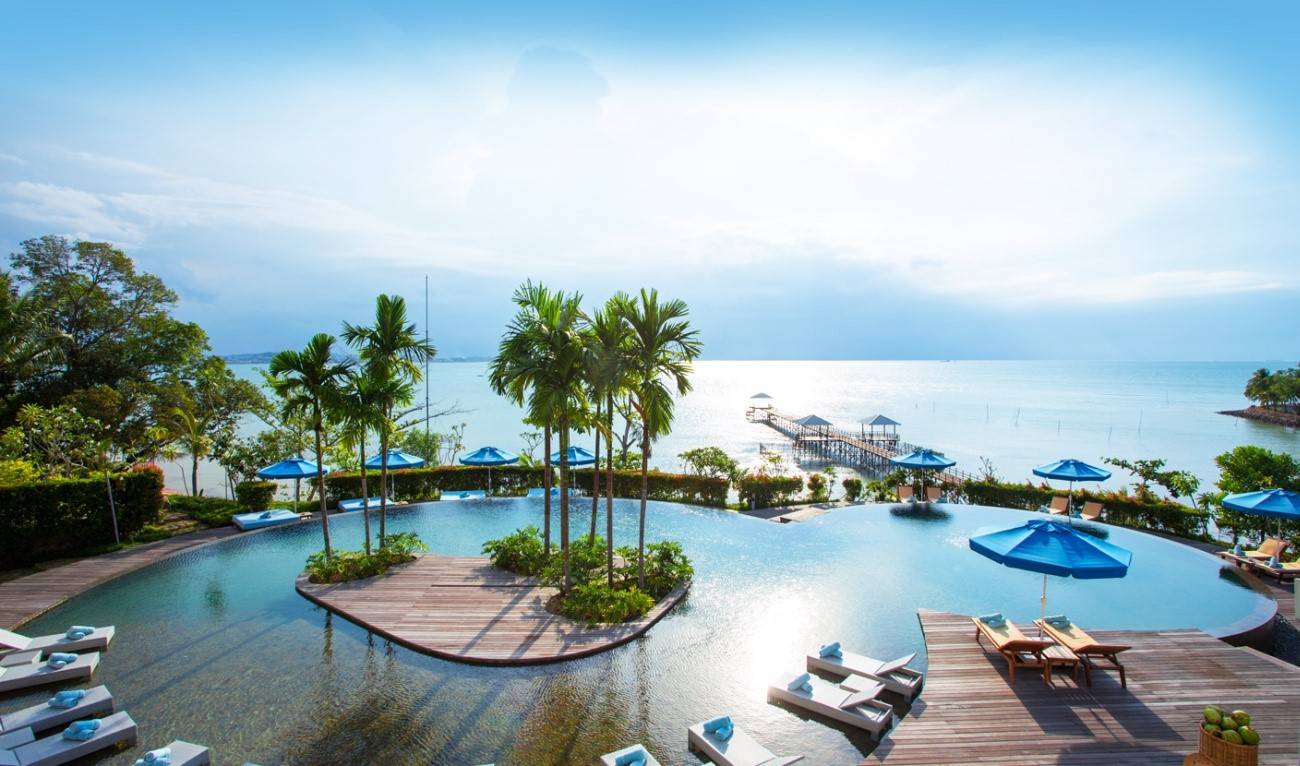 Image Credit: Montigo Resorts Nongsa
Whether you're seeking a fun bonding holiday with your family and friends, a romantic rendezvous with your special someone, or just some peace and tranquillity away from the bustling city, this will be the place you want to be.
Montigo Resorts at Nongsa provides the ultimate getaways for all generations, from young children to the elderlies, each exciting experience is uniquely suited to individual tastes and expectations. Simply put, there is something for everyone here.
Image Credit: Montigo Resorts Nongsa / Premier Three & Four-Bedroom Villa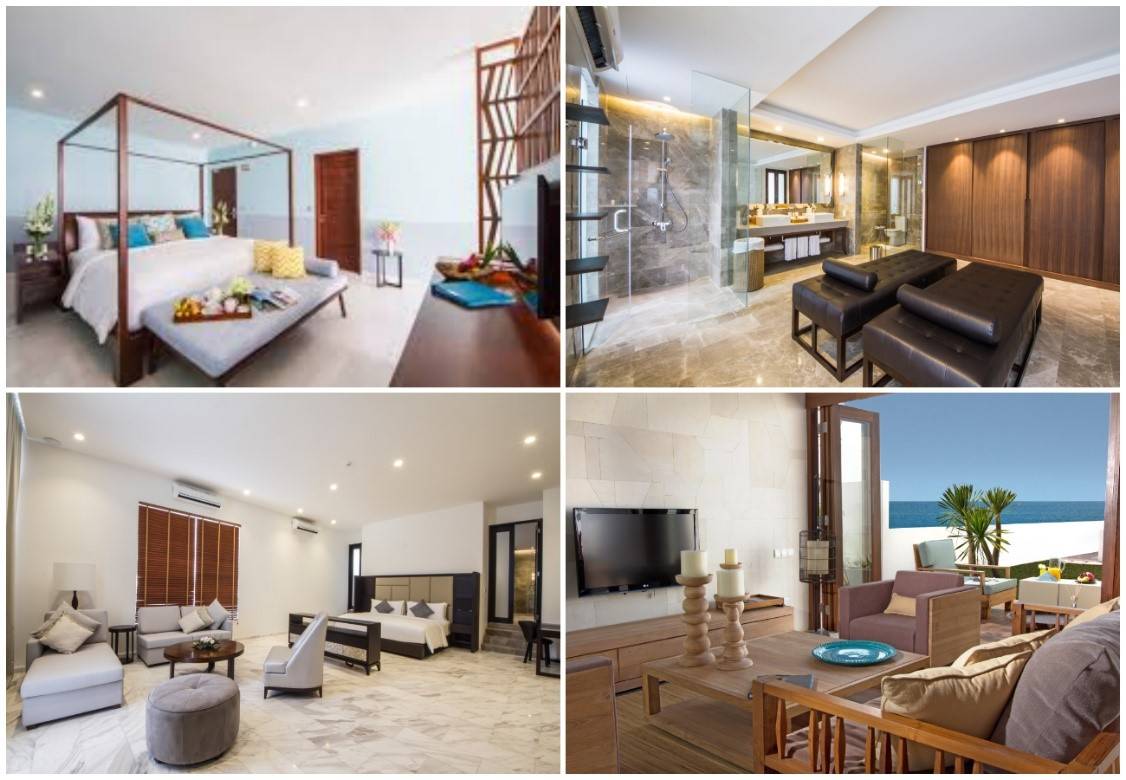 Image Credit: Montigo Resorts Nongsa
If you are going on a honeymoon, take the Premier One-Bedroom Villa designed for couples to immerse in romantic solitude amidst a perfect blend of nature and luxury living. If you are travelling as a family, you can choose the Deluxe Two-Bedroom Villa or the Premier Three & Four-Bedroom Villa with scenic landscapes to delight everyone for their own precious seclusion, from lively tots to their doting grandparents.
Or else, take the Premier Five-Bedroom Villa boasting gorgeous panoramic sea views complemented by exceptional facilities in a little island to call your own.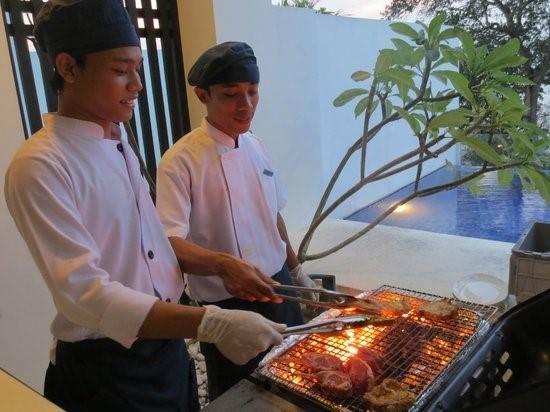 Image Credit: TripAdvisor
You can also arrange in advance for the in-villa BBQ experience where chefs personally come to your villa to grill an array of seafood and meats to perfection.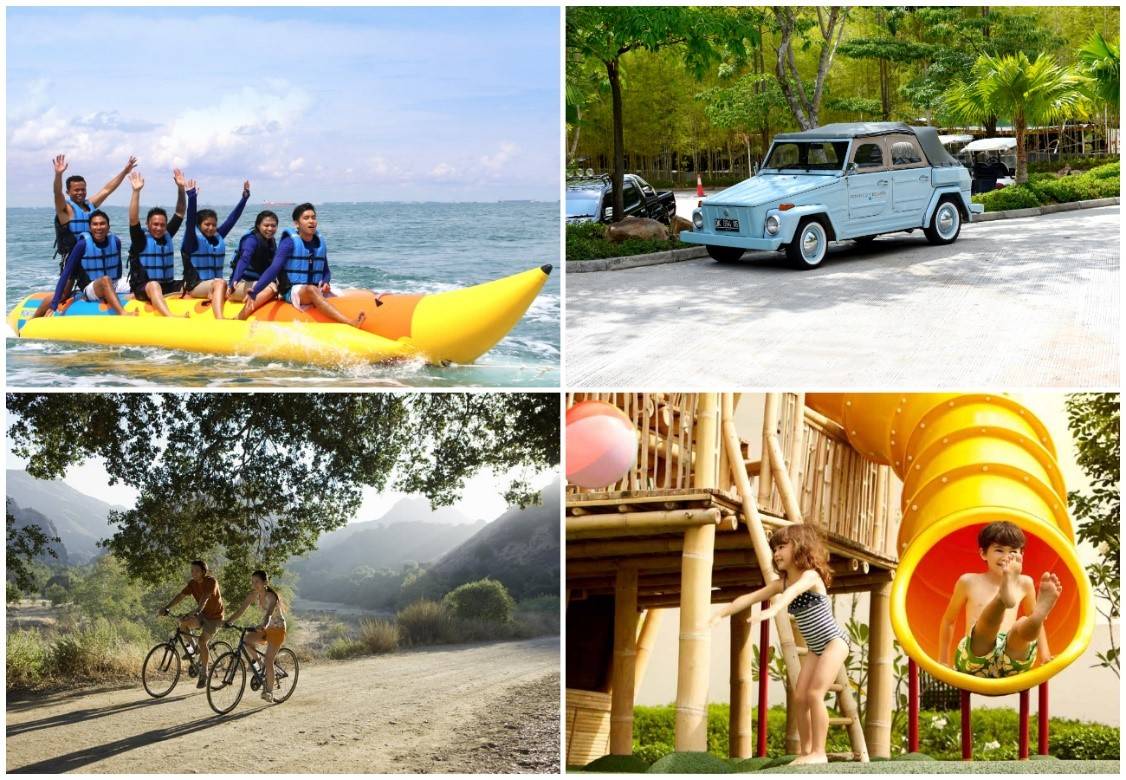 Image Credit: Montigo Resorts Nongsa
You get to indulge in endless fun with activities like fishing, mangrove tour, sunset cruise, shisha, bike tour, vintage car tour and many more. Go shopping with their wide selection of items including resort wear, spa gifts, accessories, unique handicraft and mementoes for all ages.
Want to sweat out a little? Participate in a game of tennis, sand soccer, water polo, do some yoga or life some weights down at the gym. Get wet with more recreation activities like kayaking, jet ski, knee boarding, or just simply swimming at the stunning pool. There is also a safe and interesting place called the Tilo Kids Club for the little ones. There are so much more to enjoy.
| | |
| --- | --- |
| Montigo Resort Nongsa | ★★★★☆ |
| | "Been coming here multiple time..My wife really love this place. Good for couple who want to escape city life and good for family who want to spend precious time together... overall my rating speak for itself." |
| | "It's a perfect place for your family and friends. I stayed at sea view Villa. It has beautiful view of the sea and nearer. Service is top notch. Buggy service is free. In villa BBQ is recommended. Portion is for 2-4 people. We were served by Tiffany who communicates very good English through what's app..." |
*All ratings and reviews are taken from TripAdvisor.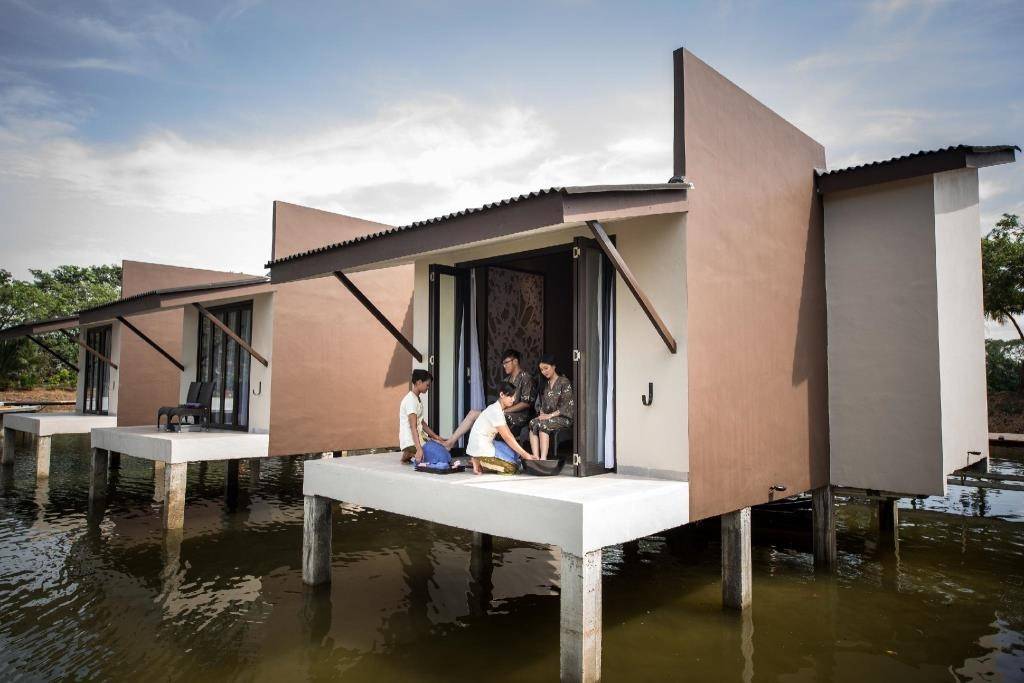 Image Credit: Woda Villa & Spa
Woda Villa & Spa is an over-the-water Villa concept combined with luxury SPA experience aimed to provide a total relaxation getaway within the heart of the city, the first of its kind in Batam. If all you seek is a holiday dedicated to relaxation and loosening of your stiff muscles, you are looking at the right place.
Good news for foodie and seafood lovers, Woda Villa & Spa is conveniently located near the famous Golden Prawn 933 restaurant.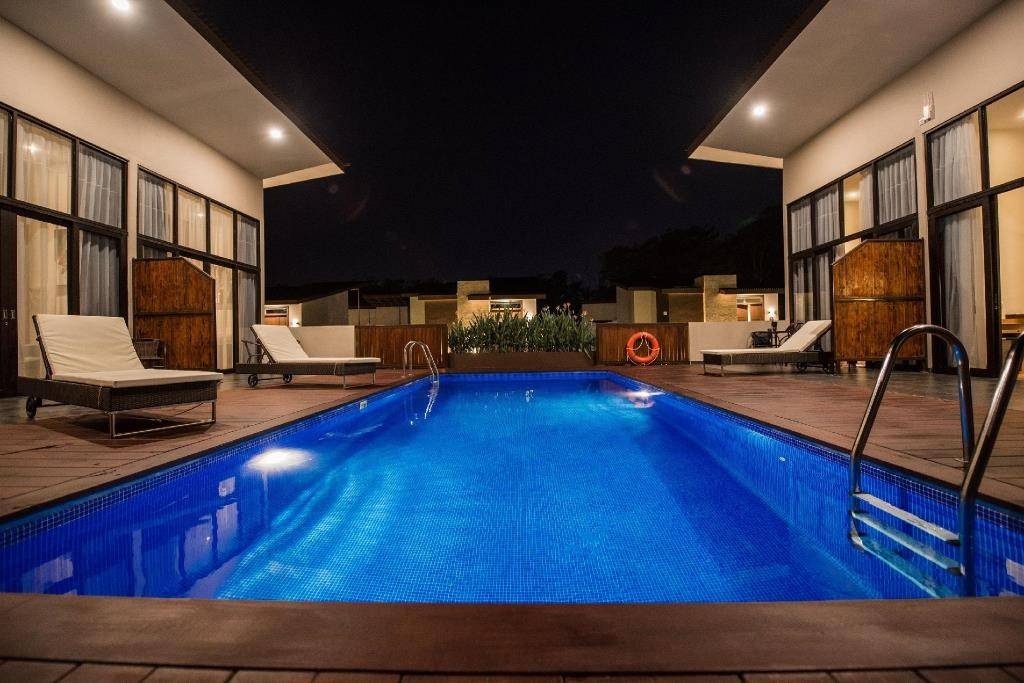 Image Credit: Woda Villa & Spa / Suite Villa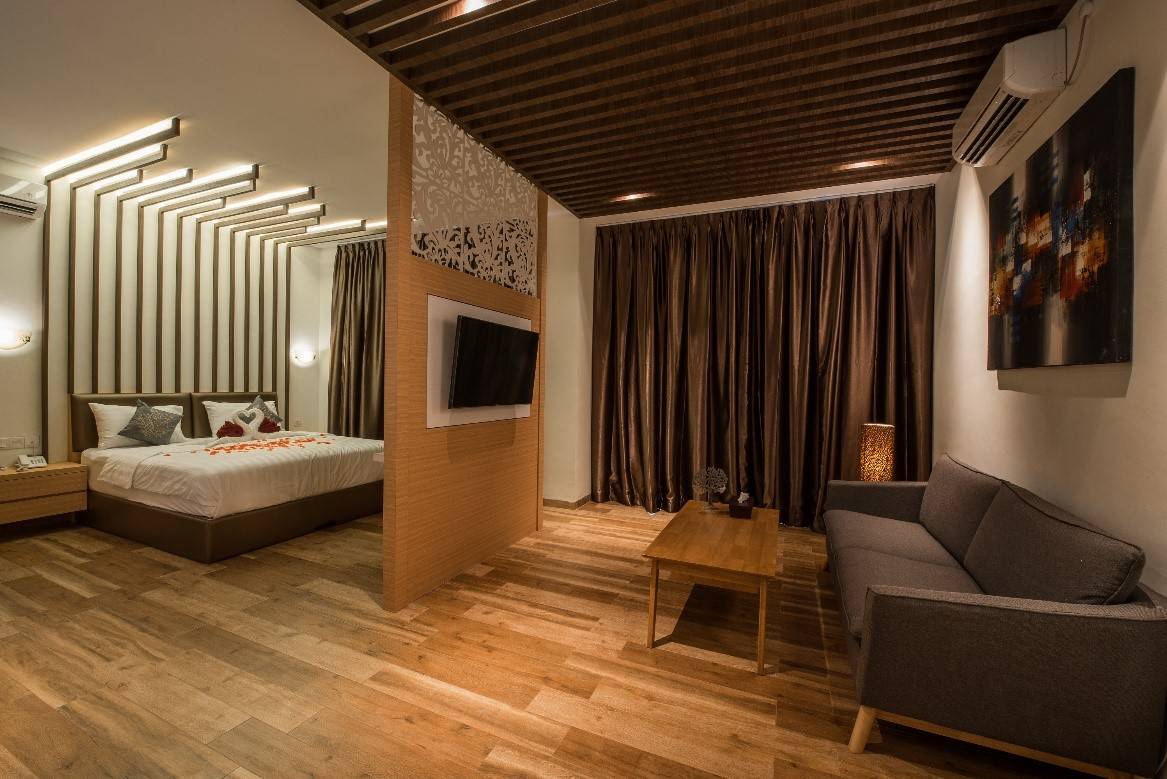 Image Credit: Woda Villa & Spa / Signature Villa
The resort has two types of accommodation – the Suite Villa and the Signature Villa. The Suite Villa is a master bedroom suite with a king-sized bed in fine linen, classy amenities, complimentary Wi-Fi and a shared swimming pool. On the other hand, the Signature Villa has everything mentioned in the former and has a private pool instead.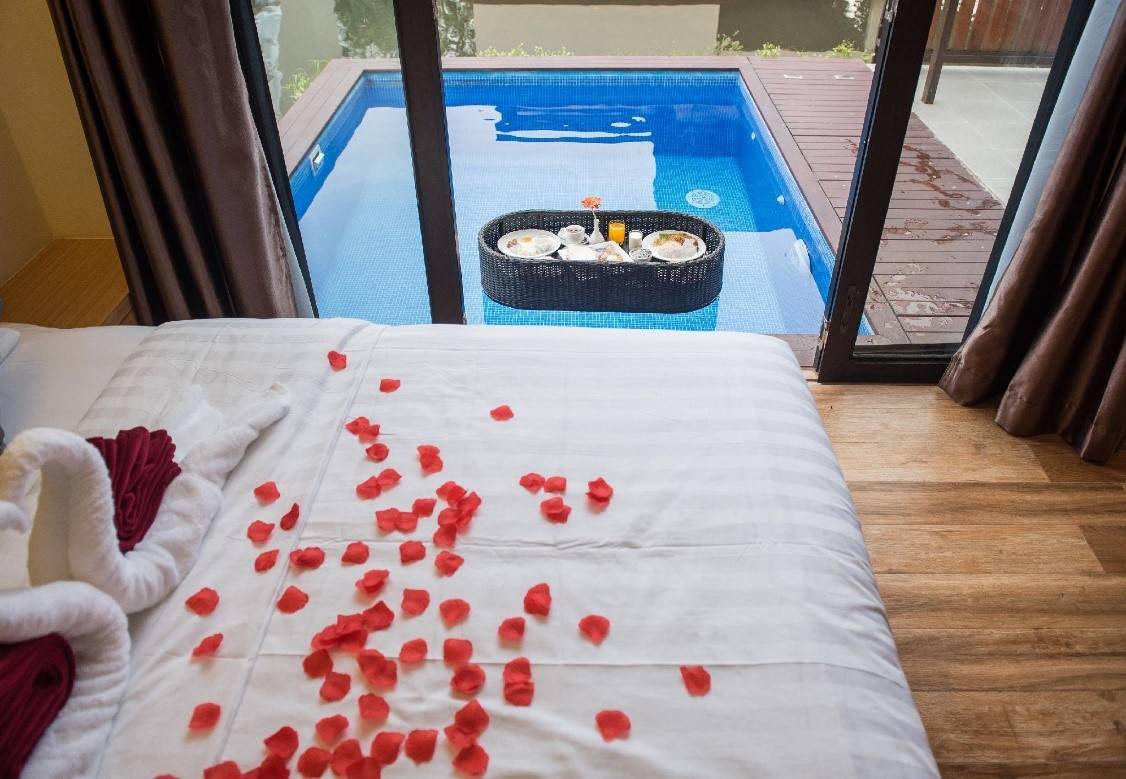 Image Credit: Woda Villa & Spa / Signature Villa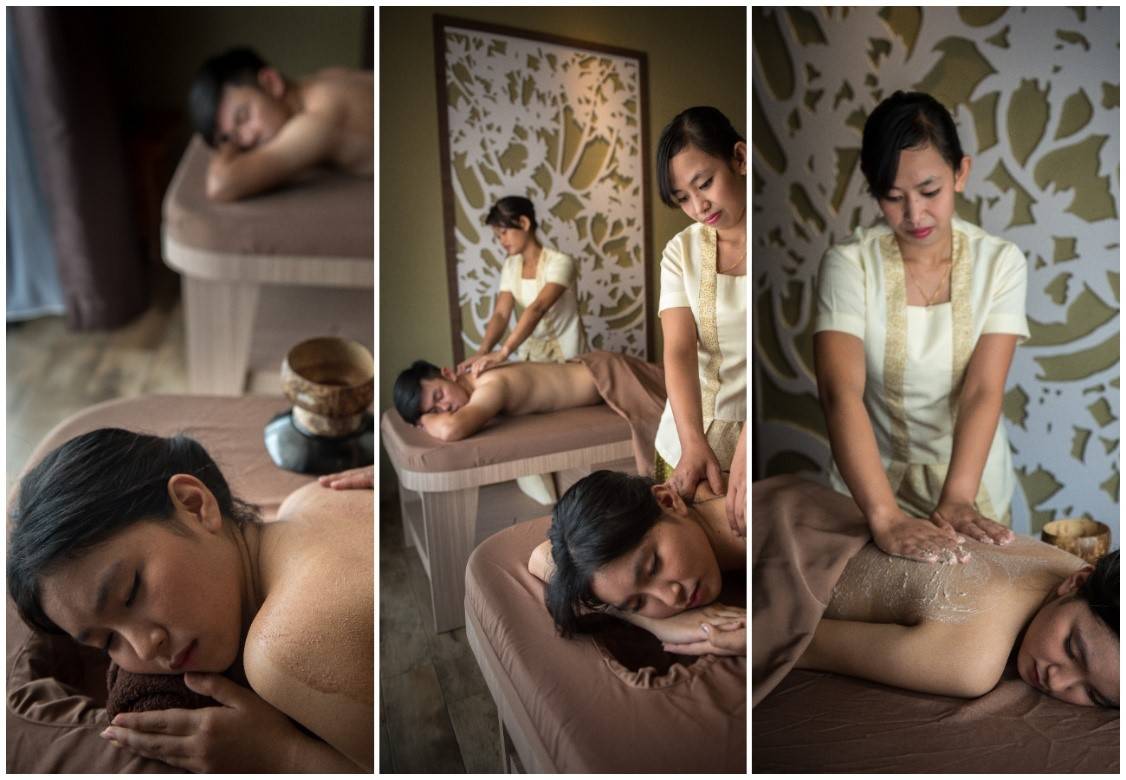 Image Credit: Woda Villa & Spa
The main highlight in Woda Villa & Spa is, of course, the SPA treatment. Get pampered with the Balinese Aromatic Massage for a traditional massage that uses warm aromatic oil to stimulate circulation, ease muscular and joint pain, or the Organic Avocado Spa where avocado rich in vitamins, minerals, and natural oils will be used to scrub the body for perfect natural nourishment of the skin.
There are signature treatments like the WODA Fusion which is a steamed herbal compress treatment containing a fresh blend of many different traditional spices and herbs wrapped in compress balls. The compress balls will be applied to the body using specialized and distinctive movements, alleviating pain, stiff, sore or pulled muscle and ligaments, chronic, backaches, migraines and chronic stress or anxiety.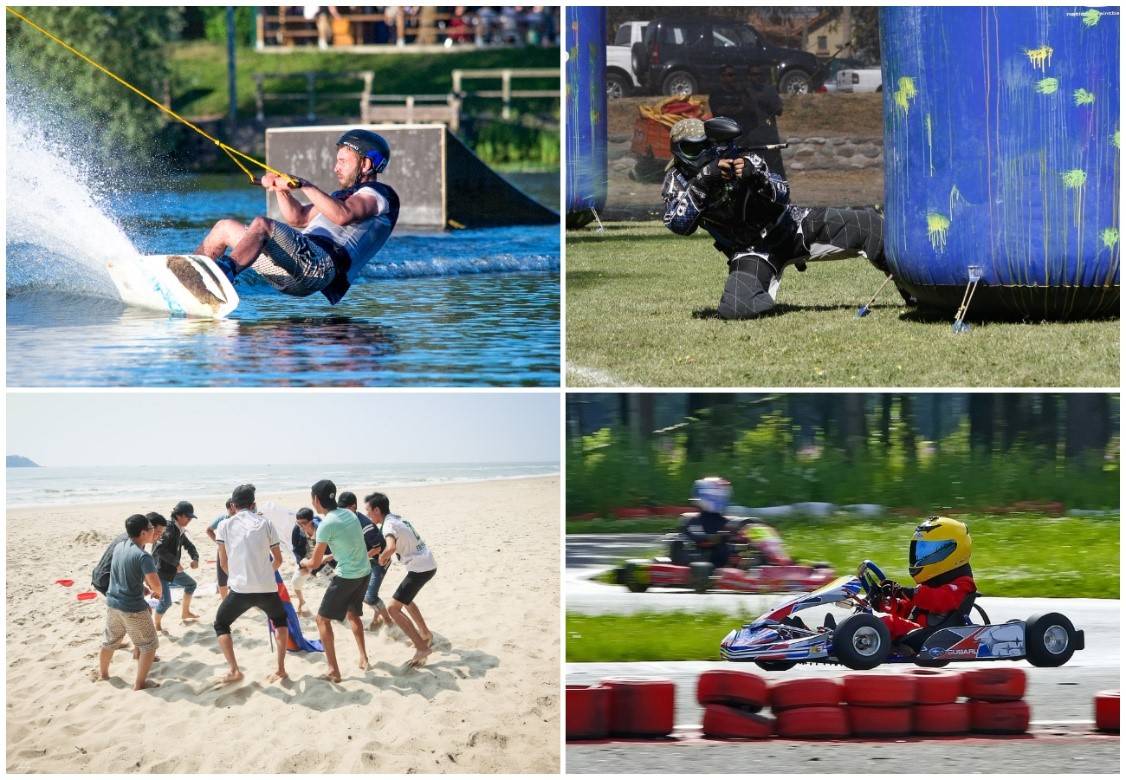 Image Credit: Woda Villa & Spa
Check out the Batam Wakepark, built with Sesitec's 2.0 full system cable with brand new 5-tower that is specially designed for beginners to learn the basics of wakeboarding. It also poses challenges to skilful wakeboarders. And then there's more, like Go Kart, Paintball and outbound activities on the beach.
| | |
| --- | --- |
| Woda Villa & Spa | ★★★★★ |
| | "We stayed there for 1 night....Room was very clean. Nice view. friendly staff. Very quiet at night. Had a relaxing stay....Also tried the spa and massage...Awesome!! Highly recommended. Reasonable price." |
| | "Stay here for 1 night. Clean and spacious room with own private pool. Staffs were friendly. Location around golden prawn area. Only walking distance to seafood restaurant golden prawn 933. Place is in the middle of the city. 10min to nagoya hill or megamall by car. Recommended for Family vacation." |
*All ratings and reviews are taken from TripAdvisor.
3. Aston Batam Hotel & Residences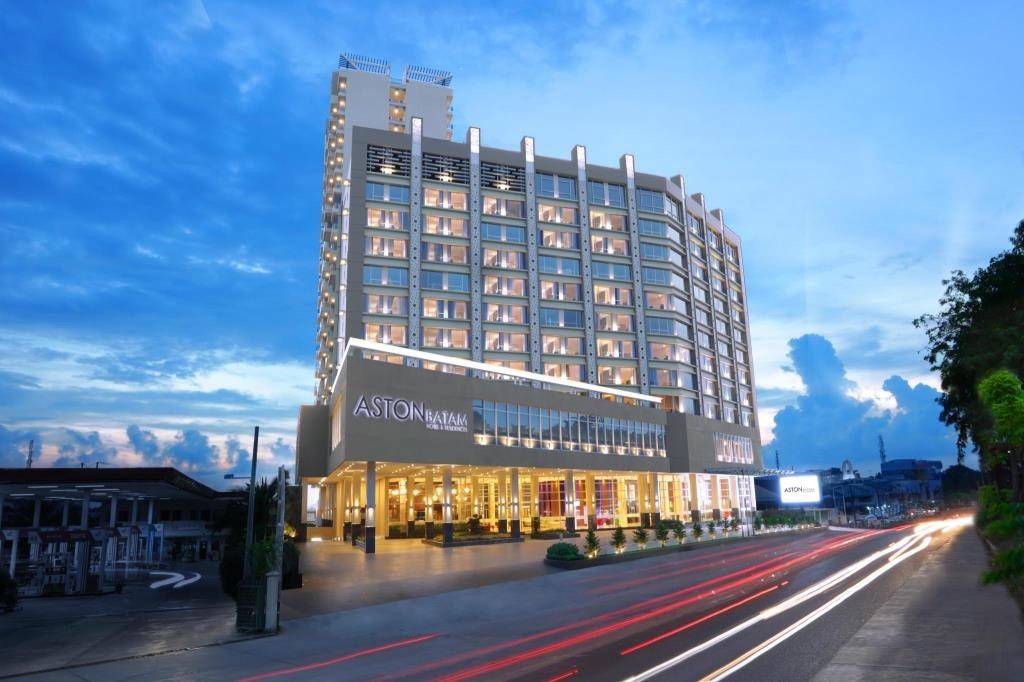 Image Credit: Aston Batam Hotel & Residences
Aston Batam Hotel & Residences is strategically located in the centre of Batam, a city where business and entertainment chime in harmony, and close to the Hang Nadim Airport and Harbour Bay Ferry Terminal.
It is pleasantly and stylishly designed with 232 rooms completed with modern room and bathroom amenities, and guests could enjoy high-speed Wi-Fi access inside their own room and throughout the hotel area.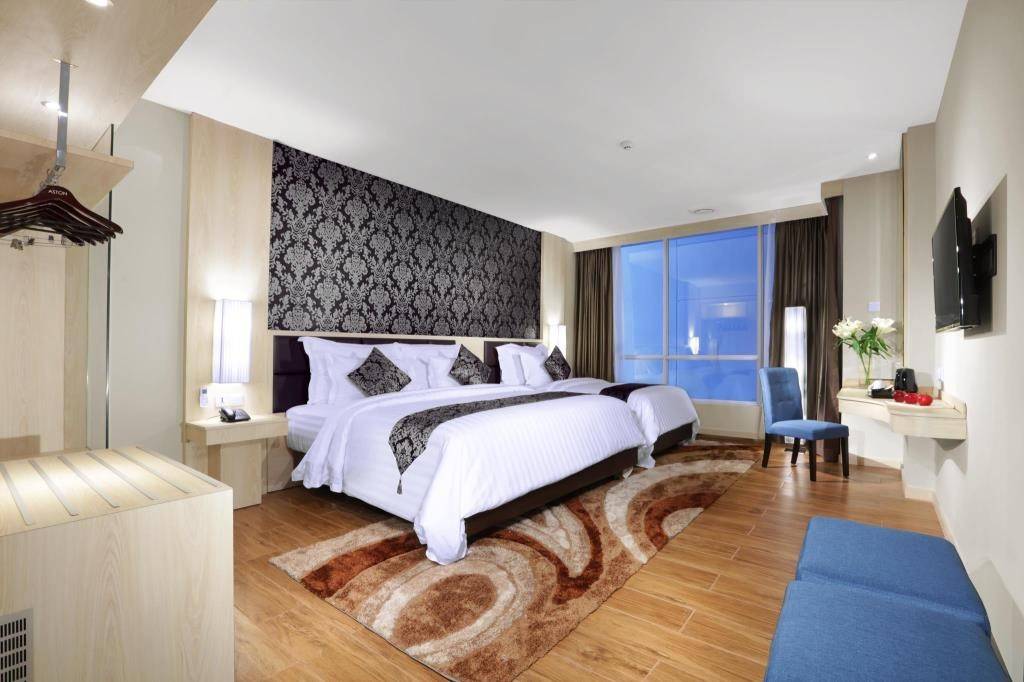 Image Credit: Aston Batam Hotel & Residences / Family Room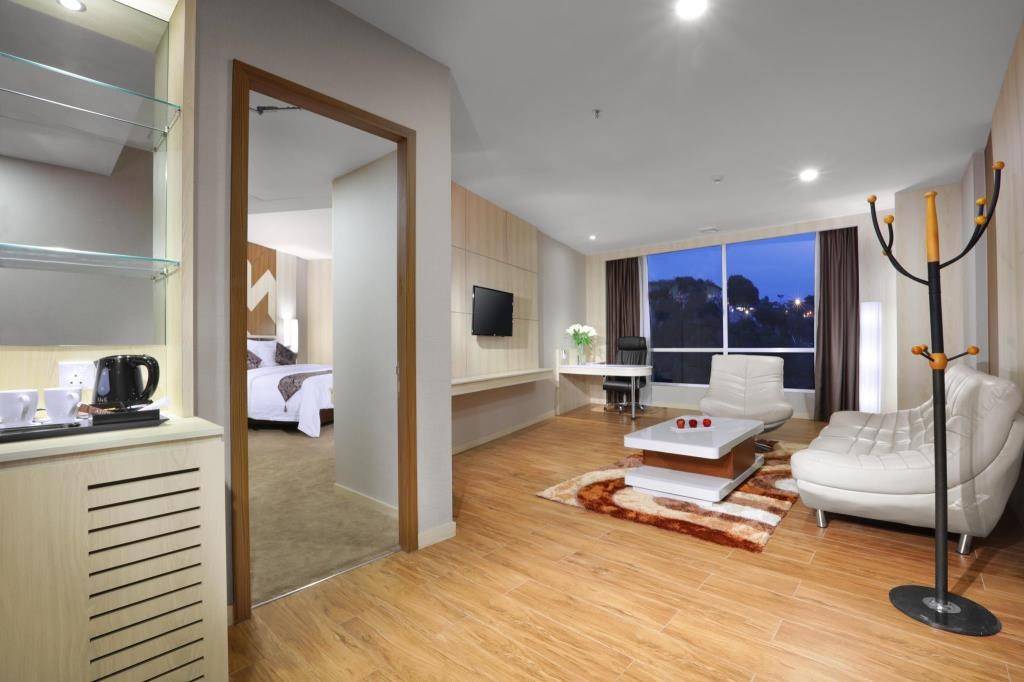 Image Credit: Aston Batam Hotel & Residences / Suite Room
Spend precious moments with your family in the Family Room with top quality amenities and a comfortable living room or stay in the largest and most exclusive Suite Room, complete with elegant and luxurious room and bathroom settings. The Superior Room and Deluxe Room are available too.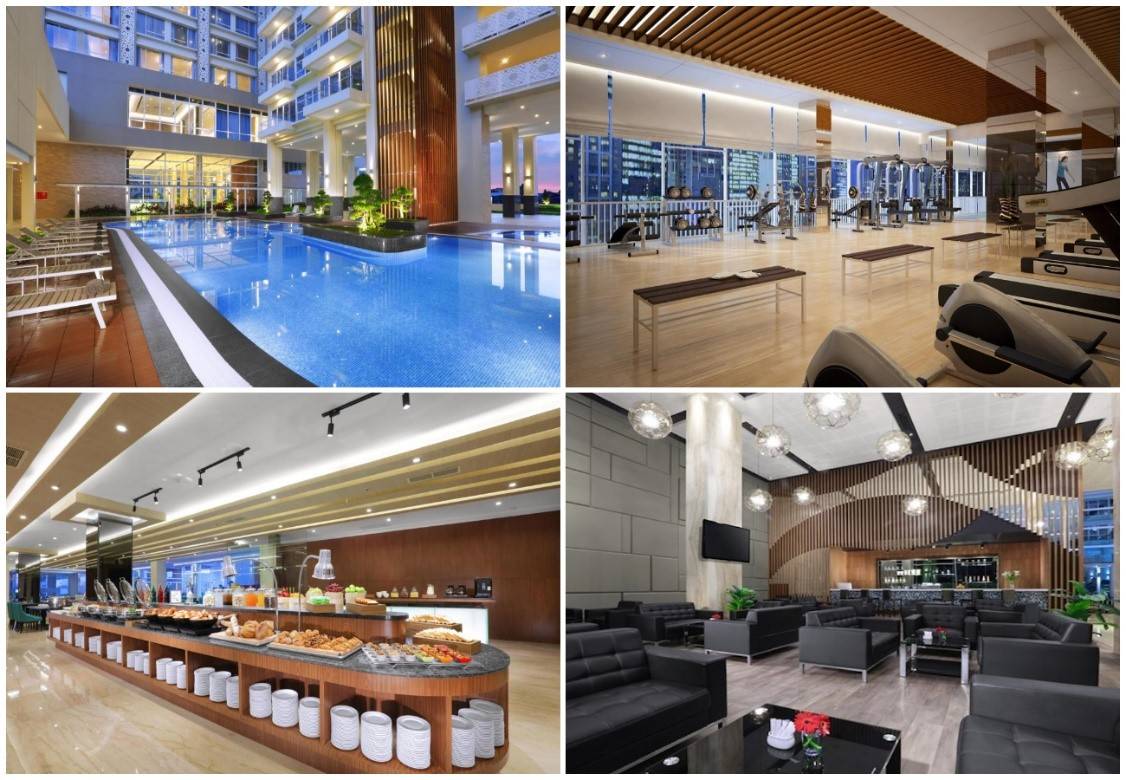 Image Credit: Aston Batam Hotel & Residences
There is a diverse selection of facilities such as an adult swimming pool and two kids pool, a fitness gym, the Peppermint Lounge boasting 34 sofas great for gatherings with varieties of food, dessert and beverage, the Basil Restaurant serving Indonesian, Asian and International menus and spas for relaxation.
| | |
| --- | --- |
| Aston Batam Hotel & Residences | ★★★★☆ |
| | "... Room is huge, clean and safe. The bed is high and medium range softness/hardness... The bathroom is second to none, with a shower area and a bathtub, huge backlit illuminated mirror and hair dryer. I personally loved the bathtub, it was not too shallow or deep and it made my wife and i feel encapsulated while we dipped in our own personal pool..." |
| | "… We visited this hotel on the 15 of Feb and stay for 4 nights. Overall the hotel is still new and and clean, the room is spacious and big. The staff is very friendly. Check in time very fast… Overall it's quite pleasant to stay there." |
*All ratings and reviews are taken from TripAdvisor.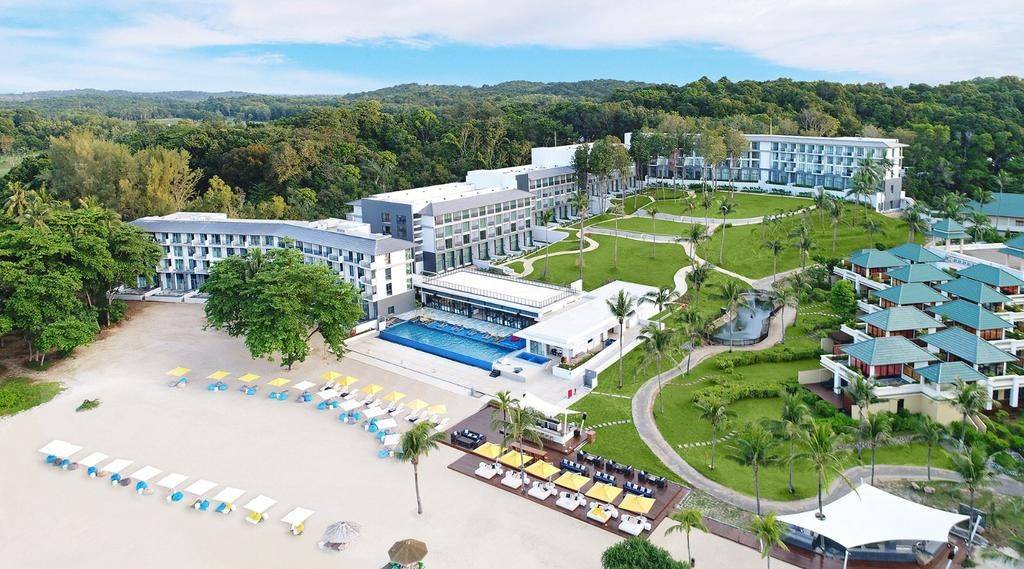 Image Credit: Booking.com
This new kid on the block is an uber-chic hotel apartment with beachfront apartments facing the South China Sea. Cassia Bintan is the newest addition to the exclusive Laguna Bintan Integrated Resort, which houses a suite of facilities including indulgent spas and an 18-hole golf course. You should definitely check this place out for your next getaway.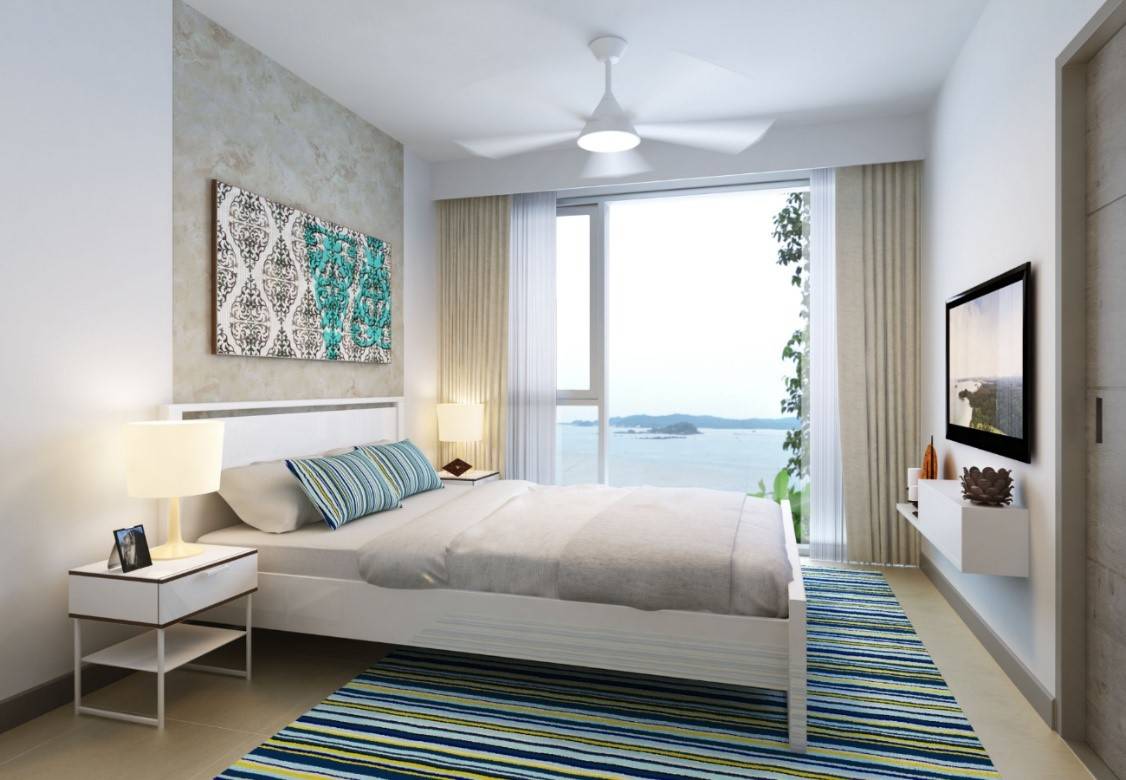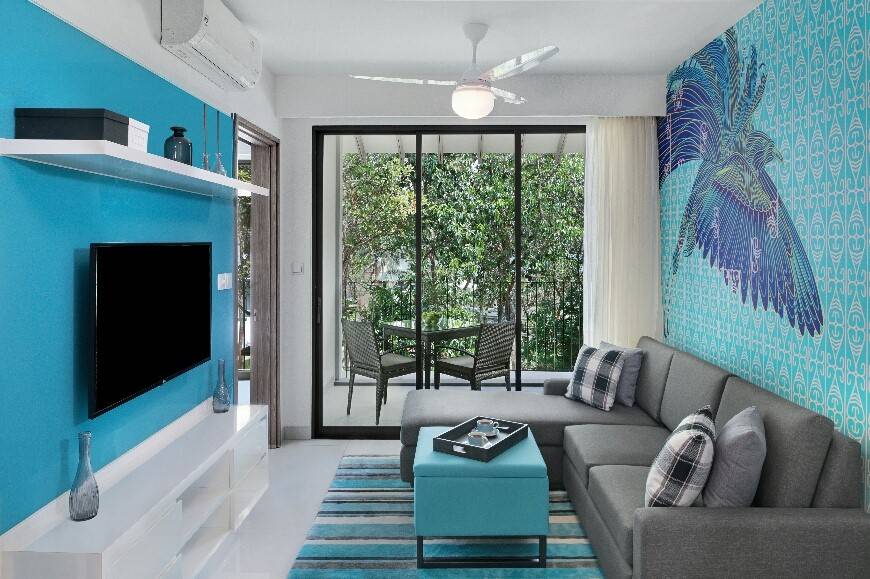 Image Credit: Cassia Bintan / One-Bedroom Apartment Garden
There's the one-bedroom apartment and also the two-bedroom apartment, each with its own different individual types. Check out the One-Bedroom Apartment Garden that comes with a compact but efficiently laid-out pantry, a dining area, a living room featuring a master bedroom, a separate living area with garden view; all flowing into one another to form a generous integrated space.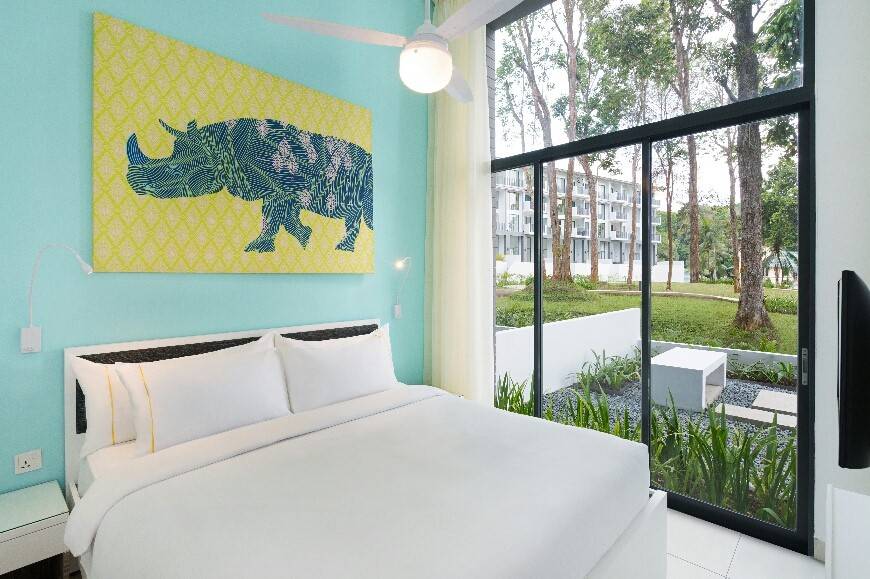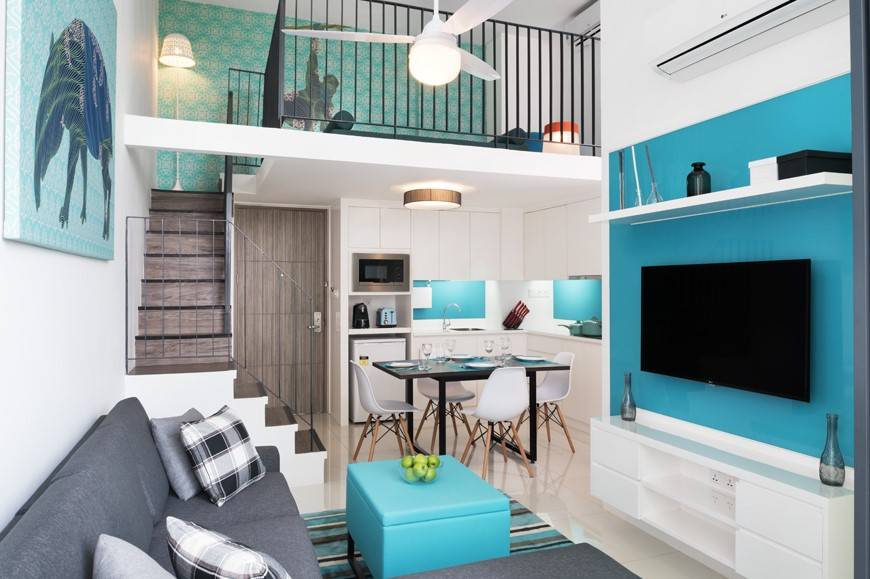 Image Credit: Cassia Bintan / Two-Bedroom Apartment Garden Loft
Want another bedroom? Take the Two-Bedroom Apartment Garden Loft designed in a contemporary loft style, with a mezzanine level that provides extra living space and a further defined living area featuring additional cabinet storage, a games area, a lounge to unwind and an extra space furnished with a sofa-bed.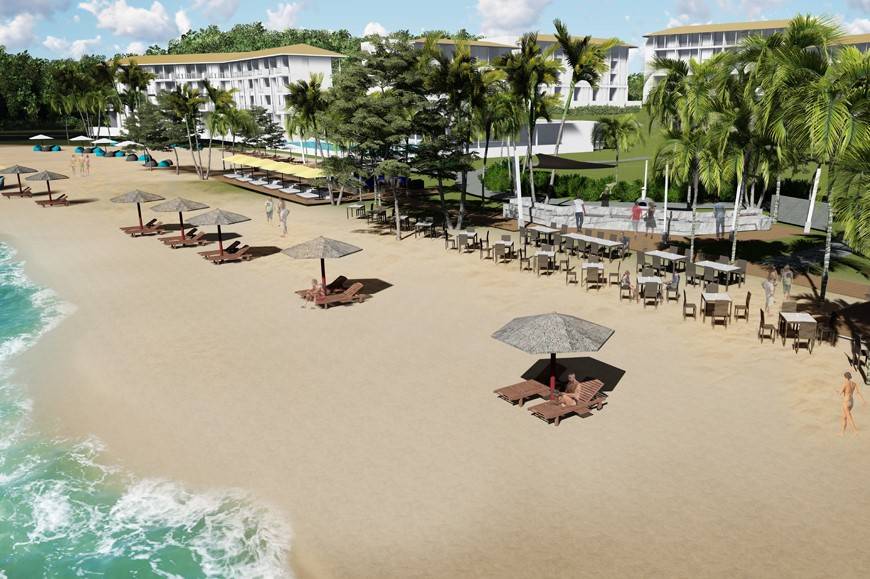 Image Credit: Cassia Bintan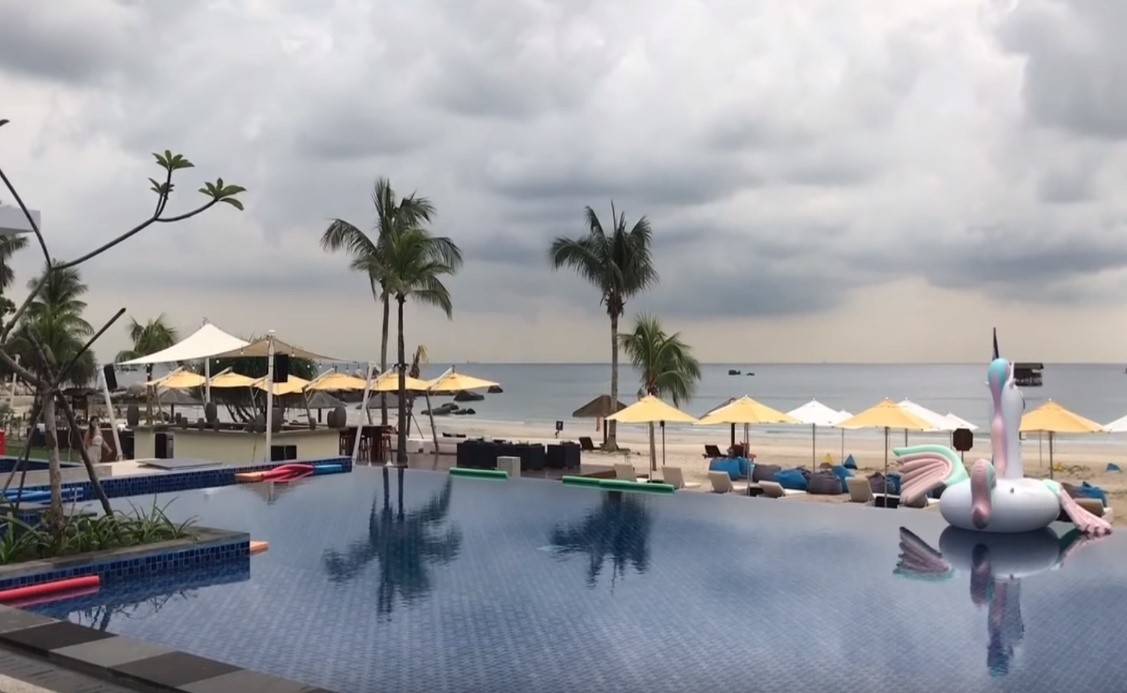 Tuck into Cassia Bintan's signature Mookata Thai steamboat or get convenient grab-and-go meals from Market 23, a café-cum-supermart concept that never leaves you hungry. Chill and enjoy the best of beachfront dining and drinking at Xana Beach Club and listen to the sound of waves or groovy music. Tee off at the signature Hole 17 in Laguna Golf Bintan or get splashing fun off the Jetski. This place is for sure a one-stop hub for unlimited fun.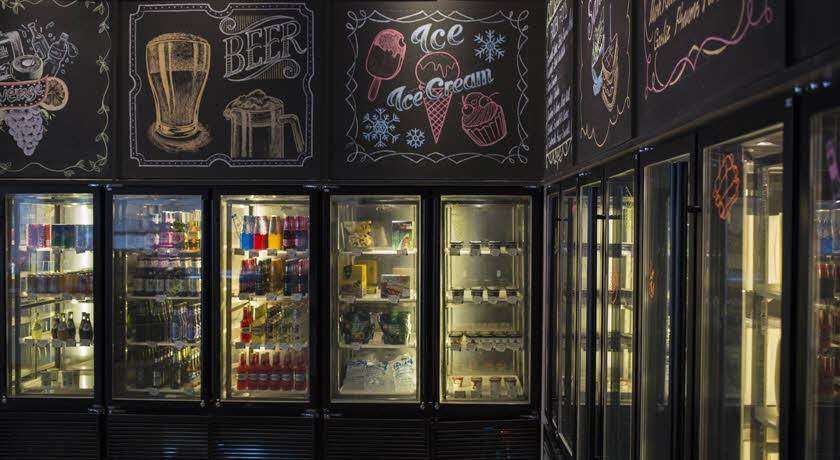 Image Credit: Cassia Bintan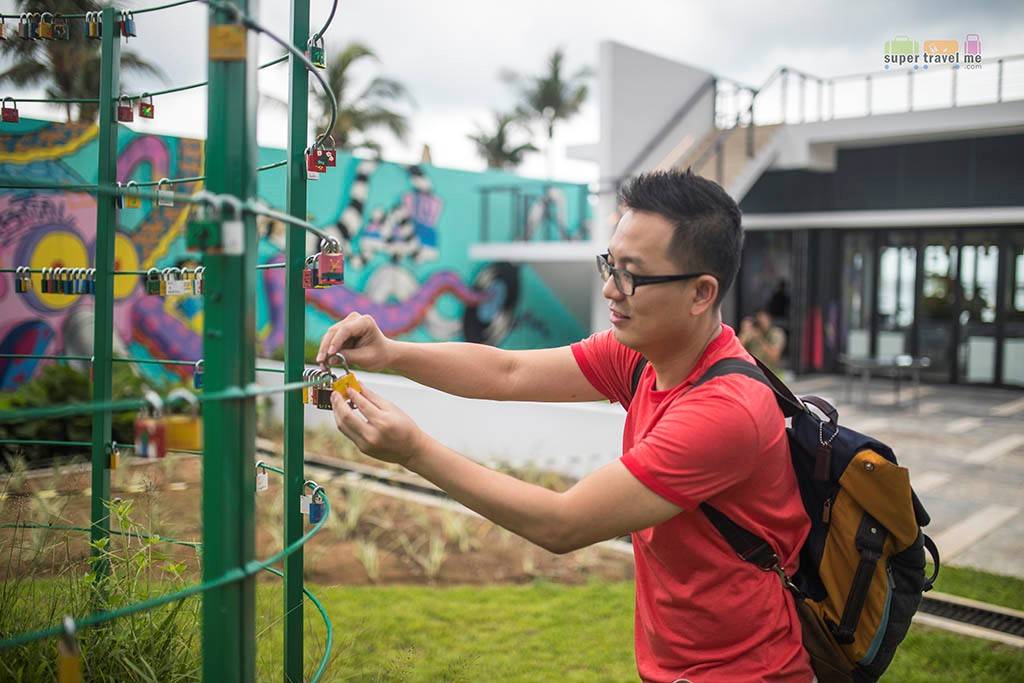 Image Credit: www.supertravelme.com
There are Love Locks hanging on bridges all over Europe, and then there is something similar in Cassia Bintan (not a bridge though). Purchase a padlock and lock it onto any one of the outdoor metal structures for a good cause. All proceeds will go to Towdah Orphanage, the children from which helped paint the vibrant padlocks.
| | |
| --- | --- |
| Cassia Bintan | ★★★★☆ |
| | "… Be it Monsoon Season or Normal Season, Cassia Bintan is a good choice for a short vacation. Although it's the monsoon season which means big waves and unable to go into sea but what i get is a non-crowded beach and plenty of powerful sea breeze which u will not find in Singapore. Rooms facing the forest is not as windy and can do a BBQ party…" |
| | "… All the staff there were very friendly & super helpful. The room we had was very new & clean, it likes a small apartment with a kitchen. Swimming pool is great for the children and the beach is fantastic, long stretch of fine sand and many strong waves… Definitely enjoyed my stay at Cassia Bintan, a nice little place for a short getaway for family & couples." |
*All ratings and reviews are taken from TripAdvisor.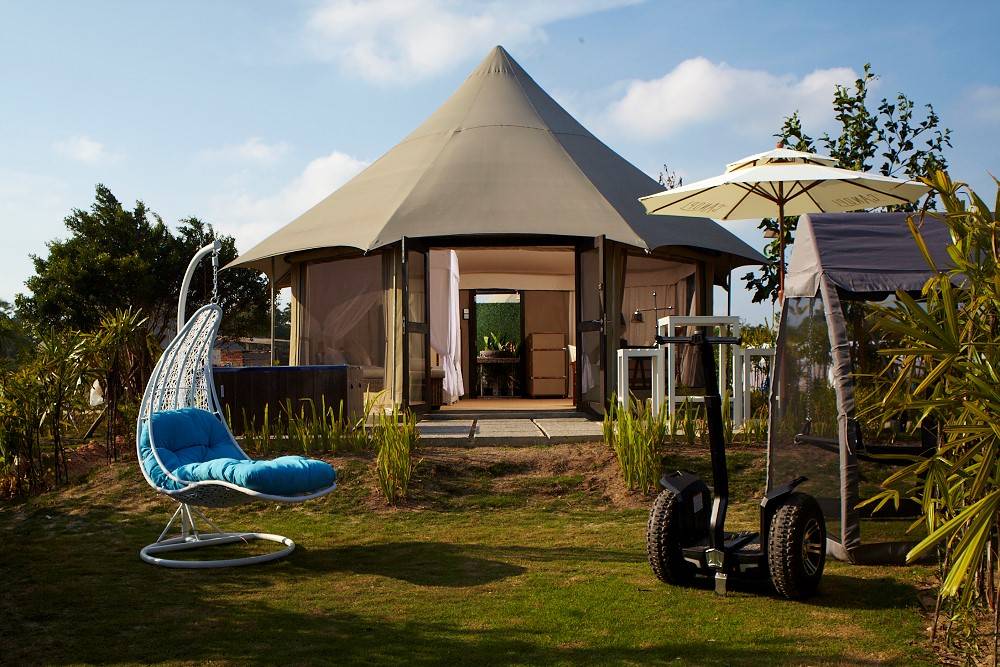 Image Credit: The Canopi
You may have stayed in a tent when you're camping outside before, but have you stayed in one that is huge with hotel room settings and amenities? If you have not, then The Canopi @ Bintan is the perfect glamping place for you to experience just that, with fairy lights glowing at dusk every day.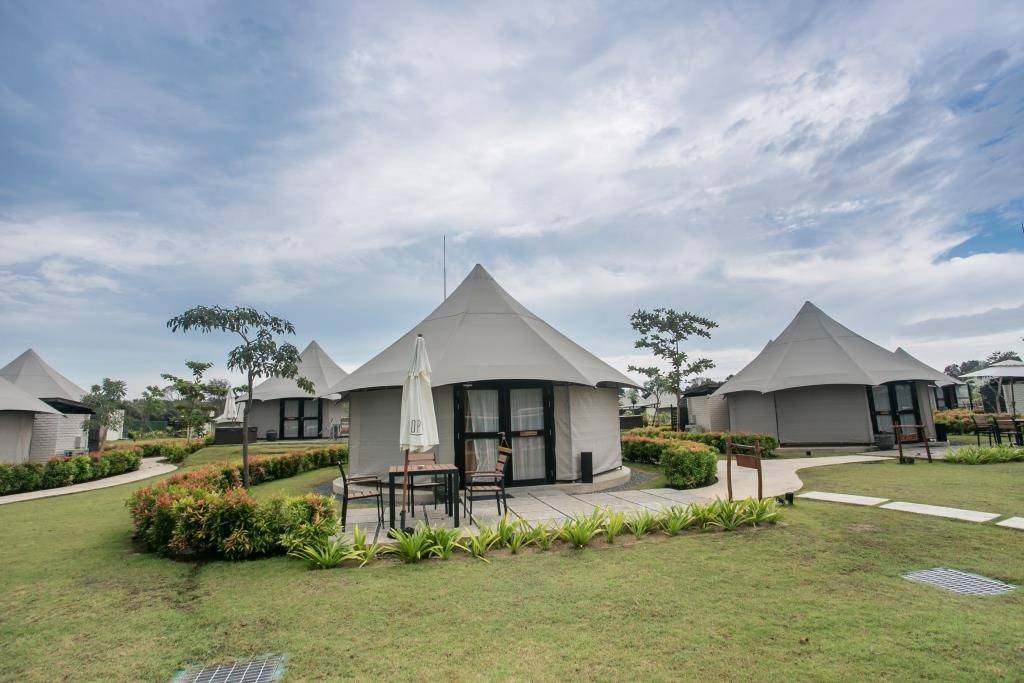 Image Credit: www.lokopoko.travel
Under your tent-room lies all the awesome amenities from a fairytale-esque four-poster king-sized bed to an elegant glass chandelier in a cosy ambient. There is also an outdoor private shower facility (completely safe) that gives you a unique stay experience.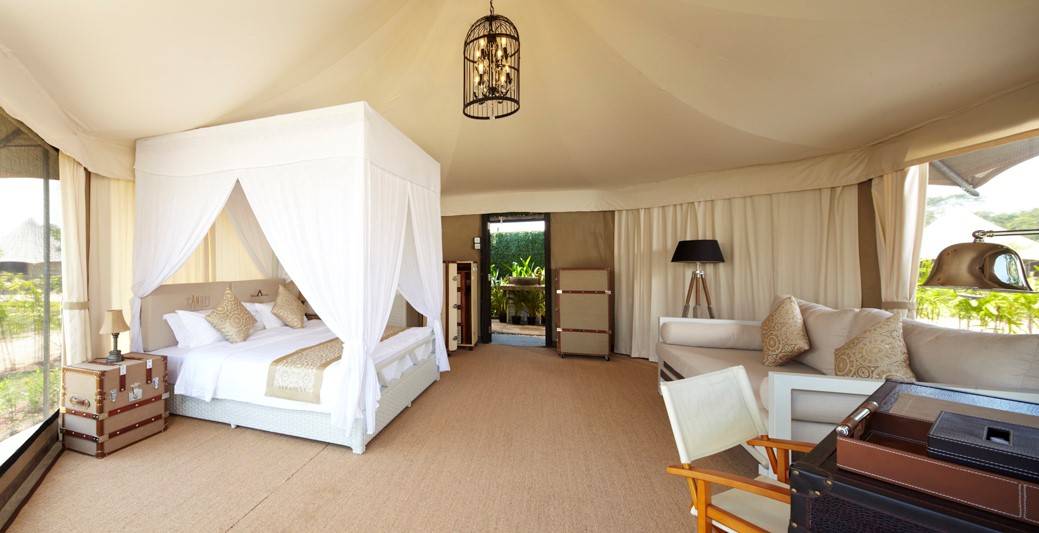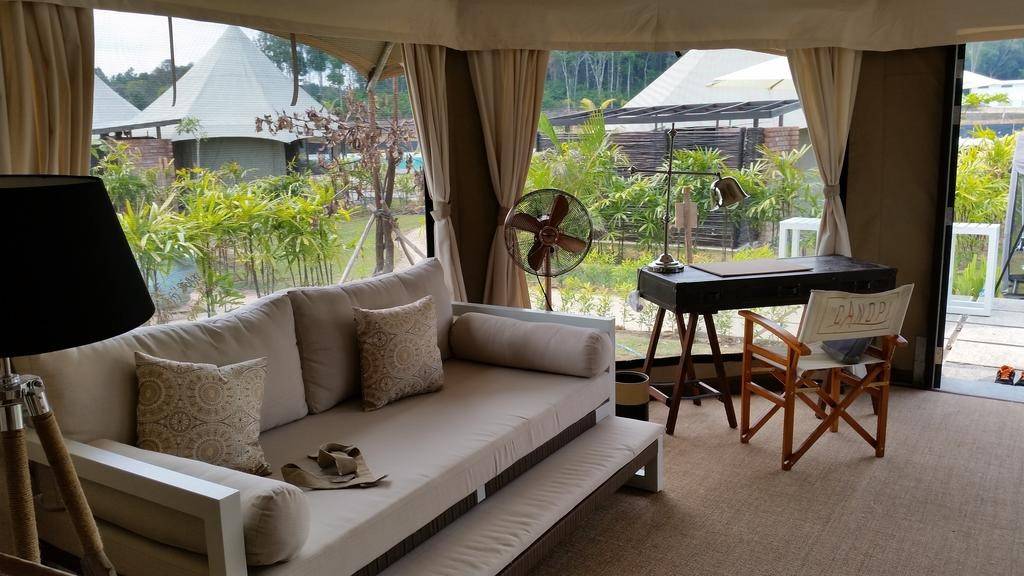 Image Credit: WeekendGoWhere
Choose from the Garden Tents which clustered around scenic garden pavilions that offer nature views and lush outdoor space, the Lagoon View Tents which are located right in front of the lagoon with a spectacular view of the crystal blue waters as well as all the action at the lagoon, or the Glamping Deluxe Tents with tasteful interiors and luxurious amenities such as private en-suite whirlpool bath. There's more selections of the Tents available too.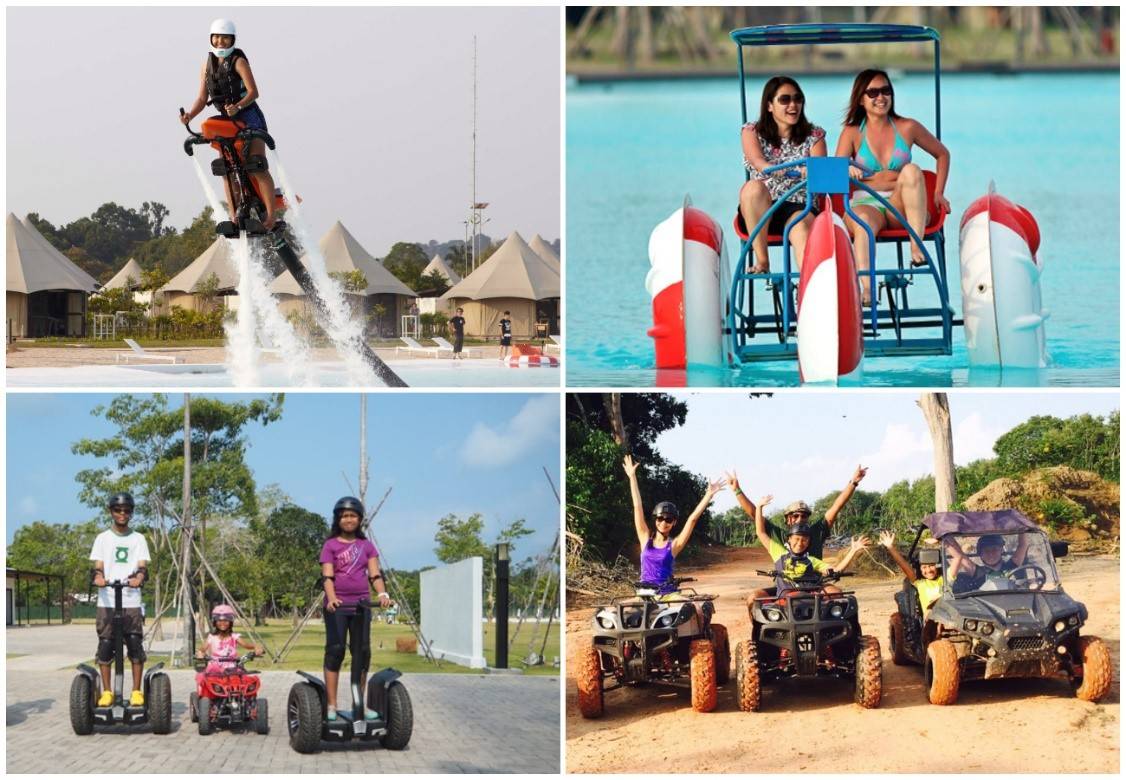 Image Credit: The Canopi
Set within Chill Cove @ Treasure Bay Bintan, the resort's iconic 6.3-hectare Crystal Lagoon is South East Asia's first recreational seawater lagoon and it offers a wide range of interactive water activities suitable for the whole family such as swimming, kayaking, bumper boat ride, wakeboarding and floating obstacle course. The lagoon's specially filtered sea waters are delicate on the skin and provide perfect water conditions all year round.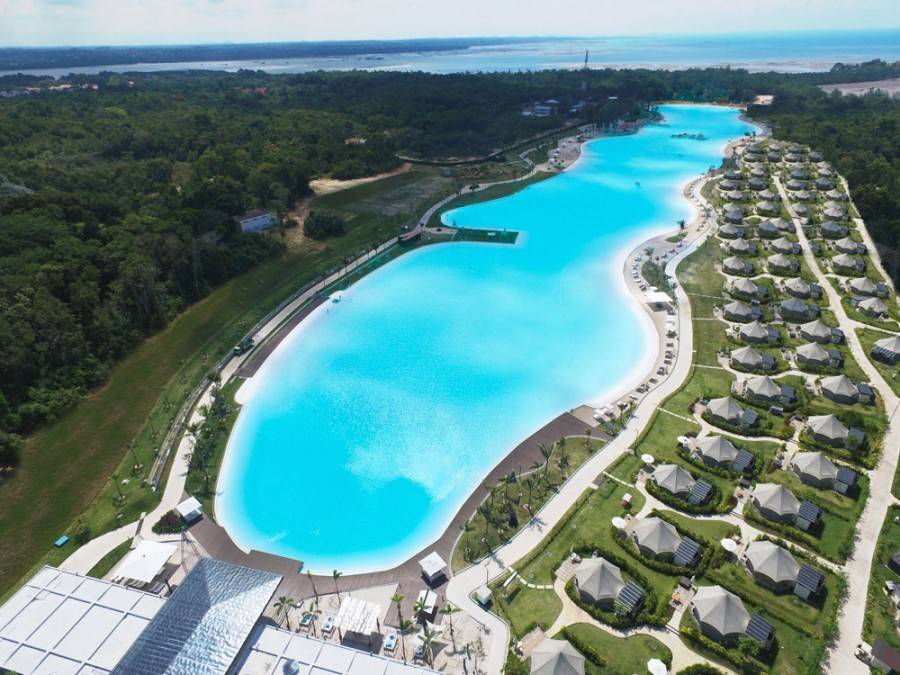 | | |
| --- | --- |
| The Canopi | ★★★★☆ |
| | "I travelled with my boyfriend last month in my special occasion honeymoon… First, Reception greets me warmly with efficient check in within 10 minutes. Second, Whatsapp service replied promply quick and fully attentive. Third, overall room, towel or linen clean as well. Fourth, price with fun quality time… Definitely came back in another chance." |
| | "This place is beautiful! We thoroughly enjoyed our stay here. By the second day most of the servers and workers knew us by name. Very affordable and the activities were a great bonus... The bbq just outside our canopy set our trip over the top! They set it up and came back to take everything back. Perfect wind down!" |
*All ratings and reviews are taken from TripAdvisor.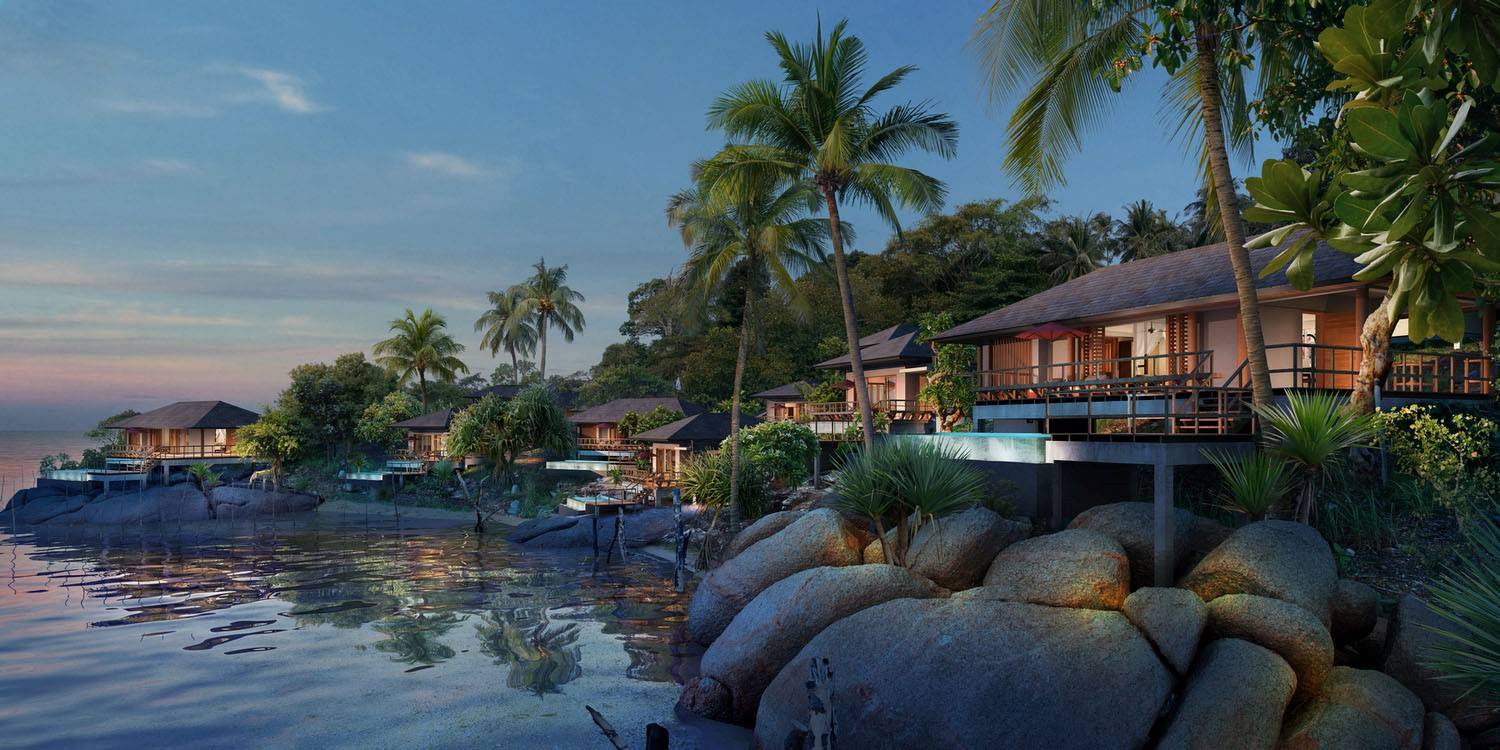 Image Credit: The Residence Bintan
The Residence Bintan is an all-new 5-star resort where restorative indulgences begin. The abundance of space and the closeness of nature at this idyllic retreat combines to create a new definition for barefoot luxury, offering guests an exclusive respite amongst panoramic views of the South China Sea.
Styled in the rural charm of a traditional Asian village with a luxurious modern twist, the resort consists of 127 terraces and villas that invite you to unwind in deep comfort and relaxation, overlooking lush gardens and the tranquil bay for a unforgettable getaway.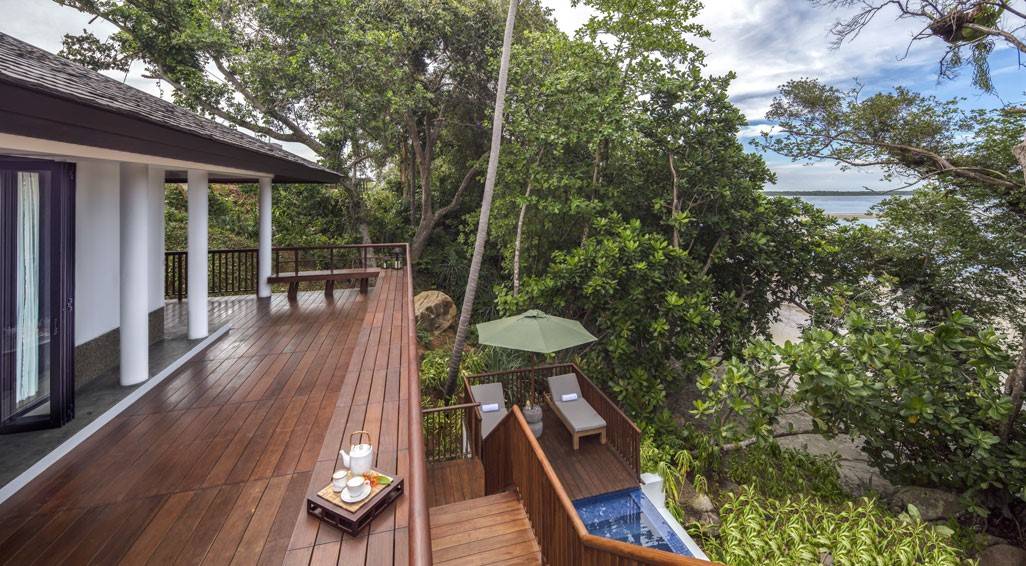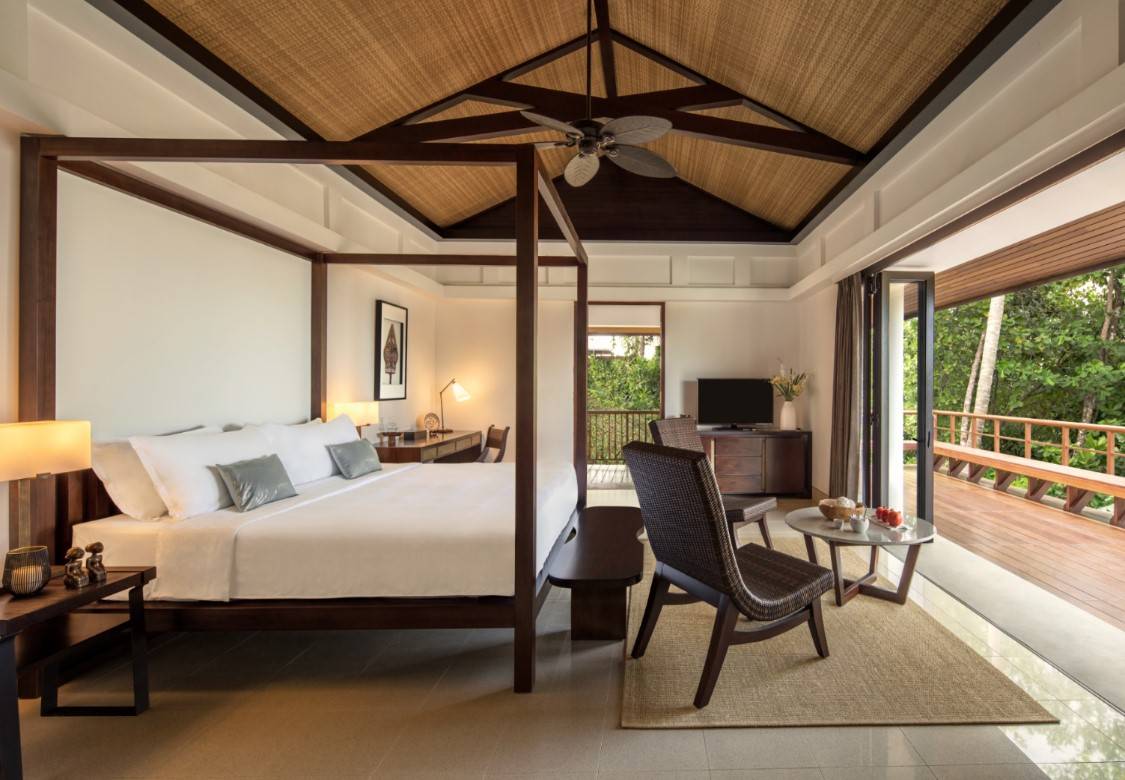 Image Credit: The Residence Bintan
Perched on the hillside with magnificent sea and sunrise views, The Estate offers an array of exclusive privileges, including priority in-villa check-in, butler service, a complimentary minibar, and breakfast served in your villa if you choose. It is furnished with a king-sized bed, sofa bed and daybed, a spacious bathroom with separate bathtub and shower, and an outdoor deck with private pool.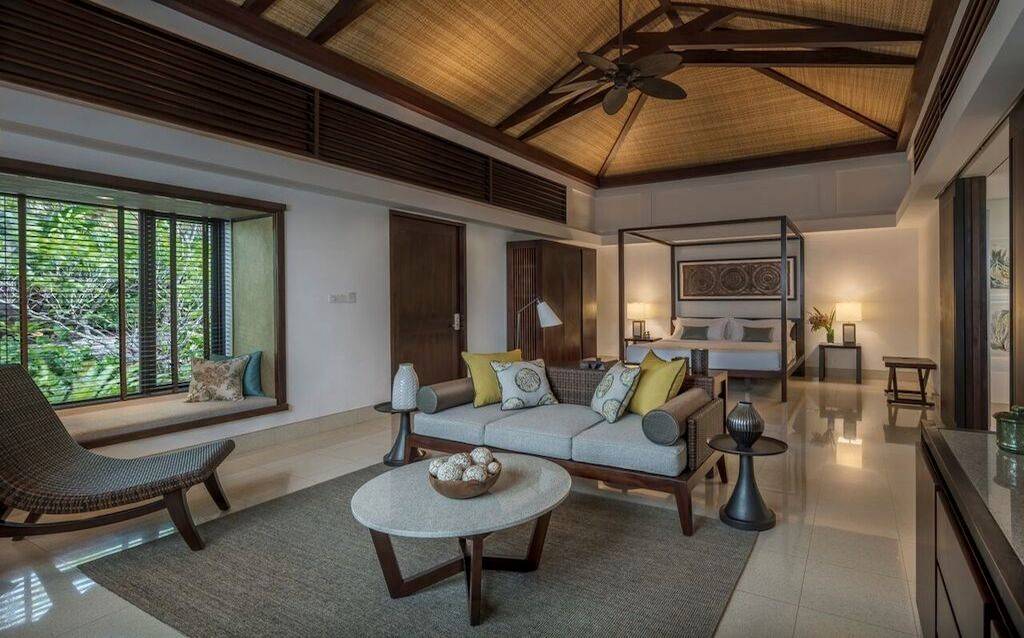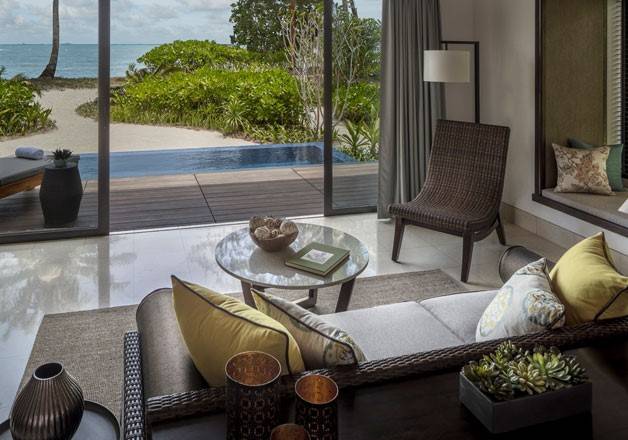 Image Credit: The Residence Bintan
Wake up to glorious sea views and experience the charms of island life in the One-Bedroom Beachfront Villa, which features a king-sized bed, sofa bed, daybed, and a spacious bathroom with separate bathtub and shower, luxurious amenities and a private pool furnished with elegant sophistication. Of course, there are more selections of unparalleled terraces and villas available at The Residence Bintan.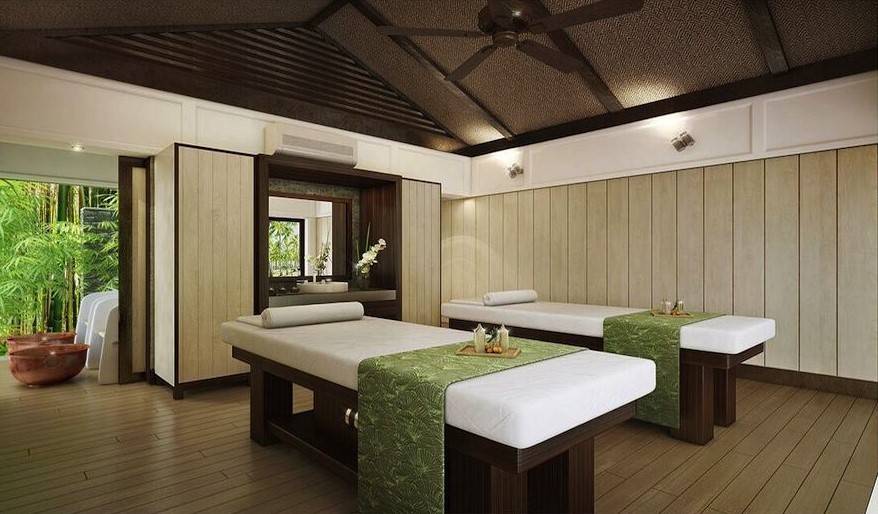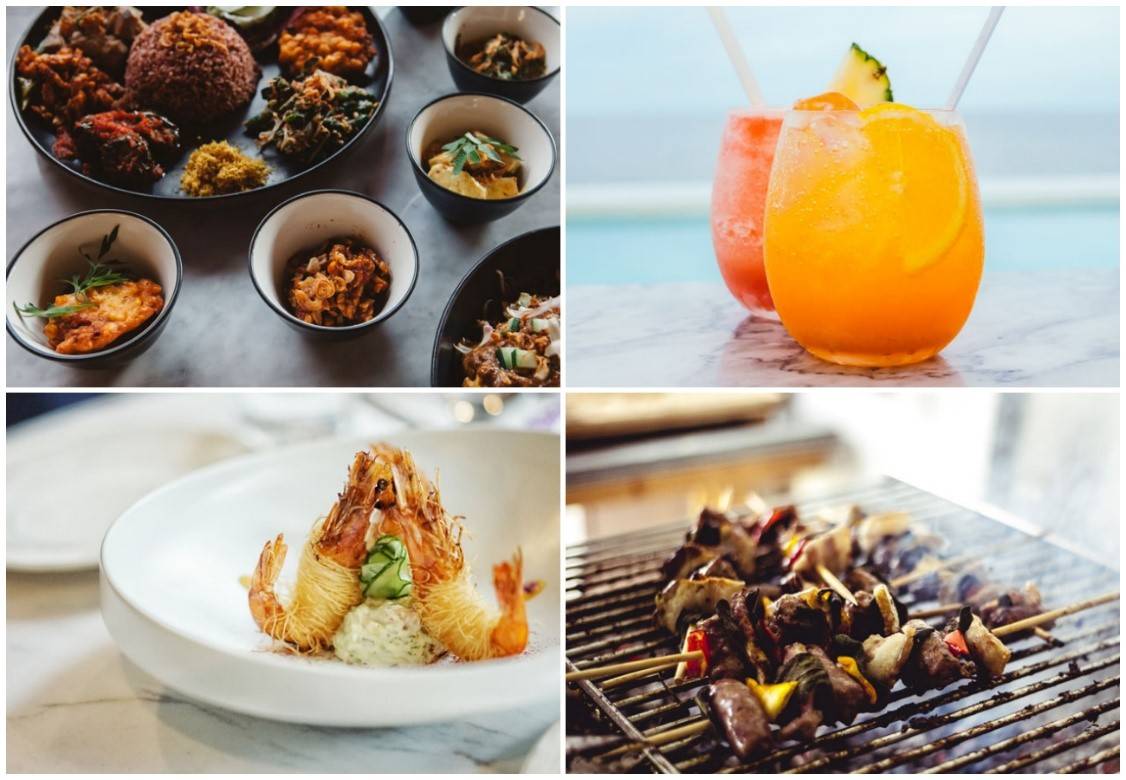 Image Credit: The Residence Bintan
Tickle your taste buds over at Rica Rica for the taste of Indonesia, The Dining Room for international flavours or just by the Beach Pool for tasty light bites and cool drinks. Transcend into a state of blissful serenity with the signature treatments and spa programmes. With so many offers lingering in this luxurious fort, you will truly feel like being a royalty.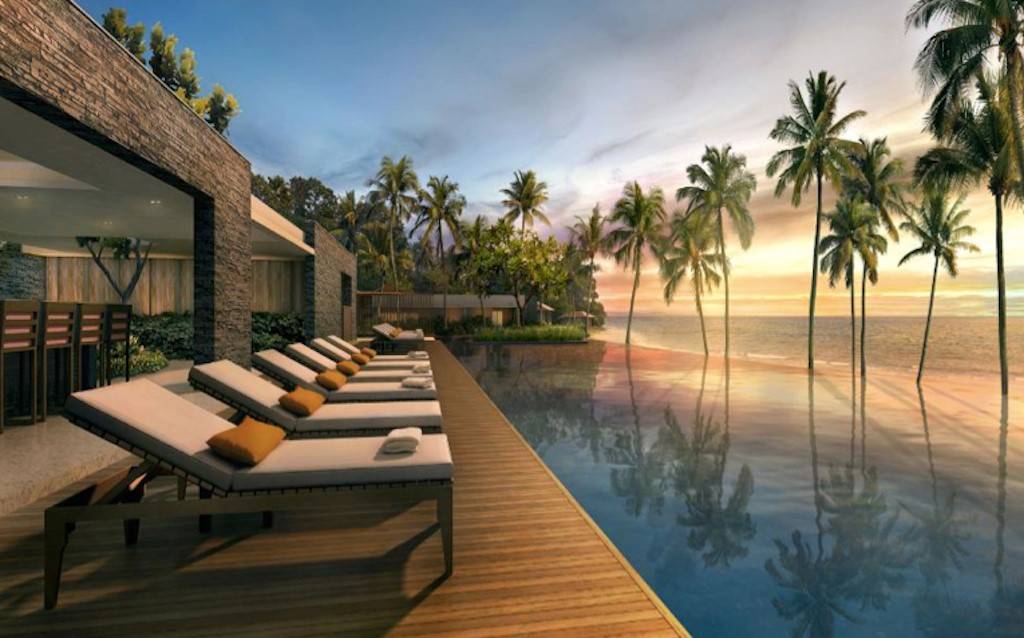 Image Credit: The Residence Bintan
| | |
| --- | --- |
| The Residence Bintan | ★★★★☆ |
| | "Newly opened resort located an hour & a half drive away from the ferry terminal. Got upgraded to the estate villa upon check in & tried the buffet lunch at the restaurant (duck curry was fantastic!). Great place for a short getaway: large estate that's well maintained, clean & earnest staff. Overall we had a wonderful one night stay at the resort… A must-try would be the sate & crackers at the in-house rica rica restaurant…" |
| | A comfortable arrival arrangement from ferry terminal to the hotel, upon arrival in the resort we were greeted with a smile and offered with welcome drinks. Such a relaxing place to be!!! From their sparkling infinity pool to their tranquil garden, these spots will leave you feeling totally refreshed In addition foods are highly recommended as well. Indeed an awesome and seamless staycation experience ✨⭐ We will definitely comeback! |
*All ratings and reviews are taken from TripAdvisor.
---
It's good to know that we are spoilt for choices when it comes to having a getaway to somewhere nearby. Thought of any places to stay yet? Will you be going Batam, Bintan, or both? Comment and let us know. Don't forget to share this with your family, friends or to someone who just needs to take a short break from life.
If you want to book any resorts as above, just comelah and message us to book!